Milwaukee 2603-22 1/2-Inch Cordless Drill Driver Review
If you're looking for a durable cordless drill that accepts drill bit sizes up to one-half inch, then you absolutely must give this drill a serious look. Out of the box, it's well-balanced, comfortable and engineered to be a workhorse.
This drill is part of the Milwaukee M18 Fuel™ series. The drill contains a new brushless motor. This technology is now sweeping the entire power tool industry. Also onboard the tool is an advance microprocessor that helps manage the delivery of energy so the tool and battery work together to provide the best amount of power when you need it while protecting the motor and battery. It's ingenious.
If you want torque, you get it with this drill - 650 inch pounds if what Milwaukee says is true. I don't have scientific testing equipment to take my own measurements.
The ratcheting drill chuck gives you great control when driving and the two-speed transmission gives you great speed-torque choices.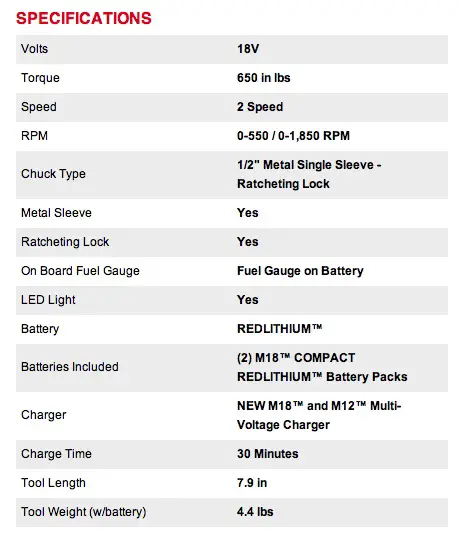 I loved the fuel gauge on the battery that tells you how much power you have. Even if you run out, the battery will recharge in 30 minutes using the enclosed charger that will also charge the 12-volt Milwaukee batteries.
Milwaukee claims that their brushless motor will last 10 times longer than their competitors. If this is true, that's a major reason to purchase the tool. I can tell you from buying high-quality tools in the past that they will last. I have a right-angle drill that's 25 years old and it still runs like a champ. It was the best drill made at the time, so think about paying the extra money for quality.

As crazy as this sounds, I fell in love with the durable red and black plastic hard case the kit comes in. I'm not a fan of the soft-sided bags many of the tool companies have switched to. The soft sided bags don't prevent tool damage when the tools are stacked like cordwood in the back of some builder and remodeler pickup truck.

I'm giving this drill the best score you can get here at AsktheBuilder.com - 5 out of 5 hammers. You'll love this tool.

The only reason I'm giving it four hammers out of a possible five is because its not bigger. But then it would be too big.

The above is an affiliate link. I get a tiny commission if you purchase this item from Amazon.