November 1, 2015 AsktheBuilder Newsletter
I had a very busy week.
How about you?
Yesterday, my son helped me finish installing two new Chamberlain WiFi garage door openers.
The install went really well. We had a problem at the end with the old wiring connected to the sensors that are installed at the bottom of the door track.
Once I tracked down the loose wire connection - I didn't install the original doors - and we re-aligned the sensor so both tiny LED lights were on, all was well.
Today, we'll do the last step and install the app on my Nexus 4 smart phone to be able to control the doors from anywhere I've got Internet access.
I also need to program the HomeLink sun visor buttons in two cars so the doors open when you touch them.
Friday night, I participated in the Zombie Shuffle. It was an epic evening for me.
You may enjoy that story as it applies to MANY other endeavors you could be trying to do, not just what I did.
You can be brave too.
opens in a new windowCLICK HERE to read the story.
LAST CALL - WIN Stain Solver!
You could be a winner of some of my magical opens in a new windowStain Solver. Yes, Kathy and I own the Stain Solver company.
It cleans just about ANYTHING.
Overnight I got this email from Molly:
"I never, never write manufacturers.... Did I say never???

I have a Vitamix blender It's been used once a day for about 7 -8 years. The blender looks like I had blended car parts in it... Stained, cloudy, just plain yucky.

I had read many websites, including the Vitamix site, saying to clean with lemon juice, vinegar, etc.

None of them worked at all.

Then I stumbled on to your product. I have a new blender after just a one hour soak!!!

I am just non-plussed ... Truly miraculous. Thank you!!!!

You should contact Vitamix and partner with them.

Their remedies don't work. Good luck!"
I'm NOT TRYING to sell you opens in a new windowStain Solver, I'm just trying to convey it's a great product that you MIGHT WIN FOR FREE if you just play the fun game.
TEN PEOPLE are going to win some Stain Solver.
YOU could be one!
It's FREE to play - NO obligation other than you'll have FUN.
opens in a new windowCLICK HERE to play the Santa Fe Dehumidifier Game.
The best part is you'll discover something VERY IMPORTANT about dehumidifiers while you're at it.
Plus, you'll LAUGH at the answers I dreamed up in my troubled mind.
Yes, I've considered going to a therapist.
Yes, I drink about three cups of coffee when I create the questions and answers....
opens in a new windowCLICK HERE NOW
Water Heater Expansion Tanks
I've written in the past WHY you need expansion tanks on water heaters. opens in a new windowCLICK HERE to read about them.
But last night I received a question from Alan. He wanted to know if he needed one or more.
I answered his questions, but then shared the CORRECT way, in my opinion, to install one.
All too often I see water heater expansion tanks installed the WRONG WAY.
Plumbers hang them off a pipe sideways much like if you'd hold out your arm with a filled two-liter bottle of soda.
Yes, your arm gets tired from the weight.
How do you think the pipe feels? How much stress do you think is on the tee fitting with an expansion tank that is partially filled with WATER?
Look at the photo below. This is how expansion tanks should be installed.
Yes, the lighting could have been better.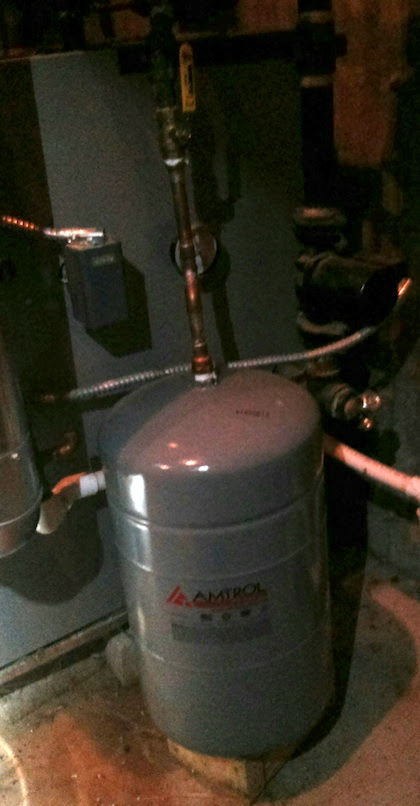 What do you see?
Here's what I see:
the tank is resting on wood blocks on the floor

the tank has a shutoff valve above it - see the yellow handle of the ball valve?

the tank is not putting any stress on the piping
This is how your expansion tanks should be installed. Don't allow a plumber to tell you otherwise.
The shutoff valve is absolutely a must have. When the tank needs to be switched out after it fails, you can do it in minutes without interrupting any water service to the occupants of the home.
Christmas is Coming!
I just started creating a new section at my website. It's not ready yet for you to see.
It should help you with tough decisions in the coming weeks.
I think I'm going to title it:
Things I Love and Use
Not a week goes by that someone writes to me, "Tim, I trust you. I just want to know what watch, what saw, what coffee mug, what wrench, what shoes, what ???? you use. Would you share with me to save me lots of time and money?"
That's a good idea.
With Christmas around the corner, you may be looking for unusual gift ideas - or practical ones.
I love practical.
For example, I'm a nut about accurate time. Being a opens in a new windowtrain conductor, it's important to know all about time.
I happen to love old-fashioned analog watches.
I'm on my second opens in a new windowSwiss Army Victorinox men's watch. My first one only lasted 15 years.
They only lose about 1 second per week. That's not bad.
This new section at the site will eventually be a huge list of everything I use here at my house. Stuff I simply love.
Even tee shirts! Look at this photo of the ones I really love.
opens in a new windowCLICK HERE to discover what shirt it is and to BUY them now.
Women of AsktheBuilder!
They make them for you too!
That's enough for today.
Remember, opens in a new windowGO PLAY the Santa Fe Game NOW.
Tim Carter
Founder - www.AsktheBuilder.com
Do It Right, Not Over!