November 11, 2019 AsktheBuilder Communique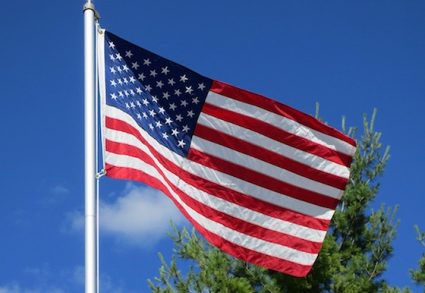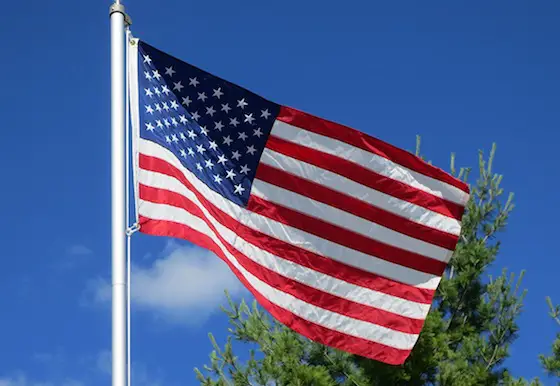 Veterans Day
Did you have the honor and privilege to wear a uniform of any branch of the US Military? Perhaps you have a spouse, daughter, son, or other relative that was, or is currently, in the service of the great United States of America.
If so, I and my family thank you/them for your/their service. Today is the day set aside to honor your/their sacrifice and putting your/their life on the line for the unparalleled liberty and freedom the rest of us enjoy each day in the greatest nation of the world hands down.
Billions of other people across the globe wish they were able to exercise the God-given rights many take for granted here in the United States of America. You put your life on the line to protect and preserve these rights. Take for example the simple God-given right of self defense.
You may have come back from your time in the service with memories of hardship, but also pride and a sense of accomplishment. Not all are so lucky.
You may not have had any injuries, physical or emotional. Not all are so fortunate.
My Dad
My Dad was a vet. He served as a medic in Company A, 6th Medical Battalion. He was in General Bradley's 2nd Corps in Northern Africa where I understand he got a serious scorching sunburn early in that campaign. Back then they didn't have the miracle sunscreen we have today.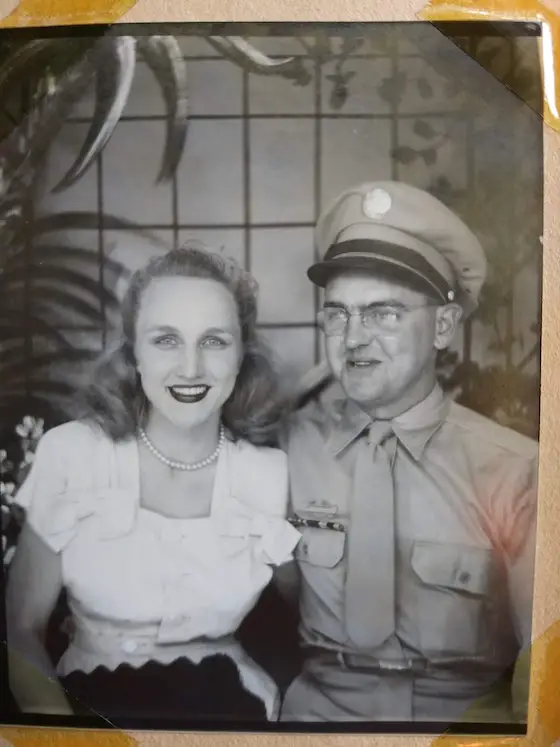 Yep, that's my dad just after he got back from WW II. Who's that vivacious woman on his right? My mom, of course. Look at them. My dad was just 28 in that photo and my mom, are you sitting down? - just 22 - soon to be 23.
Imagine how bright red her lipstick was? You can sure see why my dad was attracted to my mom. Wow, she was gorgeous!
My dad physically survived the war, but emotionally he was a wreck. One might imagine the things he saw on the battlefield as he tried to save other soldiers lives.
Early in the war, he was shot and wounded and got a Purple Heart. It was not too serious, so he stayed in the fight.
In March of 1944, his unit was overrun in a battle in southern France and he was captured by the Nazis. I was told a story early in my childhood that he had a chance to escape and not be captured, but he stayed on the battlefield to tend to an injured soldier.
Dad grew potatoes for the German Army in a Polish stalag. He was liberated thirteen months later by the advancing Russian army. I remember him telling the story of that glorious day at the kitchen table.
As I remember it, one morning in the early spring of 1945, he and the other prisoners woke up to find the Nazi guards gone. They had run away during the night having advance notice that the Russians were coming.
All of a sudden a Russian tank rumbled up to the prison camp, drove through the gate and stopped. Dad said they were all frightened thinking the tank was going to slaughter them.
The next thing that happened is the hatch on top of the turret flipped open, and the tank commander popped his head up and looked around. He then disappeared back into the tank and came back up with a five-gallon metal fuel container.
It was filled with vodka, not gasoline, and a liberation party ensued!
Here's dad's purple heart medal and the one for his POW experience.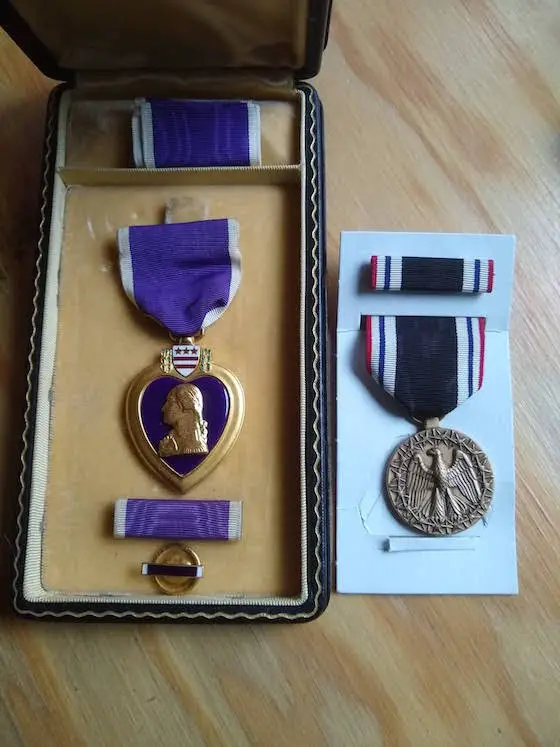 PTSD
They didn't call it that back in the great WW II. Dad had a bad case of it. Back seventy years ago, the medical experts thought the best way to treat this debilitating condition was with electro shock therapy. Did you see the movie One Flew Over the Cuckoo's Nest?
It turns out this shock therapy made PTSD worse for some, as it did my dad.
Dad was unable to hold a job, his depression was so great. My mom supported the family being one of the first women pharmacists in the state of OH.
Dad just stayed home and suffered. He slept on the couch and listened to country music most days. When I was young, I didn't understand all this. Back then, families didn't talk about it.
But as I matured late in high school and college, I started to connect the dots. Dad and I started to talk more and he took a great interest in my studies. He also was fascinated with my construction business as soon as I got out of college.
On days when he felt up to it, he'd come over to the first house I rehabbed - they call it flipping now - and shake his head in amazement at what we were doing.
We had to send my Dad back to Heaven when I was just 24. He was only 59 years old. He died of heart failure tied no doubt to his sedentary lifestyle, his relentless smoking, and no doubt a deep personal lack of accomplishment and maybe some shame.
But little did he know he was a great success as a man, husband, and father. He taught me many things even though the teaching happened in a subliminal way.
Dad taught me perseverance that he no doubt developed while a POW.
Dad taught me kindness, a skill surely he developed on the battlefield caring for injured and dying soldiers.
Dad taught me to honor our great nation. We had one very difficult kitchen-table talk when the Vietnam War was raging.
My draft number at age 18 was 127 and that year they went up to 125. If drafted, I would have gone, but I was a soul-surviving son so I was told I'd never be put into action. Remember the movie Saving Private Ryan? I was the only son in the family to carry on the Carter name for our family.
I want to call out some of my friends who are vets. My best friend in Cincinnati, Richard Anderson, who twice VOLUNTEERED to go to Vietnam.
My good buddy Chuck who was in the Coast Guard.
My fellow home improvement peer Mike Morris who served in Vietnam.
My very good friend, who used to subscribe to this newsletter, Captain Dick Daniels. Dick was an F4 pilot in Vietnam. I forget how many times he tail-hooked on carriers. I got to meet Dick and his wife Sue on several trips out West.
My buddy Bill Kingman who was sent to the Middle East and was kind enough to send me a US flag that was flown over there.
My really good friend Bob Roark who was in the US Air Force as a crew chief.
My nephew Kevin who was in the US Navy.
If I overlooked you, I apologize. Please forgive me but you know I appreciate what you did.
Please know that millions of people are appreciative of your service.
I hope you have a fantastic day.
Tim Carter
Founder - www.AsktheBuilder.com