October 13, 2019 AsktheBuilder Newsletter
You very likely could be a new subscriber. I'm so glad you're here. Let's see if I can WOW you with the first issue!
You might be a subscriber that's seen it all and you're yawning right now saying, "Okay Tim, just get on with the tips and cool photos. Do you have a video this week?"
Traveling Man
I was absent from your inbox last weekend because I was on a work/pleasure trip to Bar Harbor, Maine with my youngest daughter. We went up so she could see her new niece for the first time. After eating a picnic lunch last Saturday, I moved the blankets a little bit and here's the view I had doing some outdoor amateur radio.
As you can tell, it was a bluebird day. The next day we went for a marvelous hike up to the top of Beech Mountain. The next photo is looking at the north half of Long Pond. Even though you can't see the entire pond, you can see how it got its name!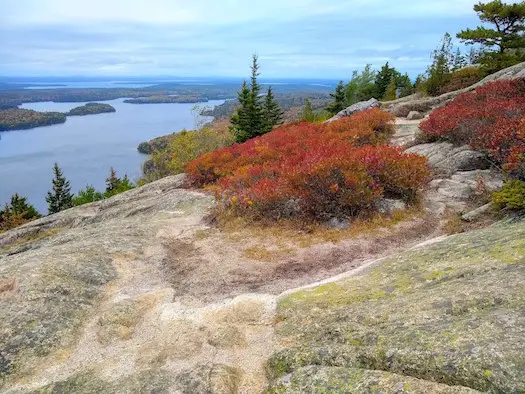 The fall color was at just about peak up there. Can you believe that just 15,000 years ago that where I was standing taking this photo I would have been underneath about 2,000 feet of ice that stretched up to the North Pole and all across Canada. GULP!
Think about that. How in the world did all that ice get created? If you're a new subscriber you'll soon discover geology was my college major.
Salvaging a Stone Foundation
What might be happening in this photo? Is this a botch job?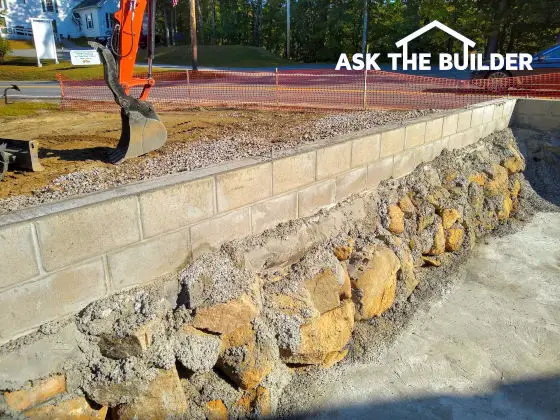 CLICK or TAP HERE now to get an idea of what's going on. PAY CLOSE attention to the other photo in the column! A special concrete block was used on this job as the last course. Do you know why?
Art With a Pressure Washer
Have you ever thought that a pressure washer wand could be used to create art?
You bet it can if you've got concrete in the Southeast that turns black from mold and mildew. Just look what Dianna Wood did after her husband was kind enough to buy a pressure washer for her as a gift. If I tried that with Kathy I'd be in the doghouse for about three years.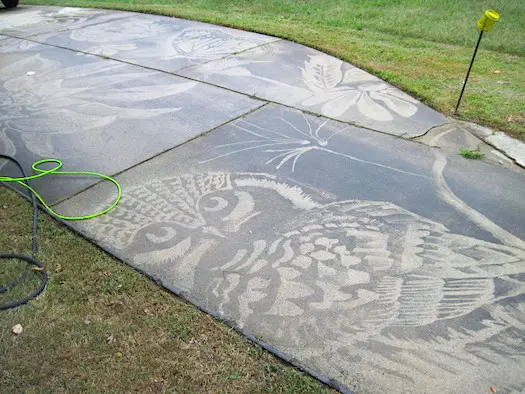 Or how about this: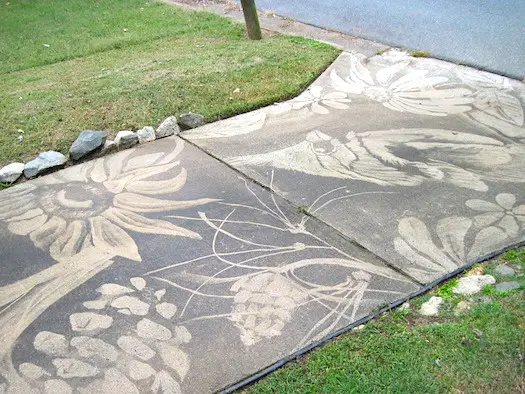 Dianna is an artist, but never before had she attempted what you see here.
CLICK or TAP HERE to see the rest of the driveway. These photos got national attention. It's time for you to up your game if you clean things. Send me YOUR art creations! I'm more than happy to publish them for you.
Foldaway Work Station - Heavy Duty!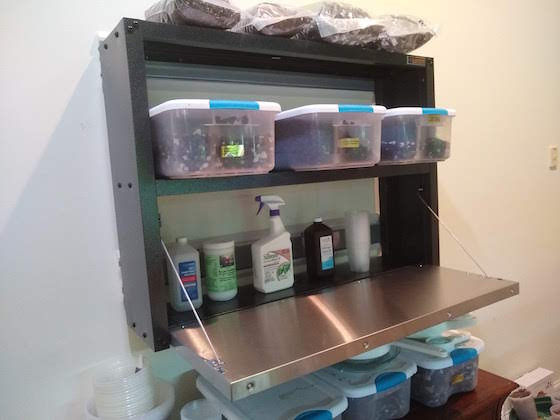 CLICK or TAP HERE to see what I hung on the wall for Kathy two days ago. It's a most interesting product.
PEX or Copper? Which One? Accckkk!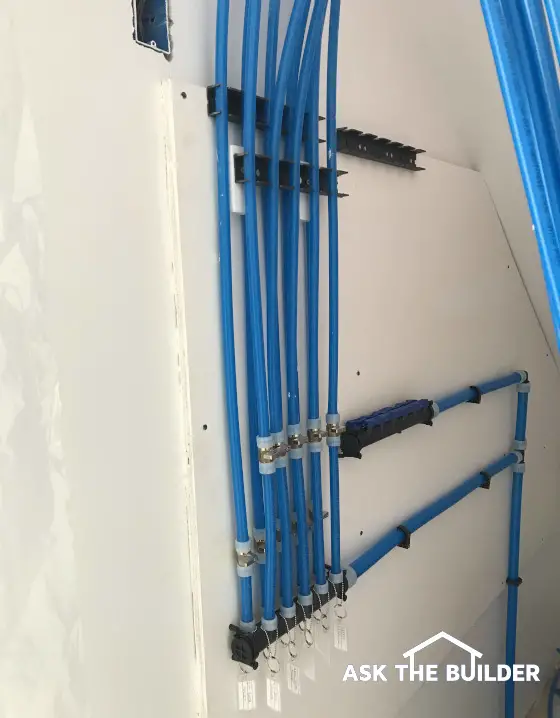 What do you think of PEX? Do you think it's crap?
How about copper for your water lines?
Do you know anything about aggressive water? CLICK or TAP HERE to discover what that's all about. A friend of mine in Southern California had to spend just under $30,000 two years ago to repair copper water lines ruined by aggressive water.
CLICK or TAP HERE to see a comparison of the PEX vs copper for water lines in your home.
Where Do You Work?
I need a little assistance from you if you work in the following places. There's a very good chance you've seen a trade magazine about what you do. There are HUNDREDS of trade publications targeted to very specific work fields.
Here's an example of one for the food industry. CLICK HERE.
I'm trying to expand our Stain Solver business and we already have quite a few businesses that buy it regularly to do all sorts of cleaning.
If you work in the following fields and have seen the trade magazine about what you do lying around the office or you get an issue can you PLEASE reply to this and give me the title of the publication you read, or better yet, a link to the online edition? THANKS in advance. Here are the categories:
Facility Manager (head custodian for giant office buildings,schools, universities, etc.)
Restaurant Owner
Hotel/Motel Manager
Day Care Center
Schools of Any Type
Property Management
Or, you may be in some other business and have an idea how Stain Solver can help you keep your business clean. Let me know what trade magazine you get and I'll reach out to the new-product editor!
Puerto Rico Meet Up!
I'll be traveling again this week to Puerto Rico to visit my youngest daughter. If you live in Old San Juan and want to do a meet up this week, now's your chance. I may never get back to PR. Email me and let's see if we can't pull it off.
That's quite enough for a Sunday.
Have a great week. I'll be sweating in the Caribbean for sure! I'm not used to humidity any more being in New Hampshire!
Tim Carter
Founder - www.AsktheBuilder.com
Expand Certified Organic CLEAN - www.StainSolver.com
/KP4 Man This Week - www.W3ATB
Do It Right, Not Over!
P.S. Think about how your company might use Stain Solver. I'm really trying to get it into businesses. Have questions? Ping me.