October 20. 2019 AsktheBuilder Newsletter
Did you just subscribe in the last week? Here's a tip: Be sure each week you CLICK at least one link in each issue so this newsletter continues to make it into your inbox.
Are you a long-time subscriber? I did some housekeeping two days ago and the same advice applies. If you want a constant flow of my tips and building secrets coming to you, CLICK or TAP HERE now. Now, tell me after looking at that page if you could do what Margo is about to do.
Puerto Rico Adventure
I just got back home last night just after 10 pm from the tropical island USA territory - Puerto Rico. I was there for four days visiting my youngest daughter who went down there after Hurricane Maria to help breathe life into the ravaged economy.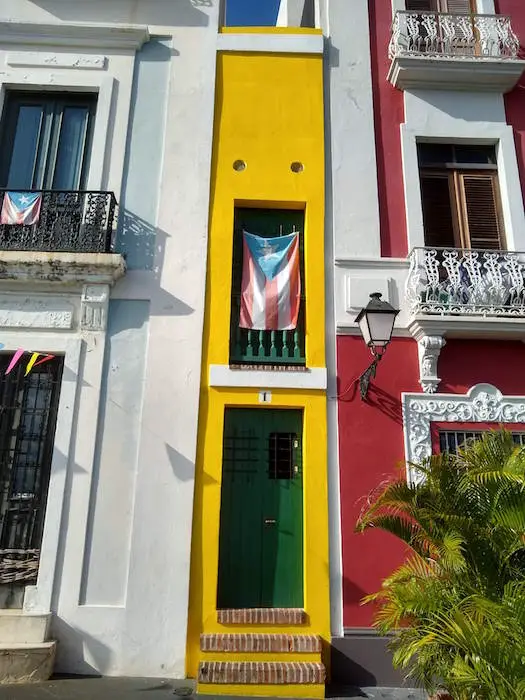 The photo above was taken just around the corner from the Monastery Art Suites Hotel I called home for the past five days. If you're going to Old San Juan, I can't say enough great things about this boutique hotel. If you book it, be SURE to tell them you heard about it via me - Ask the Builder. I get NOTHING if you book there.
That yellow house you see above, yes that narrow building is a house, is on Calle de Tetaun. Many of the houses and businesses in Old San Juan are painted vibrant colors. It's gorgeous to see them all.
My guess is several might property owners in Puerto Rico have READ THIS COLUMN of mine as to what house paint will hold up in this harsh marine environment. If you want your house paint to last, you need to use one that has the BEST and strongest glue (resin) in it. CLICK or TAP HERE to see what paint is on my own home.
Puerto Rican Masons KNOW the Best Mortar & Stucco
Whenever I travel, I'm always looking at how things are constructed and maintained. After all, many of the buildings there in Old San Juan are hundreds of years old and many are still in remarkable condition.
It's important to realize that it doesn't get cold in Puerto Rico. Water that turns to ice is quite destructive to certain masonry materials.
Look at the following photo of the top of one of the massive fort walls that surround Old San Juan and tell me if you can determine what's going on.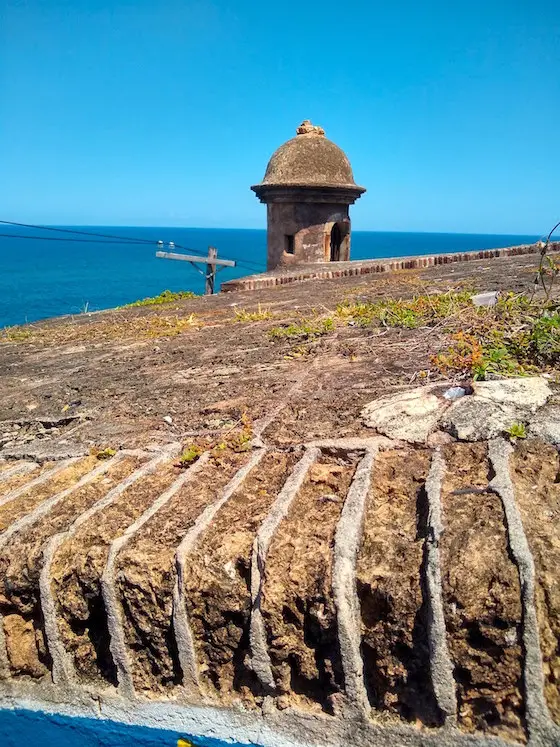 CLICK or TAP HERE to see if your guess is correct. Be sure to SCROLL DOWN to the middle or bottom of the column to get to the correct information.
Salt Water and Salt Spray & Mist
Salt water and salt spray and mist are very destructive to steel and iron. Two years ago I went on my first cruise to Bermuda on the Norwegian Dawn ocean liner. I attended a talk given by the captain and his top two officers. He said in a thick Eastern European accent, "The sea eats men and iron."
Look at the following photo and tell me if you can guess what I'm pointing to and how old it might be.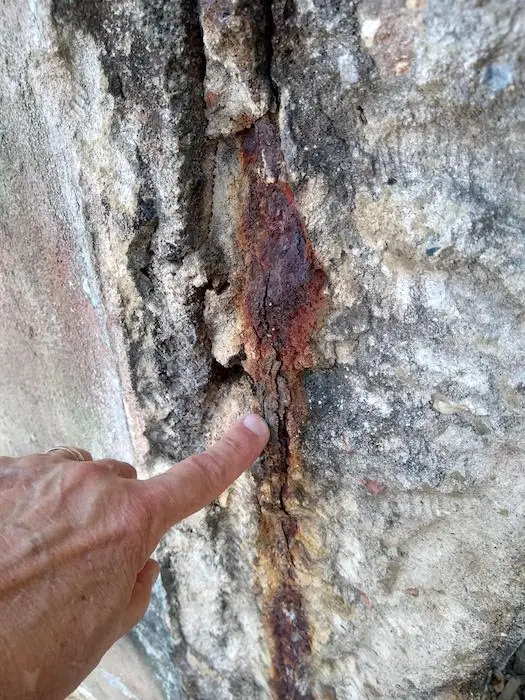 You're looking at what's left of a 1/2-inch steel rebar that's no more than two years old. It was embedded in concrete in a new home being built right next to the ocean.
When the steel rusts, it expands and it blew off the corner of the poured concrete corner post.
CLICK or TAP HERE to see how this might have been prevented using a high-quality paint that really stands up to harsh outdoor environments. Be SURE TO WATCH the VIDEO I made at the top of the page.
There are special steels used for rebar that help to resist corrosion by ocean salt as well as road salt used in cold climates. If you can't find or afford this rebar, priming and painting the steel with two coats of the special paint will really help slow down corrosion.
Liquid Courage
A major part of the culture of Puerto Rico is drinking. I'm not talking about drinking to get drunk.
Imagine you having a drink with your 8-year-old son or daughter on a balmy Thursday night at a sidewalk cafe and giving him/her a high five about something. Your son, or daughter, might be having a soda at that age, but you get the point.
I saw this exact thing happen in San Juan as my daughter and I were viewing the magnificent large art murals on the sides of many buildings in downtown San Juan.
My daughter works at the oldest bar in Old San Juan - El Batey. Countless celebrities and other famous people have been in this very unique bar.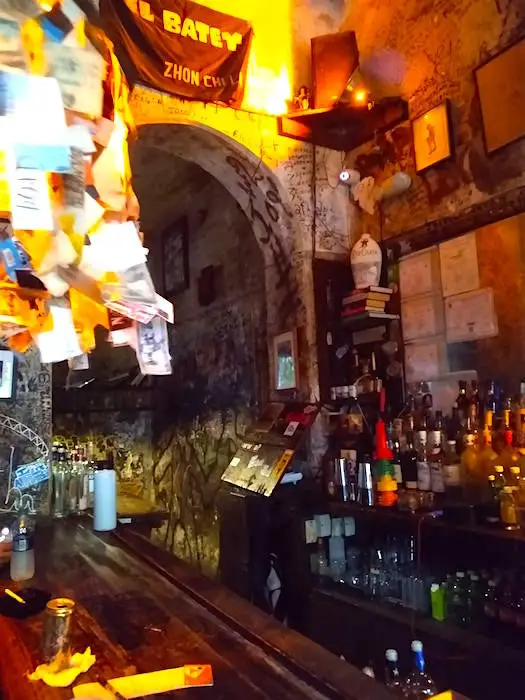 See that light fixture out of focus on the left? My business card is now there at the top. You should read all of the cards and notes on the dollar bills stapled to the two lights. What a unique decoration!
That's enough for a Sunday.
Remember, WHEN YOU TRAVEL, pay attention to what you see. This applies even to travel within the USA.
Things may be built differently and the methods may be FAR BETTER than those used by the contractors you might hire at home.
Keep in mind what's common about the Seven Wonders of the World. Think about that.
Tim Carter
Founder - www.AsktheBuilder.com
Clean ALL of Your Stuff - www.StainSolver.com
/KP4 on 5 watts! - www.W3ATB.com
Do it Right, Not Over!