Painting Ceramic Tile
"Painting a ceramic tile floor is fast and it can last. The key is to use the right paint and once cured, coat it with three layers of clear water-based urethane."
DEAR TIM: I am thinking about painting ceramic tile in my home. This tile is in several rooms both on the floor and walls.
Our budget does not allow replacement at this time. Is ceramic tile painting a reasonable project, or will it end in disaster?
What do I need to know about painting ceramic tiles that will make me look like a hero in front of my husband, the man who thinks this is a folly of an idea? Sharon D., Carrollton, TX
Painting Ceramic Tile Floor - One Color or Stencils

Related Links
opens in a new windowEliminate Grout Lines Before Painting - Good Idea?
opens in a new windowHow to Repair Chipped Tile Before Painting
DEAR SHARON: Oh, you're going to be astonished by the praise and compliments that will be showered upon you by your friends and neighbors once they discover how you transformed your home by painting the ceramic tile.
The best part is that the cost of the job will be less than what you and your Doubting-Thomas husband will spend at a fine restaurant for a dinner for two. He is going to be ordering some crow followed by a large helping of humble pie.
What Ceramic Tile Can be Painted?
You can paint any ceramic tile that will not be subject to lots of water on a routine basis. This means floor tile, wall tile, and countertop tile can all be painted. You can even do decorative painting on ceramic tile.
The only tile I would never paint is that ceramic tile within a shower or above a bathtub. The high levels of moisture in these areas cause most paints to peel from the ceramic tile in a short amount of time.
Free & Fast Bids
opens in a new windowCLICK HERE to get FREE & FAST BIDS from local painters who can paint your tile next week.
Should I Deep Clean Tile Before Painting?
Yes, the ceramic tile needs to be deep cleaned before painting. Paint is just colored glue and it sticks best to clean surfaces.
The first step in the process is to deep clean the ceramic tile and grout. You must remove all dirt, oil, wax, grease, mold, etc.
What is the Best Ceramic Tile Cleaner?
Certified organic oxygen bleach is the best ceramic tile cleaner.
I would start the process using opens in a new windowStain Solver certified organic oxygen bleach.
This product will deep clean all grease and dirt from the tile and the grout. You must have clean tile for the paint to stick to the glossy tile.
The cleaner you get the tile, the better chance you have of overall success. Keep in mind that paints of any type are simply glues that have color in them.
Glues prefer to stick to surfaces that are squeaky clean. They stick even better if the surface is slightly rough.
You can rough up the tile after using Stain Solver by doing a follow-up cleaning with a mild abrasive cleaner like Soft Scrub.
Cleaning Ceramic Tile Video
Watch this video to see how easy it is to clean ceramic floor tile.
What Paints  Stick Well to Ceramic Tile?
Oil-based paints stick very well to ceramic tile. They are harder and harder to find.
I've had fantastic results over the years painting ceramic tile with oil-based paint. It is getting harder to find this paint because of environmental issues, but rest assured, it really sticks to things once it is dried and has cured.
Water-based paints can peel readily from glazed ceramic tile surfaces. You may have great success with epoxy paints, but test these in a small area as they might be hard to use the first time.
Newer urethane-resin water-based paints are your best alternative if you can't locate oil-based paint. Urethane resin is often found in outdoor porch paint.

opens in a new windowCLICK HERE to get FREE & FAST BIDS from local painters who can paint your tile next week.
What is the Best Paint Sheen to Use?
Use a semi-gloss or high gloss paint for the job. If the paint is thick or hard to brush or roll, use a little paint thinner to slightly dilute the paint. Always follow the directions on the paint-can label with respect to the maximum amount of thinner you can add.
Use masking tape to protect surfaces next to the ceramic tile. Use tapes that have less-aggressive acrylic adhesives so when they are removed, they do not damage the surface that was taped.
Can You Stencil Patterns on Ceramic Tile?
Yes, you can paint stencil patterns on ceramic tile.
Decorative painting on ceramic tile is easy. You have unlimited design options on any ceramic tile surface. Keep in mind that if you grow tired of the design, you can paint over it
Stenciling over the finish paint will allow you to create borders on walls, floors or countertops. You can have scads of fun with stencils or even two-tone paint designs.
Let your mind run wild, and experiment on a small section of ceramic tile. If you don't like what you see, start over.
How Do You Protect the Paint on the Tile?
Once the finish paint has dried for two or three days, coat it with two coats of clear water-based urethane. This urethane is very sticky and will adhere to the fresh oil paint.
Avoid using oil-based urethane as many of them have a tendency to develop a golden patina over time. You may find the amber color of this patina to be objectionable. The water-based urethanes stay clear forever.
The urethane is an integral part of the paint job. Most urethanes are very hard and resist water and foot traffic or abuse from plates, glasses, and cookware on countertops.
It's a known fact that urethanes do a fantastic job of protecting hardwood floor finishes for years. They do the same for painted surfaces. This is especially true for painted ceramic tile floors. The urethane finish will protect the colorful paint and provide you with years of beauty. There are thousands of basketball courts that are living proof that painted floors can handle abuse and still look good with minimal care.
Should I Repair Chips Before Painting Tile?
Be sure to repair any chips in the tile before you paint. Quick-drying epoxies are an excellent material to use for this purpose. Caulk all cracks as well. Be sure the caulk cures for several days before you paint it. Some water-based caulk will shrink if you squirt them into wide or deep cracks. Use caulking backer rod, if necessary, to fill deep cracks. Generally speaking, a bead of caulk should only be as deep as the caulk bead is wide.
Can I use Multiple Paint Colors or Tones?
Yes, consider using multiple colors when painting your ceramic tile. Creating geometric patterns by painting separate tiles different colors can yield stunning results.
You can also paint stripes or borders with ease. On large ceramic tile floors, a border can be designed that compliments the placement of a large area rug that is used in the center of a room or a runner carpet in a hallway.
Author's Note: We've received other questions with similar problems or questions. Here's one from E.J. Vincent of California regarding her ceramic tile painting project.
"I want to paint my own design onto ceramic tile, like the ones you would buy at Home Depot. Is there a special ceramic tile paint and sealer I need to use? The ceramic tiles will be incorporated in with the same unpainted tiles on the kitchen cabinet top and backsplash."
opens in a new windowCLICK HERE to get FREE & FAST BIDS from local painters who can paint your tile next week.
Column 651
Summary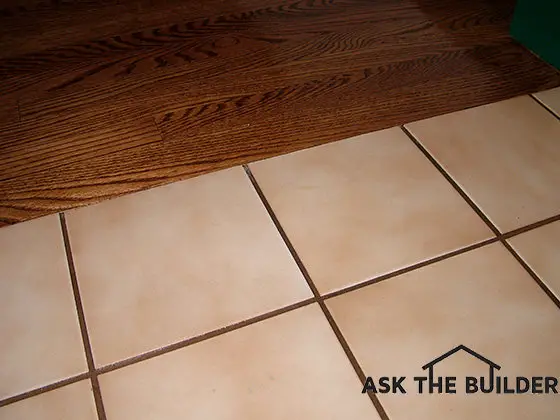 Article Name
Painting Ceramic Tile Floors is Easy and Fun
Description
Painting a ceramic tile floor can save you lots of money and change the look of a room.
Author
Publisher Name
Publisher Logo