Painting Kitchen Cabinets Quick Start Guide
DEGREE OF DIFFICULTY:
You can save thousands, even tens of thousands, of dollars by just painting your existing kitchen cabinets. You don't always need new cabinets.
In fact, before ripping out your old cabinets, what do you have to lose by painting one or two to see how amazing the difference can be? Just do it.
This project takes some patience and moderate skill, that's why I rate it at four out of five hammers.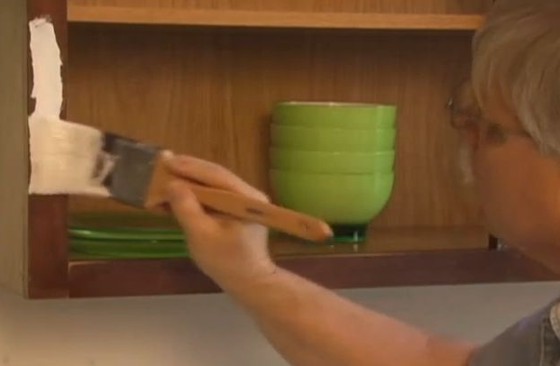 You can get professional results with a brush and a roller, but spraying the cabinets is the best way to go. It also helps to use some of the products listed below, especially the paint conditioner. That's a secret the pros don't want you to know!
Watch the video below unless you've come here from YouTube having already watched my video.
Be sure to look at the RELATED CONTENT links at the bottom of this page. Lots of goodies there for you.
REQUIRED TOOLS & MATERIALS:
TIPS:
Wash your cabinets first to get off all oil and grease. Stain Solver oxygen bleach is the best way to cut through grease. Add a generous squirt of liquid dish soap to the Stain Solver solution.
Remove the hardware from your cabinets. This is a must.
Use a liquid de-glosser to prepare cabinets for paint. This ensures paint adheres well.
Purchase the best paint you can afford. READ the label to make sure it's for cabinetry. These paints contain hardeners that make them more durable.
Use the correct primer. The correct primer is usually called out on the label of the finish paint you'll use.
Apply the finish paint as soon as the primer says you can re-coat or paint over it. Doing this helps WELD the primer and finish paint together.
Paint in a dust-free space. Keep room temperature above 60 F. Do NOT paint in direct sunlight.
Allow paint to dry for at least 24 hours before re-installing hardware.
Consider purchasing my Painting Kitchen Cabinets eBook for more tips!
Celebrate your Victory!
Please subscribe to my Newsletter and get insider information on the latest home-improvement tips, and products. I guarantee you that my newsletter WILL save you time and money. Frequently, I include your questions with my answers and proposed solutions. Perhaps the best part of the newsletters are my reviews of new products based on my own testing. Click here to read my past newsletters.
It is FREE & EASY.
 RELATED HELPFUL CONTENT:
Column QSG005