Paslode Cordless XP Framing Nailer CF325XP Review
Paslode Framing Nailer Model CF325XP
The Paslode CF325XP framing nailer is a dream tool. It's a rough carpenter's go-to tool once he uses one for just ten minutes. This tool was so popular, I shared it with all my readers in my opens in a new windowFebruary 16, 2016 AsktheBuilder Newsletter.

Paslode CF325XP Benefits:
no heavy noisy compressor

no hoses

drive nails within 10 seconds of taking out of case

durable
As you might imagine, this is why I switched to Paslode guns for the remaining 40% of my career.
Paslode Framing Nailer Needs No Hoses
The first one I used was air powered and you simply can't believe how much work this tool could do in an hour.
After using the gun just ten seconds I knew I'd use them forever because they save so much time.
How Long Have You Used Paslode Guns?
I've owned and used Paslode nail guns for over 30 years. (That sentence was written in 2018.)
I remember decades ago when the first Paslode impulse guns came to market. I was intrigued by them because air-powered guns require hoses, a large noisy compressor and lots of effort to connect everything together.
The Paslode framing nailer and all other Paslode guns just needed a tiny fuel cartridge and a battery. Once I saw this, I bought my first one. A few months later I purchased their finish nailers.
Related Links
opens in a new windowPaslode Roofing Nailer - Coiled Nails Work
opens in a new windowMilwaukee Finish Nail Gun Review - #TotalFAIL #StartOver
I was in love with these guns that worked instantly as soon as you opened the case. I've driven well over 100,000 nails with my Paslode guns.
Gone forever was the need for the cumbersome air hoses, gasoline for a compressor and the backaches of lifting the heavy compressor in and out of the back of my truck.
New Paslode CF325XP Framing Nailer
You can say all the same great thing about their latest model, the opens in a new windowPaslode XP Framing Nailer.
However, times have changed and the battery that provides the needed power to run the exhaust fan and provide a spark to ignite the puff of gas inside the tiny combustion engine is now lithium ion.
Cold Won't Stop Paslode
I now live up in central New Hampshire and believe me, it can get cold. This new Paslode framing nailer is certified to work at temperatures as low as 14 F. That's a huge plus and you'll rarely miss an hour's work with this new functionality.
You know, that old saying is true. A picture is worth a thousand words. So here's several thousand words for you!
opens in a new windowCLICK HERE to BUY this new Paslode gun now if you don't need to see the photos.
Summary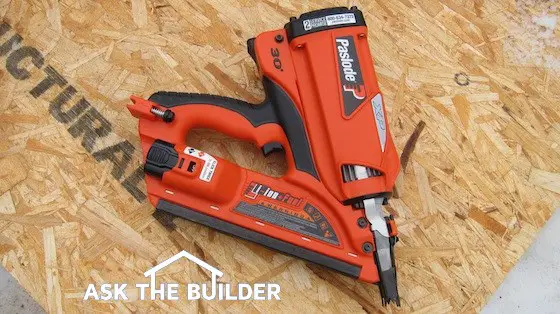 Article Name
Paslode CF325XP Cordless Framing Nailer - WOWZA!
Description
I tested the Paslode CF325XP cordless framing nailer. I'm a builder/carpenter and it's a superb tool.
Author
Publisher Name
Publisher Logo