Precast Concrete Foundation Companies
Precast concrete foundations are made in controlled conditions inside a building. Most precast concrete foundations can be set in one day.
Precast Concrete Foundation Companies
There are two main companies that make and license their precast systems. Be sure to check out how close each manufacturing plant is to your job site. Transportation of the precast panels can be a significant cost and the greater the distance from your future home to the place the panels are made will impact what you pay.
They are:
I visited the Thermal-Krete website to locate a list of their licensed plants at the time I created this document. I had no luck. They say at the bottom of their website home page:
"Kistner Concrete Product Inc. operates four NPCA nationally certified manufacturing facilities." However, they don't provide an easy link as to the location of these mysterious plants.
I filled out their contact form on March 31, 2018 to see if they respond. Here's a screenshot of my request: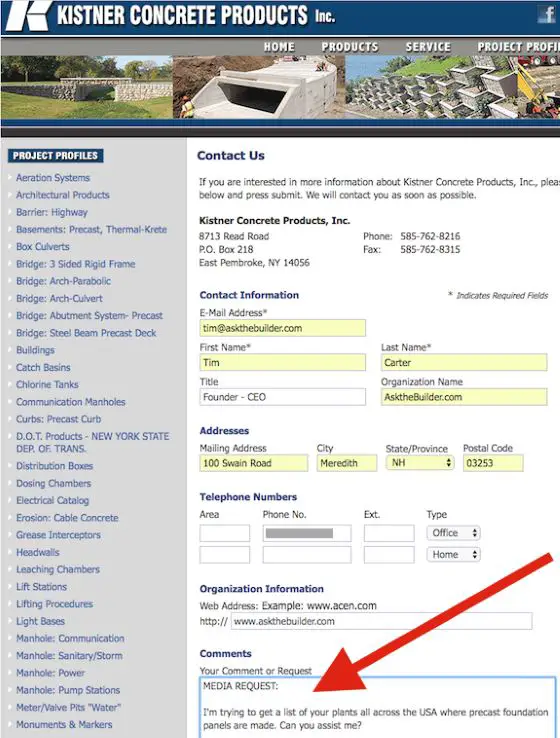 If they respond, I'll be sure to put up a list of their plant locations for you.
Superior Walls Precast Foundation USA Map
This is a map taken from the Superior Walls website on March 31, 2018. Look at the legend at the top of the graphic so you understand the colors.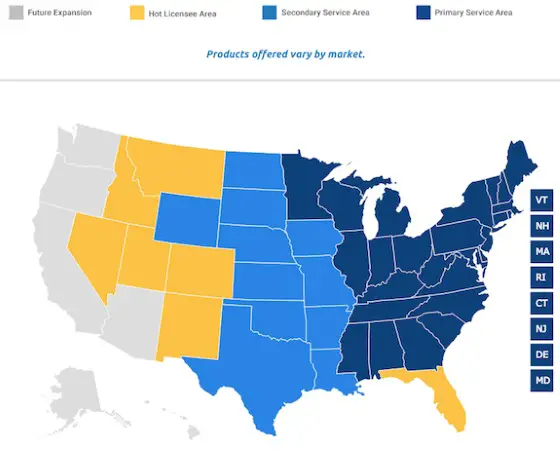 The following is a list of licensed companies who use the Superior Wall's patented technology.
Superior Walls by Advanced Concrete Systems




55 Advanced Lane




Middleburg, PA 17842




800-521-3788

Superior Walls by Carr-Mitchell Inc




44 Industrial Drive




Cadiz, KY 42211




877-522-9255

Superior Walls of Central Virginia




10101 Superior Way




Amelia, VA 23002




866-350-9255

Superior Walls by Collier Foundation Systems




1500 Ellsworth Avenue




Suite 210




Heidelberg, PA 15106




888-817-5537

Superior Walls of East Tennessee




10146 Sparta Highway




Rock Island, TN 38581




877-836-9255

Superior Walls of Eastern Iowa




2395 Tech Drive  #9




Bettendorf, IA 52722




866-560-9255

Superior Walls of the Great Lakes




4555 134th Avenue




Hamilton, MI 49419




800-486-2932

Superior Walls of Greater Atlanta




703A Corinth Road




Newnan, GA 30263




866-538-9255

Superior Walls of the Hudson Valley




68 Violet Avenue




Poughkeepsie, NY 12601




800-639-4033

Superior Walls by Jointa Lime




1762 Central Avenue




Suite 301




Albany, NY 12205

Superior Walls of New Jersey




92 Reese Road




Millville, NJ 08332




866-699-2557

Superior Walls of North Carolina




3570 South Main Street




Salisbury, NC 28147




877-896-9255

Superior Walls of NW Pennsylvania




9391 West Main Road




North East, PA 16428




888-725-8575

Superior Walls By Precast Concrete Solutions




300 S Martin Luther King Drive




Springfield, IL 62703




866-522-8565

Superior Walls by Precast Systems




5877 Bullitt Road




Greencastle, PA 17225




866-369-3773

Superior Walls by Setwright Precast




11 Mechanic Falls Road  Ste 5




Oxford, ME 04270

Superior Walls of Upstate New York




7574 East Main Road




Lima,NY 14485




800-273-0127

Superior Walls of the TriState




3425 Grant Drive




Lebanon, OH 45036




888-840-9255

Superior Walls of the Twin Cities




580 Schommer Drive




Hudson, WI 54016




800-467-8279

Superior Walls by Weaver Precast




824 East Main Street, PO Box 759




Ephrata, PA 17522




800-352-8196

Superior Walls by Weaver Precast of Florida




350 Thorpe Road




Orlando, FL 32824




800-291-2213

Superior Walls by Weaver Precast of South Carolina




8 Hudson Drive




Spartanburg, SC 29303




877-542-1213
Companion Articles: Precast Concrete Foundation Walls, Precast Concrete Walls, Precast Foundation Wall Illustrations
Column B266