September 12, 2017 AsktheBuilder Newsletter
Are you captivated by the weather news? Have you ever thought why this is so?
I think it's a scale issue. The wonders of Mother Nature are so much larger than us and contain such vast amounts of power and fury.
Your appetite to know more about hurricanes, cyclones, tornadoes, earthquakes, forest fires, blizzards, etc. no doubt is hard coded into your brain stem.
I feel part of the attraction is scarcity. All of those natural forces can take away something from you that's pretty valuable - your life.
Then there's the inner morbid curiosity we all seem to possess that Don Henley explores in his famous hit song Dirty Laundry.
If you've not listened closely to the lyrics, you should.
CLICK HERE to read them.
You & Clutter
Let's be honest with one another. I'd like you to answer these questions:
Can you see the top surface of your workbench?

Do you know where all your tools are and can put your hand on each one in less than a minute?

Is your garage floor covered with (begins with the letter C) that you've not touched in months / years?

Are shelves in your garage or basement packed with you-know-what and you can't find anything?
The past three weeks I've been involved in a massive project here at my house solving all those above problems. It's a project you might have to do to, but have been putting off.
I put mine off for nine years and simple could no longer stand it.
Years of clutter are disappearing. I've just about wrestled the demon to the ground. I can see large sections of floor again in my shed.
I'll be able to park two vehicles in the garage this winter with lots of extra space.
My garage attic will be so open I may create a man cave extension with a lounge chair and my model-trains-under-glass coffee table!
I inherited the horrible packratitis disease from my mother. She had a chronic case. I don't have it quite as bad as she did, but I'm infected. My wife Kathy may disagree.
I just wanted to share how liberating it is to be free of so much stuff. It's a fantastic feeling.
I was able to sell many things. Other things went to the free room at our town dump. I discovered the best thing to do is create a FREE pile in the garage and when someone comes to buy something, they can pick anything they want from the pile. It's a FUN GAME and people are delighted to get something for free in addition to paying for what they came for. It's a win win win.
To help put the declutter icing on the cake, I had Kathy order a few things for me yesterday from Amazon.com. I need to finish organizing decades of accumulated nails, screws, bolts, nuts and many other small items that are very handy to have.
You can have your own small hardware store and save yourself LOTS of money. Have you noticed the outlandish price hardware stores and big box stores charge for one screw, bolt or nut? WOWZA! No way I'm throwing all mine out!!!
I've had lots of great durable plastic bins for years. I got most of mine 30 years ago. They were in the rear of my utility body truck holding nails, screws and other small parts.
Now they're on some narrow shelves in my garage, but I need more.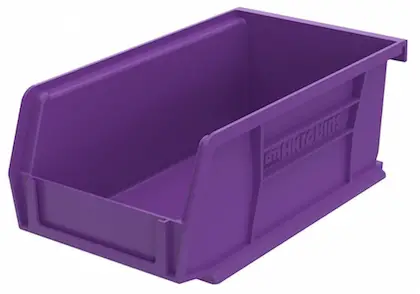 What you see above is an Akro bin. They come in all sorts of great sizes. They're also very affordable.
They come in about seven or eight colors. Black, red, blue, gray, green, yellow, purple, clear, bone, etc.
They stack very nicely. You can store lots of different things in these bins so you can find them!
I'm using different colors to help me easily identify groups of things like:
nails

screws

electrical parts

plumbing fittings

misc hardware

etc.
CLICK HERE to see all the Akro bins.
They have a lip on the back you can hang them from the Wall Control metal pegboard I so love. CLICK HERE to see the wonderful Wall Control pegboard I've got in my garage.
Stop the BANG!
Are you remodeling or getting ready to build a new home? Then you MUST give SERIOUS consideration to pocket doors.
Not just any pocket doors, but ones made by LE Johnson that have the newer soft-close feature. Yes, you can get heavy pocket doors to close SOFTLY and not BANG!!!
You've surely seen cabinet drawers and shelves and other sliding things that have this wonderful feature.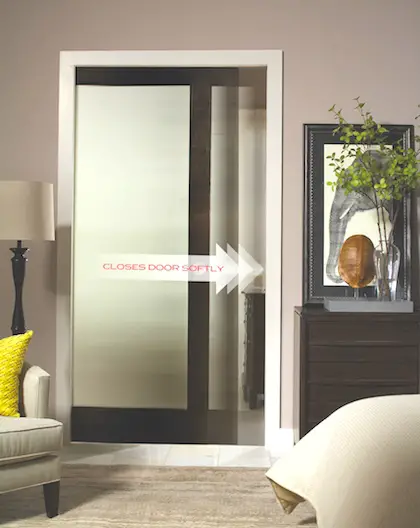 CLICK HERE to discover more about the fantastic LE Johnson soft close hardware.
Guess what? If you have an existing LE Johnson pocket door, there's a great chance you can ADD this new hardware.
It only takes a decent handyman about an hour to complete the job.
CLICK HERE to watch a video showing how the soft close STOPS a pocket door from SLAMMING going either direction.
CLICK HERE to see how to install the soft close hardware in a pocket door frame.
Subway Tile Backsplash - It's All In The Prep
I got a great question from Pam in Columbus, Ohio on Saturday.
It was so good I turned it into one of my national columns.
CLICK HERE to see an amazing photo.
Hurricanes / Floods & Mold
With all the extreme weather happening, it's time for you to get back up to speed on mold and how to STOP IT.
CLICK HERE for a quick refresher course on MOLD PREVENTION.
That's quite enough for today.
I've got some great projects happening here at my house this week and need to take advantage of the great weather.
I'll be taping a swell video or two tomorrow showing you step-by-step how to create threads on black iron pipe. You may not realize how easy it is to do assuming you've got the right tools!
I want you to understand it's not magic to cut threads on a smooth black iron pipe.
Tim Carter
Founder - www.AsktheBuilder.com
Do It Right, Not Over!