September 27, 2020 AsktheBuilder Newsletter
You're a new subscriber, aren't you? I thought so. I'm elated that you've decided to become part of the AsktheBuilder.com family.
You, though, might an experienced AsktheBuilder.com newsletter rodeo rider. Tell me, do you recall the video I recorded sharing a secret trick carpenters use to square up walls, foundations, roof trusses, or anything without using a calculator or any hard math at all?
All you need is a silly tape measure! Seriously! CLICK or TAP HERE and you'll be amazed how how easy it is to square something.
The Les Gutter Guard Tsunami
In my September 25, 2020 Newsletter, I asked for your stories about Gutter Guard scams. Here are some of the replies I received.
A week ago Les, who resides in Greensburg, IN, stopped by my Ask Tim page and shared the following:
"After many years of going up on my roof to blow out 260 ft of gutters lots of times during the fall months, I'm finally going to take your advice on gutter guards. I had LeafFilter come out and give me their inclusive pitch which ended with an $18K quote...Very laughable...."
At first, I thought Les had typed that wrong. There's no way someone could quote $64.28 per linear foot for a product that costs about $1.75 per foot to manufacture. But Les's story was the truth.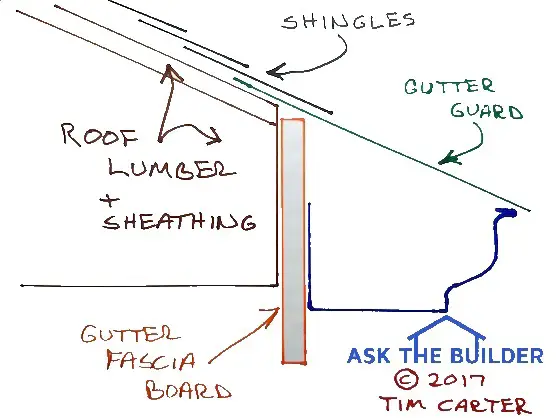 I don't know about you, but I've been seeing lots of TV ads for LeafFilter in the past several months. These are being shown on a major network where the ad costs are in the stratosphere.
You, the consumer, pay for these ads with higher product prices. That's Business 101.
I decided to ask you what your experience has been with gutter guard quotes and I wasn't surprised. CLICK or TAP HERE to see the data I've received so far about recent quotes and contract prices for gutter guards all across the magnificent fruited plain here in the USA.
I also have on this page five disturbing high-pressure sales stories. At the very least, read a few of them. Be sure to give SERIOUS CONSIDERATION to purchasing the book I highlight on all the pages so you never again get screwed by a salesperson.
Cloudy Drinking Glasses - Dishwasher Gel/Soap!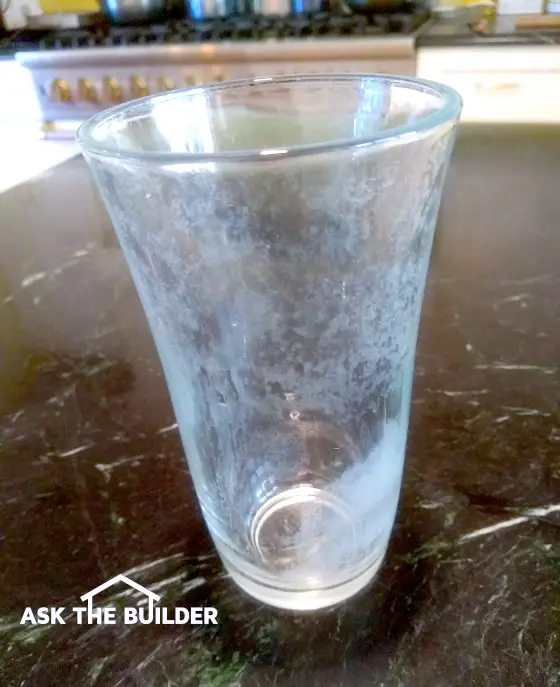 You may think the glass is coated with hard-water salts or deposits. I thought that about 30 years ago. My mother-in-law got a good chuckle - you'll have to read the story using the following link.
CLICK or TAP HERE if your drinking glasses used to be CLEAR but now are starting to look like mine. You're not going to believe what you read.
Bathroom Fan Exhaust - The Right Way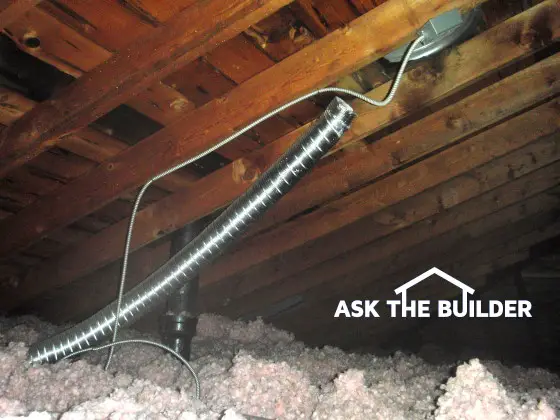 What do you think of that flexible metal bath exhaust pipe in the above photo? It's aimed at a powered attic ventilation fan.
Do you think you know the absolute BEST WAY to vent a bathroom or kitchen exhaust fan? I'm willing to bet you a pound of dark chocolate Aglamesis pecandes you don't.
CLICK or TAP HERE and see if you were right.
Use the Right Shovel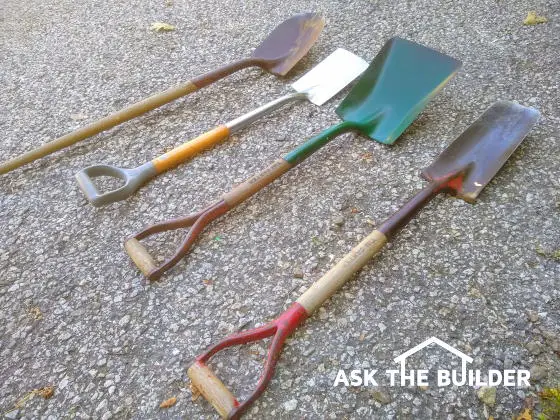 There are lots of odd-looking shovels. Each one has a specific purpose.
I've got a question for you. Back in the 1850s, work crews installed telegraph poles from the Mississippi River to California. They did it in a record nine months!
There was a pole about every 200 feet. Can you picture how the work crews dug the 1-foot diameter holes down 5 feet in deep soil?
CLICK or TAP HERE for the answer. I'd also click that link if you want to know how I use each of those shovels in the above photo. Which one do you think is my favorite?
That's quite enough for a Sunday.
Tim Carter
Founder - www.AsktheBuilder.com
Best Darned Cleaner - www.StainSolver.com
Morse Muff Soon - www.W3ATB.com
P.S. If you pray, I need a favor. A very dear friend of mine has been suffering and could use a bunch of prayers. I need you to pray exceedingly hard this coming Friday. Thanks in advance.