Solving Pocket Door Problems
"A high-quality pocket door frame and hardware kit will operate flawlessly for many years if installed properly."
Pocket Door Problem Checklist
Follow Installation instructions making sure studs are plumb

Trolleys must have three wheels

Paint doors on all sides/edges BEFORE put in pocket
When Did Pocket Doors Become Popular?
Pocket doors became very popular a few decades after the US Civil War. The popularity peaked between the late 1890s and the 1920s.
Who hasn't been inside one of those magnificent Victorian homes built 100 years ago that has dual-acting pocket doors between the living room and dining room? Those disappearing doors can instantly create privacy. If you want to watch a video about pocket door privacy, it would do you well to click or tap here.
The beauty of the pocket door system was known by our grandparents and their parents. They saw how the doors saved space. The pocket door concept freed up both floor and wall space. I don't know about you but I'd sure like to shake the hand of the inventor of pocket doors!
Can I Install Heavy Items on a Pocket Door Wall?
Yes, you can install heavy pictures and items on the pocket wall if you use pocket door plywood clips. These simple and affordable clips allow you to put pieces of 5/8-inch plywood in between the narrow pocket-door studs.
CLICK HERE to get FREE & FAST BIDS from local finish carpenters that specialize in pocket doors.
Related Links
Quick Start Guide to Installing Pocket Doors
How to Attach Shelves to a Pocket Door Wall - Interesting Challenge!
Why Do Some People Dislike Pocket Doors?
A certain number of people complain how the pocket doors rub going into and out of the pocket. The doors jump off the track.
CLICK or TAP HERE if you need me to HELP YOU over the phone to solve your pocket door problems.
It's tough or impossible to adjust the doors once they are trimmed out. Old pocket doors may be hard to operate or don't work at all.
All of these pocket door problems can cause a person or a friend to avoid using pocket doors. This distrust can often be blamed on poor hardware quality or poor installation practices.
Are There Problem-Free Pocket Doors?
Yes, a high-quality pocket door frame and hardware kit will be problem-free for many years if installed properly. I know. I've installed countless ones over the decades, even in my own home.
What are the Best Pocket Doors?
The best pocket doors start with the best frames, track and trolleys. You don't see any of this once the pocket door is installed and the walls are finished.
Here's the only brand I'd ever install. They're simply that good. I've had LE Johnson pocket door frames/hardware on all my jobs and in my own home for years.
Note below in the photo how the trolleys have three wheels. This type of trolley ensures they never jump off the track.
Is it Hard to Get Old Pocket Doors to Work?
It can be very hard to get old pocket doors to operate smoothly. The design of the hardware is flawed and it's almost impossible to get parts.
Do you have an old set of pocket doors that you wish to revive? It may be tough to do it if you are looking for used parts.
If you're a purist and must stay with old parts, you can try to find them online. Many small independent hardware stores ply their wares on Amazon.com. CLICK HERE and start hunting!
Can I Install New Pocket Door Track and Trolleys with Old Doors?
Yes, you can restore old pocket doors and install new trouble-free hardware and trolleys.
If you can't find parts, don't get discouraged. The heart and soul of a pocket door system are actually the track above the doors and the rollers, or trolleys, that attach the door to this track. There is absolutely no reason whatsoever why you can't put a new track system in an old door pocket.
How Do You Install the New Track and Trolleys?
You have to remove the old track and trolleys to install the new ones. It's somewhat painful to tear into the wall, but it's worth it.
Getting it in will be a challenge and may require surgery on the wall, but this can be easily repaired. I urge you tackle this project with a positive attitude. It will be tough at first, but the outcome will be dramatic.
CLICK HERE to get FREE & FAST BIDS from local finish carpenters that specialize in pocket doors.
How Do I Solve Common Pocket Door Problems?
There are a few things you can try to solve common pocket door problems.
Problem: Does your door jump off the track and get stuck in the pocket?
Solution: Look at the wheels or rollers. If they're single-wheeled rollers, you have an inferior system. The best pocket door hardware has 3 or 4 wheel hangers that fit into a box-shaped track. It is impossible for this type of roller to jump off the track.
Problem: Can you easily remove the door after one side of the top split jamb is removed? If not, you can have big problems.
Solution: You can buy a pocket door hardware system that allows you to easily disconnect the door from the 3 or 4 wheeled hangers. Within moments the door will be in your hands, not in the pocket!
Problem: What happens if the track gets damaged? Can you easily remove it?
Solution: If your track does not have keyhole shaped slotted screw holes, you will be in for a treat. I guarantee you will be tearing into the wall to get at the track screws deep in the pocket. A track with keyhole-shaped screw holes eliminates this problem.
Problem: Does your door rub the split jamb when it is pulled in and out of the pocket?
Solution: Check to see if there is 3/16th-inch clearance between each side of the door and each jamb.
If you have this clearance and the door still rubs, the door may be warped and/or the entire pocket door assembly may be twisted. If this is the case, it will require major reconstructive surgery to solve the problem.
The problem with rubbing doors can sometimes be traced to the bottom door guides. An inexperienced carpenter may install these on the wrong side of the split jambs! They are supposed to be on the face of the jamb. This allows you to adjust them easily.
Do Pocket Doors Need to be Painted Before Installation?
Yes, you need to paint the pocket door on all sides, top, bottom, and edges before it's hung on the track.
Pocket doors require some tender loving care from the painter as they are being installed. Once installed you can't get to the top, bottom, or back vertical edge. These surfaces MUST be sealed to prevent warping. This can only be accomplished as the door is being worked on by the carpenter.
If you paint the door, it is simple. Just apply a primer coat to the entire door as soon as it arrives at the job site. Then have the painter apply a finish coat to the edges of the door before he hands it over to the carpenter.
If the door is to be stained, it will be a little more difficult. The painter will have to carefully apply a sealer to the top, bottom, and hidden vertical edge. If you get sealer on the face of the door, the stain will not penetrate properly. It will really look horrible. Coordinate this carefully!
CLICK HERE to get FREE & FAST BIDS from local finish carpenters that specialize in pocket doors.
Column B190
Summary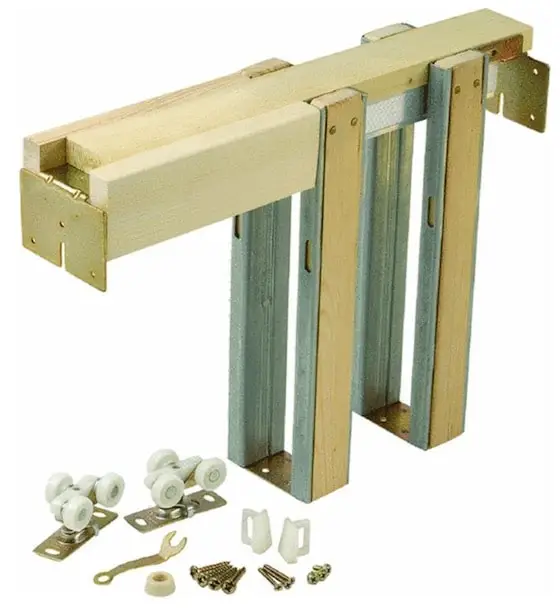 Article Name
Pocket Door Problems - Easily Solved | AsktheBuilder.com
Description
Pocket door problems are almost always caused by using inferior track, trolleys and hardware. Buy the best parts. Great video here.
Author
Publisher Name
Publisher Logo