Synthetic Decking & Sealers
Decks are big business. I mean BIG business. I have built many, many decks in my career, but never gave it much thought as to how people became disenchanted with the periodic maintenance. Not only that, some areas of the country (South and Southwest) have harsh weather conditions that are brutal for wood and wood sealants. It only makes sense that someone would try to produce an alternative decking material that requires no maintenance.
Plastic Decking
The plastic decking industry started in 1989. It was an offshoot of the plastic or vinyl fencing industry. Pure or virgin vinyl decking materials were the first alternative decking materials available. They were very attractive to boat dock builders.
The recycling movement really got going about six years ago. All of the plastic milk bottles had to go somewhere, so companies began to explore using this plastic to make decking materials. The recycled material was also combined with wood fibers and by-products to create hybrid decking materials. So now you have all sorts of products out there to confuse you!
Some Facts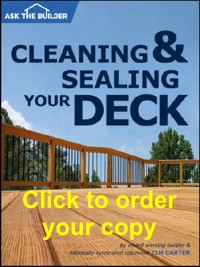 Not all alternative decking materials are created equal. In fact, they aren't even close. There is no comparison to virgin vinyl (PVC) products and the decking materials that contain recycled plastic. Virgin vinyl products will typically give you better performance, colorfastness and overall quality. You will also pay for this.
Recycled products can contain impurities. Many of the decking materials that contain recycled materials change color over time. Some of the manufacturers actually suggest that you can stain or colorize their products. This is counter-productive in my opinion. I would think your decision to buy a plastic decking material would be to wash your hands of future maintenance. If you colorize or seal a plastic decking product, you have started your journey once again in the vicious maintenance circle. Don't fall into this trap. You will regret it to be sure.
Limited Colors
Plastic decking materials only come in several colors. Keep this in mind when you select one. The virgin vinyl products can actually be somewhat of a shock once installed. Two years ago I was at the National Association of Home Builders convention in Houston, Texas. I visited a model home on a tour. It had a white vinyl deck. It was a sunny day in January and I had to get off the deck because the glare from the sun was so intense.
Granted, I was not wearing sun glasses, but I don't feel that sunglasses should be mandatory when you sit out on a deck. If it bothered my eyes, what might it do to an infant's eyes - one who can't wear sunglasses? I am not saying I am against white vinyl decking - I just want you to know what happened to me.
You can get virgin vinyl decking in shades of tan and gray if white is too harsh for you. I suggest that you visit an existing deck in broad daylight - sunshine - to see how it looks.
Non-Structural
Some of the alternative decking materials are not as strong as wood. In other words, they deflect more when loaded. This may mean that the floor joist spacing may have to be adjusted (closer spacing) so that the flooring doesn't feel spongy. Be sure to look for these recommendations in the literature before you buy. Adding floor joists will cost you more money. It can also be a nightmare if you build the deck first and then decide to use an alternative material.
Long-term Care
Many of the alternative decking materials have no real track record. Some have been around for less than five years. The virgin vinyl products are by far the most predictable. We know that high quality PVC products resist cracking, rot, color fade, etc.
Keep all of this in mind as you look at alternative decking materials. Just because something is new or untested doesn't mean it isn't the best. There have been plenty of products out there that eventually prove they were the best when introduced. Make sure that you consider all factors when selecting your decking material. Think long-term.
Traditional Wood
You have decided to do a wood deck because the alternative materials don't appeal to you. Well, I can tell you that you should care for your deck at a minimum every three years. If you live in the South or Southwest, you will be working on your wood deck every two years.
The best wood decks are those that are put together with stainless steel fasteners. They are also the ones where the decking is sealed BEFORE it is installed.
Synthetic Deck Sealers
What a popular material - synthetic deck sealers. Each spring I write about this topic and get inundated with mail. I know why - traditional deck sealants simply don't last. The primary reason for premature finish failure is two part: many deck sealants contain natural oils that are food for mildew and algae - the mildewcides and fungicides added to these products are water soluble! This means that after a short period of time rainwater and snow melt will wash away any protection. Your deck then becomes a feeding ground.
Synthetic wood sealers contain no food for mildew and algae. I have only been able to find one deck sealant that is a pure synthetic sealant. It is called Defy. It is made by Saver Systems.
NOTE FROM TIM CARTER - Founder of AsktheBuilder.com - posted October, 2016: I no longer would apply Defy deck sealer to any exterior wood that I own at my own home.
Related Articles:   Vinyl Decking vs. Sealing Decks, Synthetic Decking Manufacturers,  Decking Materials - Synthetic
Column B239