Vaulted Ceiling Building
Vaulted Ceiling Building
DEAR TIM: I recently removed the drywall ceiling in several rooms of my home. As I looked up through the ceiling joists to the roof above I was amazed at how great the room would look with a vaulted ceiling. The problem is that there is simply not enough space in the roof rafters for adequate insulation. How can I get the vaulted ceiling I want and keep my heating and cooling costs at a minimum? Is there anything else I should consider while doing this project? Robert J., Long Branch, NJ
DEAR ROBERT: This is a project I have done on more than one occasion. Isn't it amazing how a flat ceiling can cleverly disguise the interesting architectural features of a sloped roof? Once this job is complete you, your family and your friends are going to be intoxicated by the dramatic look and feel of the room.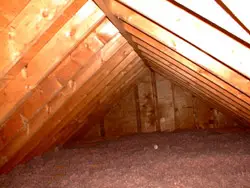 The first thing to do is to put on the brakes before you go any farther. Those innocent looking horizontal ceiling joists are very likely critical structural components. If you cut these out to create the vaulted look your roof may start to sag and possibly collapse. The first person you need to contact is an seasoned rough carpenter or a residential structural engineer. A structural engineer can do a quick field visit to your home and produce a small drawing and instructions that will allow you to move forward without compromising the roof structure. I should also mention that you have entered the realm of the building department and building permit process.
If you were building a new home the architect or designer would most likely use a very cool truss called a scissors truss. This truss is constructed using the exterior roof slope that is desired by you or the architect. Beneath these truss components the fabricator then builds the vaulted ceiling that is usually half the slope of the exterior roof. This truss design provides ample room to fit batt or blown insulation. You or a good rough carpenter can do the same thing beneath your existing roof.
If this method is too costly or labor intensive and/or you feel the interior vaulted slope will be too gentle, then you can add lumber to the bottom of the existing roof rafters to make them deep enough to accommodate the necessary insulation and a two inch air space between the top of the insulation and the bottom of the roof sheathing. This air space is absolutely critical. Do not pack the space between the roof rafters and the roof sheathing with insulation. Air must be allowed to float over the insulation as it travels from soffit vents to a continuous roof ridge vent.
There are several things you should consider while you do this project. The first thing that pops into my mind is skylights. Not only are you over halfway there with respect to installation, now is a perfect time to install a flared light tunnel. Most skylight tunnels are straight and provide decent light. But flared light shafts allow abundant natural light to stream into your remodeled space.
I would also think about recessed or hidden sound system speakers. If this new space is going to house a television with a combined stereo setup, then now is the time to install the speakers and all of the necessary low voltage wiring. Expect to pay at least $600 or more for four to six speakers, the wiring and volume controls.
If the demolition that takes place allows you to easily gain access to other hidden or hard to get to attic areas, now might be the time to install a blank conduit or two that extends to or near the electrical panel of your home. The day is soon approaching where houses that are wired for today's and future technology will be more attractive to buyers. I would do whatever is feasible to install new CAT 5 low voltage wires to as many locations as possible while you have your home in this temporary state of disarray.
Column 348