Vinyl Siding Installation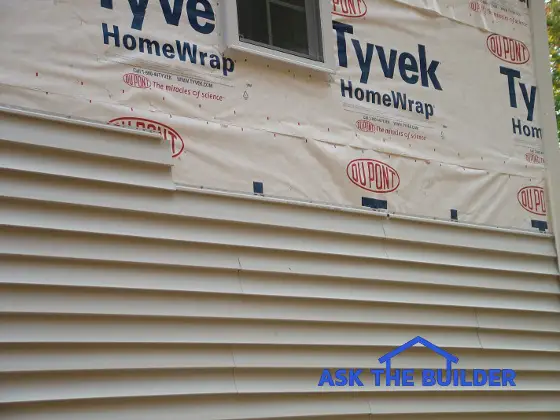 Vinyl Siding Installation TIPS
Small single-story house might be a DIY candidate

Try siding your shed first to acquire skills

Read installation manuals - don't nail tight!!!

Put blade backwards on circular saw
DEAR TIM: What can you tell me about vinyl siding installation? I like the no-maintenance aspect of vinyl siding, and it looks easy enough to install.
What important vinyl siding installation instructions can you share with me? What tools will I need to get professional results on my one-story house? Patty S., Scranton, PA
DEAR PATTY: The installation of vinyl siding is not as hard as it may seem, but there are indeed plenty of tricks that one needs to know to get really professional results.
Single Story Vinyl Siding Can Be DIY
This happens to be one task a determined homeowner can tackle if she/he really can follow directions, think ahead and pay attention to details. I would have probably advised you to hire a professional had you told me you have a two-story home.
Start On No-Window Wall
The best way, in my opinion, to see if you're up to the challenge and if you're satisfied with the results, is to start the job on a side of your home that has the least amount of windows, doors, or other things that are attached to the existing siding. All of these things represent obstacles when you do vinyl-siding installation.
Related Links
Painting Old Faded Vinyl Siding - You Can Do It!
Cleaning Mildew, Mold and Grime From Vinyl Siding
Free & Fast BIDS
CLICK HERE to get FREE & FAST BIDS from local vinyl siding contractors.
Download Installation Manual
Before you purchase the vinyl siding, do some investigation at the manufacturers' websites. Download their installation manuals.
You'll quickly discover that vinyl siding has some basic components with respect to how inside and outside corners are treated and how different trim pieces are used to terminate the vinyl siding around doors and windows.
Expansion & Contraction
You can get into trouble faster than an speeding bullet if you don't take into account how vinyl siding expands and contracts. Vinyl siding really grows as it's heated by the sun.
If you cut pieces too tight, or you nail pieces of vinyl siding too tightly to a wall, the siding will buckle and look horrible. Vinyl siding needs to float on a wall.
No TIGHT Nailing
It's a concept that goes against anything you have ever done before. My guess is that every time in your life you have pounded a nail with a hammer, you have driven the nail tightly. Don't ever do that with vinyl siding.
Special Tools
You'd be surprised at the specialized tools you'll find in a professional siding installer's tool belt and truck. There are tools that punch slots and notches in siding.
These are needed to interlock the siding in special trim pieces.
CLICK HERE to get FREE & FAST BIDS from local vinyl siding contractors.
Cut Vinyl Siding With Backwards Blade On Saw
You may discover a circular saw that has its blade on backwards. Some installers cut vinyl siding this way as it doesn't chew up the siding. Laser levels, ladders, stand-off scaffolding, etc. are all nice tools to have as well.
Aluminum Coil Stock
There are some issues that you may want to consider before you start the job. Some vinyl-siding jobs incorporate aluminum coil stock to cover parts of the house that are flat pieces of wood that you currently are painting.
Examples of these might be fascia boards, gutter boards, and wood molding around windows and doors. If your house has these, you are adding a layer of complexity to the job.
Metal-Bending Brake
You need special skills and a metal-bending brake to work with the aluminum coil stock. You can see these special tools at businesses that sell vinyl siding and the aluminum coil stock.
Extra Closed-Cell Foam Insulation
You should also consider upgrading your exterior insulation, air infiltration and weather barriers at this time. To get the best bang for all this effort, you may discover it's best to remove your existing siding.
Don't Bury Window & Door Trim
This allows you to add the needed components and not ruin the look of your home by burying the windows and doors. You can frequently see houses where vinyl siding has been installed over existing siding. The doors and windows appear to be unnaturally deep in the walls.
Volunteer To Learn
One last suggestion would be to get some on-the-job training. There are any number of great organizations that build homes for those in need. Perhaps one of these is active in your community. Habitat for Humanity is one.
These houses often have vinyl-siding exteriors. Perhaps you can volunteer to help build this house asking to be on the exterior crew that is doing the siding.
Cave Man Simple
The actual process of installing vinyl siding is not that complicated. It's just a matter of knowing a few tricks with respect to the initial layout and installation of the starter strips.
The first piece of siding installed determines how the job will look and how the siding goes up the walls. Keep in mind that the siding needs to be level and must overlap the foundation to keep the house weathertight.
Accessory Materials
There are always new inventions and accessories that can enhance the installation of vinyl siding. One of these happens to be metal strips that are installed on the walls of a house that help prevent buckling and spacing issues.
When installed with care, these strips also can ensure the siding looks flat and not wavy. Check for these strips at businesses that specialize in the sale of vinyl siding, roofing and other exterior products.
Side Your Shed
You should also try to experiment on a small structure to hone your skills. If you have an outdoor storage shed, maybe it's time for it to get a new look. After all, you would want it to match your home, so now is a good time to install siding on it. Make your mistakes here, not on the front wall of your home!
CLICK HERE to get FREE & FAST BIDS from local vinyl siding contractors.
Column 750