WalabotDIY Imaging Tool Review
If you've read comic books in the past, watched the Heroes TV series or have seen any of the newer Marvel movies about superheroes, then you're undoubtedly aware of magical super powers.
One that I wish I had over the years was X-ray vision that would allow me to see through plaster, concrete, tile, wood floors, etc. so I didn't cut into a pipe, cable or who-knows-what!
You don't have to wish any longer.
You can now have that super power in your hands if you attach the new WalabotDIY to your smart phone!
This column was SO GOOD that I shared with the 31,000 subscribers who read my November 30, 2016 AsktheBuilder Newsletter.
Capabilities
The WalabotDIY can see through up to 4 inches of concrete! You can identify the location of reinforcing steel, conduits or any other hidden material in a slab or poured wall.
It's child's play for the WalabotDIY to see through drywall or plaster. Can you imagine how this handy tool can let you know what you're up against before you demolish a wall to create a larger opening?
It's equipped with multiple sensitivity settings so you get accurate readings.
Since it's working in conjunction with your smartphone, you can snap still photos of what WalabotDIY is *seeing*. If you make pencil marks on the wall at the location of where you snap the screenshot, you can look at your stored photos later to remind you what's where behind the drywall, plaster or concrete.
Do you have pests like mice or flying squirrels living in your walls? WalabotDIY can see them and tell you exactly where the nests are!
Platforms
At this time the WalabotDIY works only with Android smartphones.
Visit the WalabotDIY website to see if your phone, and it's operating system, will support this mystical tool that will save you from calling in a plumber or electrician to fix what you damaged with that reciprocating saw blade, chipping hammer, or sledgehammer blow!
My Own Test
I had the opportunity to use the WalabotDIY at my own home. Three years ago, I created a man cave / amateur radio shack above my garage. The new wall I built was loaded with electric cables and some ran at odd angles within the wall.
To keep my cave warm, I stuffed the wall full of rock wool insulation. I felt that would be an excellent test as finding things in hollow wall cavities is the easiest of tasks for an imaging tool.
It took no time at all for the WalabotDIY to calibrate itself and go on the hunt for the 120-volt cables.
As I slid the sensor across the wall, the screen changed and lo and behold it showed me exactly where the electric cables were nailed to the studs and angling across one of the spaces between the studs. I was impressed.
I had decent results with the tool. It takes a little bit to get used to working it. You need to make sure you read all the instructions that come with it and on their website. It takes some practice to get a feel for what the you see on the screen translates to inside the wall. BE PATIENT when working with it and you should get respectable results.
Here are more photos of what the WalabotDIY can do. This sure would have come in handy last winter when I had to cut into my basement floor slab. I have PEX heating pipes in the concrete and could not afford to hit one with the chipping hammer drill bit!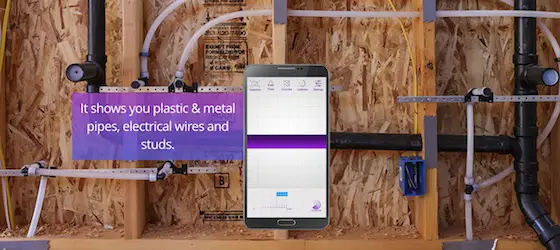 Watch this video to see how easy it is to use the WalabotDIY: