Wet Bar Ideas
"While you can do many things no matter how the bar will be oriented, I feel it's very important for you to consider who'll be the bartender."
Wet Bar Ideas Checklist
hot and cold water and a real drain

what direction bartender faces

the height of working bar and serving bar critical

ample storage for spirits, glasses, and supplies

refrigeration
DEAR TIM: I've always wanted a wet bar. My husband and I do lots of entertaining and I feel it would be so handy. I'm open to all sorts of ideas since I've only got one chance to get this right the first time.
How do you deal with the plumbing issues if you want to put a wet bar where you currently don't have access to a drain? Is it necessary for the countertop to be the same depth as a regular kitchen countertop?
I'm worried about using granite for a top in case guest chips it. Leslie B., Hartford, CT
Related Links
Wet Bar Decisions - Don't Goof Up!
Granite Countertops - Stunning Beauty and Durability
DEAR LESLIE: I've built my share of wet bars over the years, and know how handy they can be. When you entertain, the wet bar often earns its moniker of a watering hole as your guests, just like wild animals, will hover around the bar to converse and slake their thirst.
Free & Fast Bids
CLICK HERE to get FREE & FAST BIDS from local wet bar contractors.
What Should You Consider with a Wet Bar?
There are quite a few things to consider when thinking about wet bar ideas. While you can do many things no matter how the bar will be oriented, I feel it's very important for you to consider who'll be the bartender. If it's you, my guess is you might want to face your friends and guests as you prepare their beverages.
Should the Bartender Face the Guests?
Yes, the bartender should face the guests. It's easier to carry on a conversation this way.
This means you may end up with a bar very similar to what you see out in public. There's always a wall behind the bartender that has the spirits lined up for display and lower cabinets for supplies. The actual workspace is a free-standing bar that has a place for the customers / guests to sit or stand, your workspace, sink, and shallow cabinets.
Can You Put a Wet Bar in A Corner?
Yes, some people construct their wet bars in the corner of a room. If you're going to do this, traditional kitchen cabinets work well and you end up with generous counter space.
The other benefit is that you don't bump your head on standard-depth wall cabinets that you'll probably use for glasses and other things you'll need to prepare and serve drinks.
Can You Use Regular Kitchen Cabinets for a Wet Bar?
No, regular kitchen cabinets and countertop depth do not work well for a bar where you face and serve your customers. It's all about how far you can comfortably reach. To get a good understanding of this, I urge you to go visit no less than three real bars.
Should I Visit a Real Bar for Measurements?
Go at a slow time of day and take a tape measure, notepad, pencil and a great camera with you. Chat up the manager or bartender and tell them you're there to try to take a few measurements for the cool wet bar you're about to build.
They'll almost always be more than willing to allow you to take measurements. Ask to take photos at the same time so you don't forget something you see that you like.
What are Critical Wet Bar Measurements?
You'll want to measure the distance from the floor to the height of the work counter the bartender uses. Measure how high the actual bar top surface is from the floor that the customers sit their drinks on.
You'll be stunned at the different measurements you walk away with. It's vital you visit at least three bars and see which one is most comfortable for you.
Measure the distance from the edge of the bartender's work surface counter to the back edge of the bar top where customers stand. You'll see this is probably no more than 16 inches.
This distance ensures the bartender doesn't have to reach too far to place a glass on the bar top.
CLICK HERE to get FREE & FAST BIDS from local wet bar contractors.
Should I Ask Bartenders Questions?
Ask the bartenders you talk with what problems they have with their bars. You may discover they hate certain things. Ask them all the top three things they'd never be without in a wet bar.
What is a Wet Bar?
A wet bar is one that has running water and a drain. Drain lines are usually the hardest thing to accommodate, but the good news is that you can install an above-floor system that will capture the waste water from your bar sink and pump it to drain pipe at some other part of your home if it's too hard to run a traditional drain line.
Can a Wet Bar Drain Line Be Connected to an Existing Drain Pipe?
Yes, a wet bar drain line can be connected to an existing drain pipe. The most important part is to vent the wet bar drain to the atmosphere. Beware air-admittance valves (AAVs) as they can malfunction allowing sewer gas into your home.
If the wet bar is going to be above an unfinished basement, you may be able to run a drain line with ease across the basement ceiling to an existing plumbing stack. Many local plumbing inspectors and codes approve mechanical air-vents that can be put under the sink cabinet. This saves you from running a traditional vent pipe that exits the roof of your home.
Can I Put a Small Water Heater Under the Bar?
Yes, you can put a small point-of-use water heater under the bar. I've had great luck with the Tiny Titan water heaters.
I'd probably only run a cold water line to the wet bar and split it off under the sink cabinet. I'd install a tiny point-of-use water heater for the hot water you'll need.
Is Granite a Good Wet Bar Countertop Material?
Yes, granite is a fantastic and durable wet bar countertop material.
I've installed granite on a wide majority of my wet bar jobs. It's such a magnificent material. It's classy and some of the colors and mineral crystals in the top make for great conversation.
What Happens if My Granite Top is Chipped by a Guest?
Nothing bad will happen if you don't panic and collect all the small pieces of granite that broke from the top. Save every small piece you can find and store in a plastic bag.
A great granite fabricator can use high-strength clear epoxy to put the chips back together. Any missing tiny pieces he can fill in and colorize with a special epoxy they use where two pieces of granite join together.
CLICK HERE to get FREE & FAST BIDS from local wet bar contractors.
Related Column:
Column 1083
Summary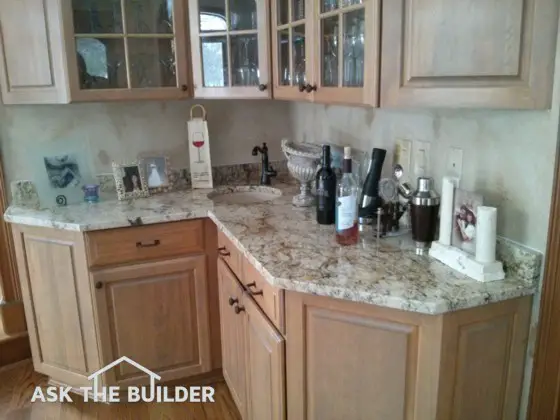 Article Name
Wet Bar Ideas - Many to Choose From - Get it Right
Description
There are many wet bar ideas. Think about who will be the bartender. Be sure you have hot and cold water.
Author
Publisher Name
Publisher Logo