April 14, 2019 AsktheBuilder Newsletter
Welcome if you're a new subscriber. I'm glad you're here. If you're a subscriber in good standing for years or a month, it's great you're still here.
Running AquaPEX and Wire
My son-in-law Brent and I have been working our butts off at the new house he and my daughter are building on Mt. Desert Island in Maine. Last weekend in just four hours we installed, are you sitting down?, nearly 1,800 feet of red and blue AquaPEX made by Uponor.
You use AquaPEX for the hot and cold water lines to plumbing fixtures and faucets.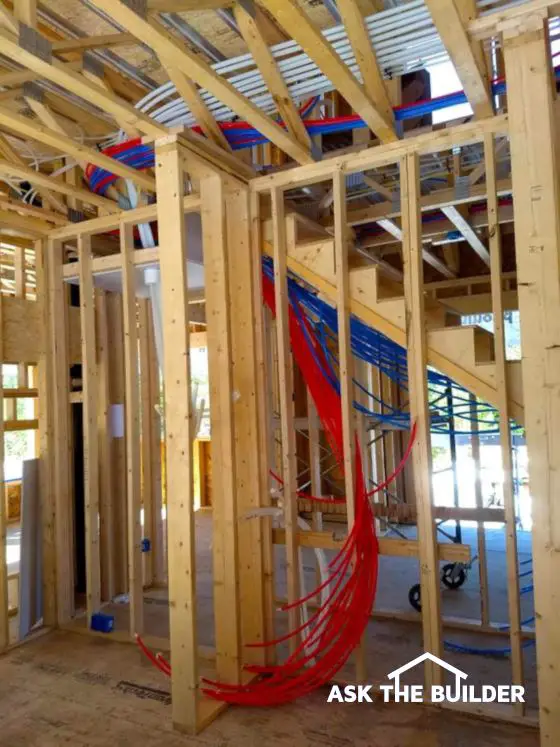 CLICK or TAP HERE to discover more about exactly why I chose to use AquaPEX made by Uponor.
If you had tried to install traditional copper lines using solder, perhaps you could have installed pipe to one or more fixtures in that four hours by cleaning, fluxing and soldering the pipe and fittings. Yes, you can use the modern press fittings for copper, but most people can't afford the $1,500 press tool required to crimp the fittings to the copper tubing.
By the way, I'll be demonstrating how to use one of these magical press tools that squeeze a copper fitting that has a rubber o-ring in it to create a leak-proof joint. I'm using this technology to install the copper around the modulating Noritz combi boiler going into my daughter and son-in-law's new home. You'll see that video in two months or less.
Wait until you see how amazing this press tool is and how soldering copper will eventually be kicked to the curb in most instances.
The primary advantage to using AquaPEX, or other PEX, is that you don't have fittings hidden behind walls and ceilings. You just have a connection point at the water distribution manifold and then you have a connection at the shutoff valve at the fixture.
The PEX installs like electric wiring. You just pull it through the open bays of the floor trusses or holes you might drill in solid floor joists or engineered-wood I joists.
I'm sure once again you can see why I specified to use open-web floor trusses on this job by looking at the above photo!

Can you imagine drilling HUNDREDS of holes in floor joists to run PEX, heating PEX or the electric cables???
12-Gauge Wire
A few day ago, we started to install the electrical wiring in the new house. I discovered long ago the advantages of 20-amp circuits as opposed to 15-amp circuits which most houses have. A 20-amp circuit can handle 2400 watts vs the 1800 you get with a 15-amp circuit.
Do you remember your high school physics class? Watts = Amps X Volts
One hundred and twenty volts is the standard here in the USA.
Yes, 12-gauge wire is slightly tougher to bend when you install an outlet or a switch, but it's worth it to have all that extra power for just $25 more for each 250 feet of cable you buy!
Yes, at the time I purchased the spools of cable, it was just ten cents more per foot for 12 gauge wire vs 14-gauge you use for 15-amp circuits.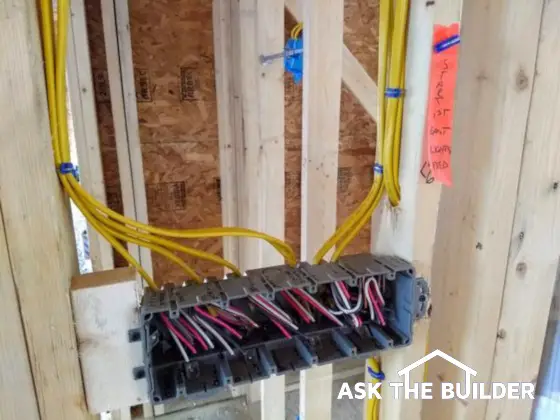 What are all the red wires for? You're looking at a massive bank of switches just as you walk in from the garage of their new home. These switches operate any number of lights using both 3 and 4-way switches. I prefer to use 12/3 wg cable to wire 3 and 4-way switches. Watch the two following videos to see why it's a huge advantage to use three-wire when wiring these special switches!
CLICK or TAP HERE to watch my 3-Way Switch video.
CLICK or TAP HERE to watch my 4-Way Switch video.
CLICK or TAP HERE to discover a bunch of other electrical wiring tips I've accumulated over the years.
DEEP Searching at AsktheBuilder.com
Last week I created a few new messages that new newsletter subscribers receive after signing up.
You've been receiving these same messages.
I got a HUGE GRIN on my face about three days ago when a subscriber responded to the message about doing Deep Searches on my AsktheBuilder website.
My suggestion is when you have a problem, just type the simple phrase into my search engine.
In his case, he had a hardwood floor scratch. He wanted to know the best way to repair it. This kind gentleman was actually responding to my message about Deep Searching instead of trying to find the answer himself.
I got the biggest kick out of that. If he had just typed:
hardwood floor scratch
he would have found right away this very useful column:
I'll bet you dollars to doughnuts you didn't know about the alcohol lamp guy, did you? Go ahead, click or tap here and tell me the truth. I know, I can't handle the truth! 😉
Downloadable AsktheBuilder Podcasts
A few days ago, Rachel reached out to me and suggested I make my podcasts downloadable. I pretty much assumed anyone who has in interest in podcasts would have an app allowing them to do this.
As usual, I was wrong!
It turns out there's a button I can click when uploading a podcast that allows you to download it easily without an app. This button defaults to NO downloading, so that's why I missed it.
I went back and turned ON all the buttons so you can now download my podcasts to listen to on your terms.
CLICK or TAP HERE to see the full list of podcasts.
That's quite enough for a Sunday! Happy Get-Your-Taxes-Done Day!
Tim Carter
Founder - www.AsktheBuilder.com
Certified Organic Clean Man - www.StainSolver.com
Cast RF Man - www.W3ATB.com
Do It Right, Not Over!