Podcast
Ask the Builder 
Home Improvement and Home Construction Podcast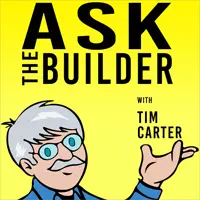 The Ask the Builder podcast is designed to help you save time and money. Ask the Builder founder, Tim Carter, calls homeowners just like you on the phone and solves their problems. Each podcast ends with a story from Tim's building past. The colorful tale highlights a mistake he made allowing you to avoid such danger, embarrassment or humiliation.
Each podcast lives on its own page here at AsktheBuilder.com. You'll find photographs the homeowners sent to Tim showing their issues, videos Tim's made to help show how to solve the problem and almost always links to products Tim uses at his own home to make the needed repairs.
Would you like me to answer your questions on a future podcast? CLICK HERE and fill out the form. Don't forget the photos!
Previous Episodes:
---
Roof Flashing Podcast


New Home Construction Estimator Podcast

Attic Condensation Podcast

Adhesive Remover Podcast

Podcast #24
Paint Odor Blocker

Podcast #23




Replace Concrete Stoop

OX Tools Level Podcast

Podcast #22




Custom Joist Hangers

Podcast #21
Blacktop Driveway Crack Filler

Podcast #20




Concrete Pop-out Repair

Podcast #19
Fireplace Refacing

Podcast #18
Settlement Cracks in Walls
Podcast #17
Repair Concrete Porch Sinking

Podcast #16
Replace Wood Basement Support Beam
Podcast #15
Whole House Fan Not Blowing Air | Rusting Steel Steps | Disguising TV Projection Screen | Propane Danger
Podcast #14
Foundation Hole Too Deep | Water Leaking in Crawlspace | Best Garage Insulation | Sun Destroying Things
Podcast #13
Garage Built Too Low | Bathroom Light Problem | New Tin Roof | Controlling Cracks in Concrete

Podcast #12




Donn's Cracked Curved Steps | Defective Asphalt Shingles | Chipmunks Under Sidewalk | Dangers of Delivery Trucks

 Credit Repair Company Lexington Law

Podcast #11
New Drive Needs Support | Brick Leaks in Driving Rain | Crumbling Concrete Steps | Ceramic Tile Bubbling Up
Podcast #10
Cement Board Gap | Bathroom Condensation | Basement Leak | Lead Paint Dangers


Podcast #9




Polybutylene Water Lines | Frustrating Toilet | Rotten Wood | Stress-free Construction Job

 

Podcast #8
Secret Blacktop Repair | Painting Tips | Old Timbers | Tim's Big Boo-Boo
Podcast #7
Cantankerous Soil | Cleaning Hardwood Deck | Pergola Mistake | Tim Was Too Trusting
Podcast #6
Sarah's Death Ray | Glass Block Shower Leak| Efflorescence | 

Gasoline BOOM!

Podcast #5
Flat Roof Leak | DIY Build Home| Heat Garage Attic | 

Sparks Ruin Tile & Top

 Podcast #4
Cracked Floor Joist | Weeds & Wells | Wood Siding Rot Repair | Tim's First GC Job
 Podcast #3
Concrete Overlay | Staircase Parts | Whitewash Brick | Pipe Scaffold Scare
Podcast #2
Rebuild Staircase | Sewer Gas | Crown Molding
Podcast #1
Hardwood Repair | Porcelain Tile or? | Black Goo!