Podcast
Ask the Builder 
Home Improvement and Home Construction Podcast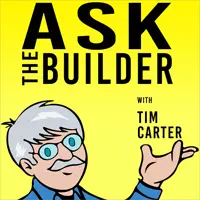 The Ask the Builder podcast is designed to help you save time and money. Ask the Builder founder, Tim Carter, calls homeowners just like you on the phone and solves their problems. Each podcast ends with a story from Tim's building past. The colorful tale highlights a mistake he made allowing you to avoid such danger, embarrassment or humiliation.
Each podcast lives on its own page here at AsktheBuilder.com. You'll find photographs the homeowners sent to Tim showing their issues, videos Tim's made to help show how to solve the problem and almost always links to products Tim uses at his own home to make the needed repairs.
Would you like me to answer your questions on a future podcast? CLICK HERE and fill out the form. Don't forget the photos!
Click here for a listing of the Podcasts in Alphabetical Order. (No pictures on that page!)
Previous Episodes:
---