August 18, 2019 AsktheBuilder Newsletter
Are you a new subscriber? I'm about to summon my fellow New Hampshire wizards to cast a protective spell on you and all your underwater allies - assuming you fish - so that you're blessed with good fortune in all your home improvement endeavors. Catching fish is on you.
If you happen to be a seasoned subscriber, you can send a message to the NH Guild of Wizards and Enchantment and we will offer you our protection. I'm one of the founding members of the Guild.
The New House Update
You may be one that's asked about the status of my daughter and son-in-law's new home in Bar Harbor, Maine. This cozy town is on Mt. Desert Island (MDI).
The project started ten months ago next week and I'm sorry to say it's not finished.
It's very important for you to realize I'm not the builder. I'm just the plumber, electrician and radiant heat man.
The builder discovered early in the job that he underestimated the cost and to make ends meet he goes to work on jobs where he can cover his expenses and generate a profit. This means days and days go by where nothing is happening.
The drywall is not yet complete, the exterior siding is not complete and there's lots to do to get it ready for a move-in date.
I intend to do a full autopsy on how this might have been prevented, but understand that they're building in a very unique environment on MDI. There's a shortage of builders, the economy is BOOMING, and my daughter and son-in-law are competing against the ultra-rich who cause the prices of things to be unnaturally HIGH on the island.
I'm sure you have your own take on the situation. Please be aware that if you email me any questions or comments about this I may not respond because of the incoming volume. You might want to wait for the full-blown autopsy in several months.
Do You Own A Pet?
Kathy and I are trying to take our Stain Solver business to the next level. One area of great interest is pets.
Stain Solver is an excellent pet product to have around your home because:
it's certified organic and made in the USA with US ingredients

it cleans up all pet messes - vomit, #1, #2 and male cat spraying

it DEODORIZES - most dogs create a *dog* odor on things they lay on

it deep cleans all pet food dishes keeping your fur babies healthy

it cleans YOUR chairs, couches, carpets, etc. when the dirty animals tear through the door
I could go on and on.
Here's where you can help.
Do you belong to a pet group on Facebook or on some other social media platform?
If so, can you spread the word about how great Stain Solver is to clean up after pets?
Look at the photo below to see how HAPPY these two kids are because Stain Solver cleans all pet messes up around their home!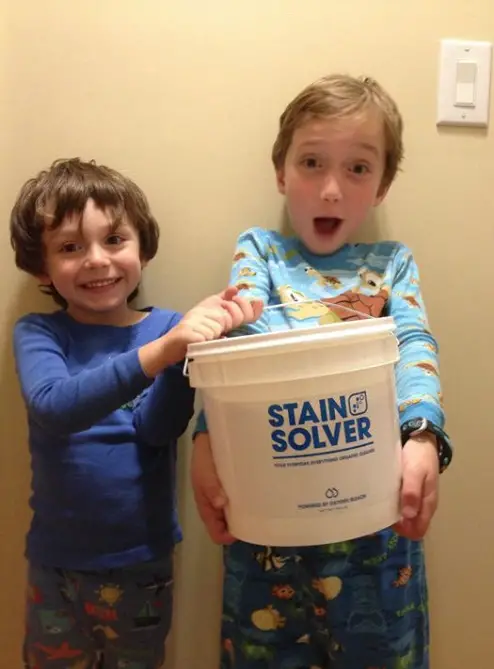 Epoxy a Masonry Anchor MAGIC TRICK
Do you think you know the best way to drill a hole for a masonry anchor? Let's see if you do.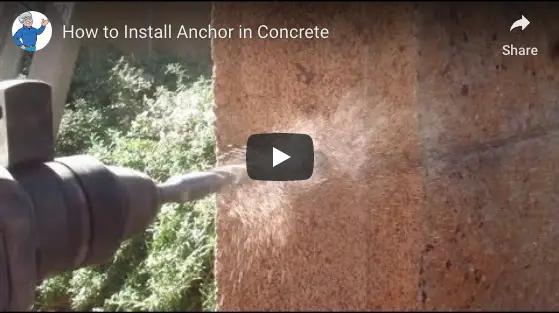 CLICK or TAP HERE to check the depth of your intelligence. You're going to see a great video - trust me.
The Shower Arm DooDad Gizmo Drop Ear
"WTH are you talking about, Tim?"
"Oh, you mean that special brass fitting that STOPS all behind-the-wall water leaks? Yeah, you BETTER watch this NEW VIDEO of mine to make sure your plumber uses the RIGHT ONE!"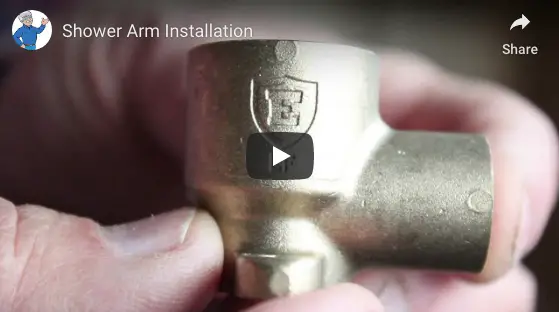 CLICK or TAP HERE to watch a short VERY IMPORTANT video that can save you thousands of dollars of DAMAGE in your home.
Gambling Thousands of Dollars
Each week I get quite a few emails into my Ask Tim page. You may be one. In many cases the situations are such that if you make the wrong decision the resulting mess and repairs might cost you thousands of dollars.
Jason was in this situation a few days ago. But he chose poorly. He decided to gamble.
I want you to read what he sent me, but before you do, here's a little background.
I can only devote about 15 minutes each day to the Ask Tim questions. I'm sure you understand why. If I just pounded away all day answering those incoming questions, I'd never get any work done that funds the paychecks of the AsktheBuilder team members, pays the rent, blah blah blah.
Often the questions require detailed and long answers. In 99.99999% of the cases the visitor ALWAYS comes back with several follow-up questions. I understand why because I'm discussing things that are foreign to her/him.
That's why I came up with my 15-Minute Phone Call and my increasingly popular (better value) 30-Minute RECORDED phone call.
Yes, I record the call so you don't have to take notes. You can RELAX during the call and go back and listen to the recording as many times as you want.
Anyway, here's the text and photos Jason sent me. Think about how you'd answer his questions:
I am having a house built. It is to be a two story home with a basement. It is currently 90% done through the framing process and I took a peek in the basement recently. There are two steel I-Beams spanning the entire width of the house that look like they should be connected together. There are others, but this set is my concern.

Pictures:

1. Longest section of beam sits inside of the concrete foundation recess on top of steel shims. (Seems okay)
2. Same beam as (1), the other end meets with a shorter I-Beam on top of a support post. The seam of these two beams does not appear to be centered over the post, rather one is resting on the tab on the side where you would use bolts to connect the post to the beam. There is also a significant gap between the two beams and they are not secured together. (Concerned mostly about the placement of the beam on top of the tabs instead of the post itself.
3. Shorter I-Beam that shares the support post reaches to the other side of the house and does not reach the concrete recess in the foundation. There are some shims in there, but they just move around and are not really doing anything but sitting there. (Concerned that the beam doesn't even reach into the foundation recess)

Please lay my concerns to rest or provide some advice on bringing this up to the builder so it's not just ignored or brushed off as "oh it should be fine just like that" if it's really not.

Thanks,

Jason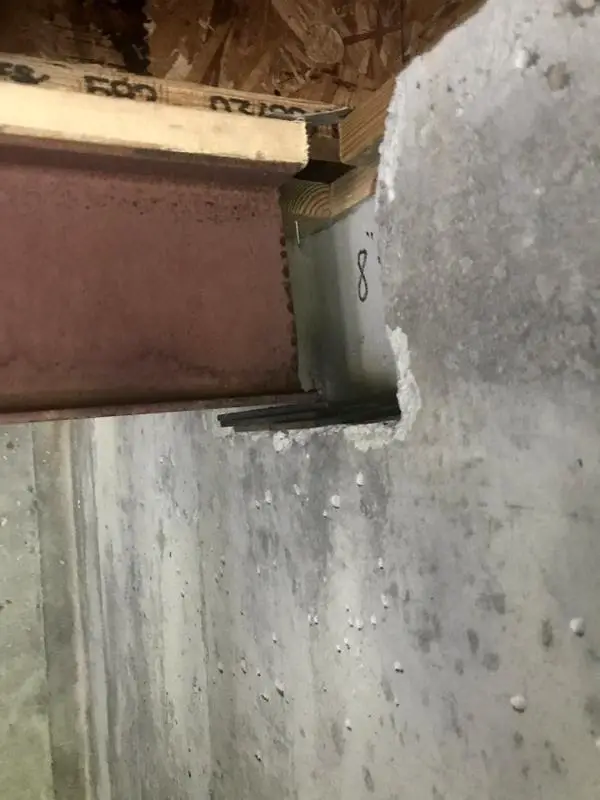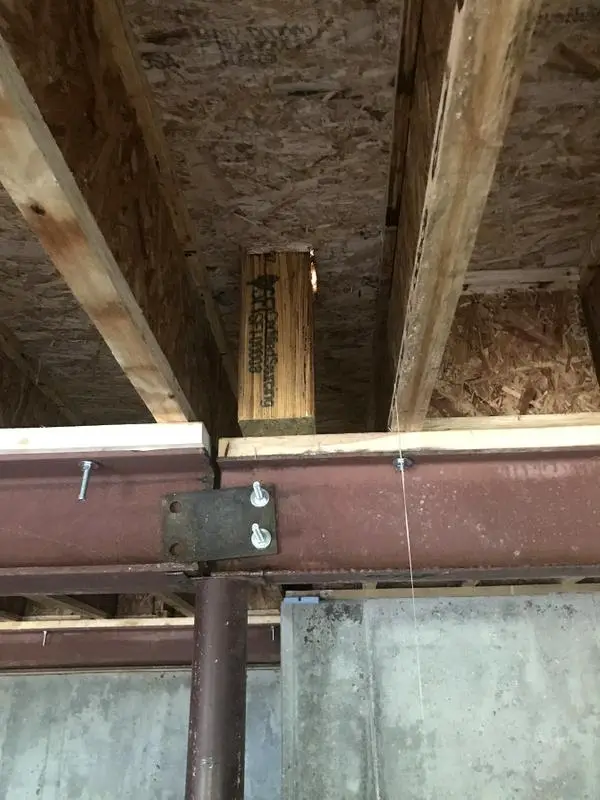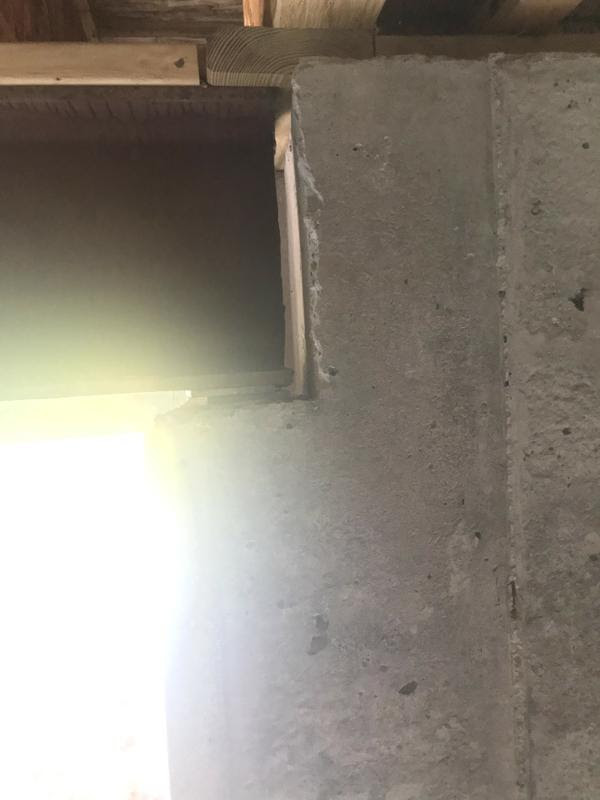 Here are TWO columns on the AsktheBuilder.com website that Jason could have looked at before reaching out to me.
Residential Structural Steel Beams
and
Column and Beam Construction Tips
What do you think? Do you think those two columns could have helped Jason? If you think so, SHARE your feelings in the COMMENT SECTION under each column.
By the way, those giant i-beams you see at the top of each column are in the last home I built for my family. Realize you can get TALLER beams that require FEWER steel columns in your basement. You don't need columns every 8 feet!!!
That's enough for a Sunday.
Today is burgundy shirt day with a deep-blue paisley bow tie for church. It's pretty smart looking if I don't say so myself.
Tim Carter
Founder - www.AsktheBuilder.com
GET YOUR STUFF CLEAN NOW! - www.StainSolver.com
NJ Skeeter QRP Contest Today!!! - www.W3ATB.com
P.S. Want to feel like you're floating on a cloud? Go through your closet and drawers and DONATE all the clothes you no longer wear or need. WOW, I did this a few days ago and I feel FANTASTIC!