December 1, 2019 AsktheBuilder Newsletter
Is this your first rodeo with me? Your first newsletter? Saddle up!
If you've rode with me before, no matter how long, you know things can get a little dusty. The chow wagon is filled with pecan pie, so we're going to eat good tonight!
Firing Up the Noritz Combi Water Heater Boiler
This past Monday, I fired up the fantastic Noritz Combi water heater boiler at my daughter's new house with the help of Paul Tibbetts. Paul is a Noritz rep and he travels around much of New England making sure all is well with the magic machines from Noritz.
CLICK or TAP HERE to see many many more photographs of the install process.
Paul's hand, although blurred, is pointing at the heat exchanger. It's about the size of a loaf of bread!
It's important for you to realize this crazy machine can produce 199,000 Btus in that little stainless steel box!
We had no leaks at all in the 6,000 feet of Uponor hePEX tubing that runs under the floors. CLICK or TAP HERE to understand why I used this amazing plastic tubing to make all the floors in the house toasty warm.
I'm stunned by how quiet the Noritz combi boiler is. This boiler is in a small closet that's in the entrance hall of the house. It's centrally located and even with the door off the closet, you could barely tell it was running. Amazing!
BOTTOM LINE: I can't say enough good things about this Noritz combi boiler. Another key point is it's a modulating boiler. This means the fire inside the heat exchanger can range anywhere from about 20,000 Btus, all the way up to 199,000 Btus. The boiler only sips as much energy as is needed to handle the demand for either heat in the house or domestic hot water to shower, bathe, clean or wash the car in the garage.
Yes, I installed a special hot/cold water faucet in the garage so in the winter my son-in-law can wash his car with refreshing HOT water! Oh, you wonder about the water and where does it go?
Why yes, I made sure there was a floor drain under each car and the concrete floor in the garage is sloped like two giant shallow funnels so the water flows to the floor drains! This means all snow melt will go to the drain and not flow towards the garage door!
If you heat with a boiler and it's time to get a quote for a new one, CLICK or TAP HERE and tell the contractor you want the Noritz NRCB.
SHOP AT AMAZON
If you're shopping at Amazon.com for Christmas presents, please consider using my affiliate link. CLICK or TAP HERE to help make sure this newsletter keeps coming to you.
Testing TrueWerk
Three weeks ago, I was asked to test some clothing. I received a handsome vest, a hoodie and two pairs of pants from TrueWerk. The vest and hoodie are made from the same fabric and have the same look and cut. To picture the vest, just look at the photo below and imagine no sleeves and no hood.
Both the vest and the hoodie have become my GO-TO favorites. The fabric of both is medium-weight and they're so soft! They both have strategic pockets for smart phones and the side pockets are nice and spacious. The fabric has some stretch to it, but not much.
These would make GREAT GIFTS for anyone that wants stylish clothing.
CLICK or TAP HERE to see the specs on the hoodie. Keep in mind the fit is a little sculptured so you may want to get the next size up if a normal fit is just a bit snug for you.
The pants that were sent to me were a little long so I'm taking them to a local seamstress to have them hemmed correctly. I already tried them on and they fit perfectly. They're made from a unique smooth synthetic fabric.
I'll report back on these once I get to wear them.
Tom's White Brick Troubles
Look at this photo. Do you know what's going on?
It's not whitewash. But if you do want to know how to do traditional REAL whitewash, CLICK or TAP HERE.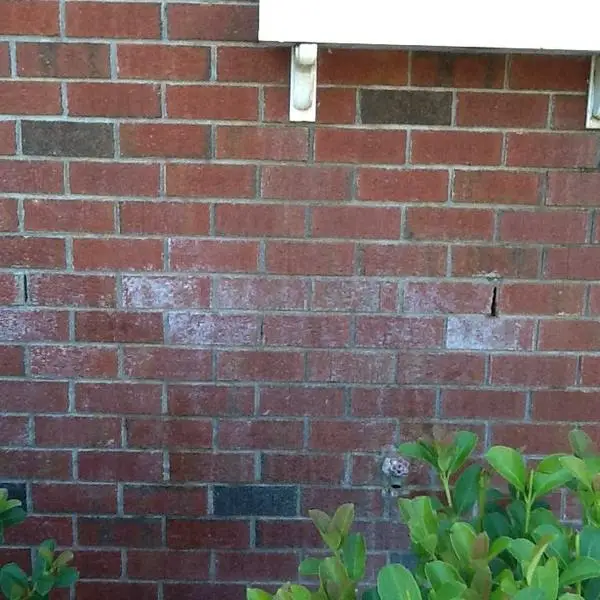 Tom, who resides in Wallace, NC, sent in that photo and wrote:
"Tim, my bricks have a white chalky look to them, and it does not power wash off. What can I do to get rid of it?"
Well, the first mistake Tom made was trying to fix the problem BEFORE researching it. Power washing it made it WORSE.
Do you know why power washing made it worse?
CLICK or TAP HERE and read as MANY of my past columns about this and for goodness sake, be sure you WATCH MY VIDEOS about this white menace!
That's enough for a Sunday.
A pretty big snow event is about to happen here in New Hampshire. It could be our cover snow. This means I'll not see the grass or earth until April as the ground will have snow covering it for the next four months!
Tim Carter
Founder - www.AsktheBuilder.com
Buy Certified Organic Cleaner - www.StainSolver.com
Morse Muff Man - www.W3ATB
Do It Right, Not Over!
P.S. What do you think is the best exterior house paint? Think about what paint really is before answering. CLICK or TAP HERE to see what I'd use on your home if you hired me.