Hardwood Flooring and Cabinetry Installation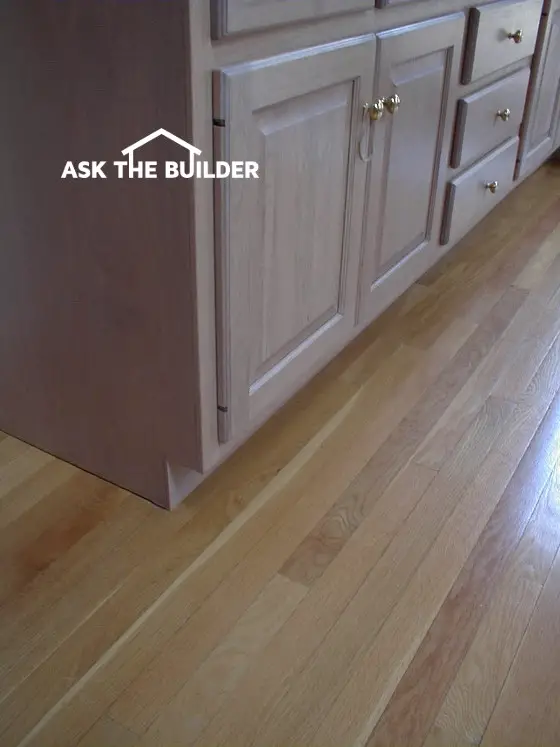 Cabinetry Installation and Hardwood Flooring
DEAR TIM: I have decided to use solid 3/4 inch thick hardwood flooring in my new kitchen. The flooring contractor wants to install the wood before the cabinets are installed. My builder prefers to install the cabinets first and then the floor. He also says it is cheaper. Which is the better way? Are urethane finishes applied at the job site adequate or should I consider using factory applied urethane? How long should a urethane finish last in a kitchen? Carl S., Cleveland, TN
DEAR CARL: Your builder must be a baseball fan. He is way out in left field on this one. Installing hardwood flooring around cabinets can be done but I couldn't think of a harder way to do the job. If you ask the flooring contractor for a quote to install the flooring after the cabinets are installed I think you will be shocked to find out it might be more expensive!
---
Installing a new hardwood floor? Use my Hardwood Flooring Installation / Refinishing Checklist to avoid costly mistakes. I offer a 100% Money Back Guarantee.
---
The hardwood flooring installation can proceed much faster when the cabinets are not in place. Aside from the normal doorways and wall offsets there is nothing to cut around. The flooring that is hidden under cabinets gives you or a future homeowner lots of options should they wish to change the cabinet layout. Keep in mind that the flooring contractor is just going to install the hardwood and not apply any finish. The finishing will happen after all cabinets and tops are in place. This prevents scratches or imperfections in the finish.
Several things happen if you install flooring after the cabinets are in place. Built-in appliances can become trapped for life. These appliances come with leveling legs. When the legs are adjusted so that the appliance is at its minimum height, it may not slide out of its opening because it is blocked by the flooring. What happens if you need a new dishwasher or ice maker?
When cabinets are in place the flooring installer needs to exercise extreme caution while working. There is a great chance of scratching a cabinet or two. Some pieces of hardwood flooring that go under the cabinet toe kicks are impossible to nail and must be glued in place. The installation is slow and tedious.
---
For detailed information about what you should do for your next kitchen remodel project, use my Kitchen Remodeling Checklist. I offer a 100% Money Back Guarantee.
---
If you look at the raw cost numbers you might think you are saving money. Most kitchens have approximately twenty five linear feet of cabinets. Base cabinets extend approximately twenty inches out from the wall before they end at the toe kick area. A kitchen with this cabinetry would produce a forty one and one half square foot savings of hardwood flooring. The average cost savings might be $291.00. Keep in mind that your builder might not actually save this much money. Because of the hassle of working around the cabinets, the flooring contractor may actually charge more.
There are big differences in urethane. Talk to the flooring contractor and ask him what has given him the best results. No matter which type you choose to use, I would install a minimum of 4 coats in a kitchen. Factory applied urethane limits you to using a pre-finished floor. Installing a pre-finished floor before cabinets and tops is a recipe for disaster. No matter how careful the finish carpenters are, there is a very good chance that the flooring will get scratched. This is why I always use job site applied urethane after the cabinets are in place. It is a superb idea to install two coats of urethane under the cabinets and built-in appliances before they are installed.
Remember that you walk on the urethane finish and not the hardwood. The biggest mistake people make is that they let the urethane wear through in spots. This often requires that the entire floor needs to be sanded and refinished. The better option is to apply a fresh coat of urethane every 18 months. A professional can do this in less than four hours or you can purchase kits that allow you to re-coat the floor in a single day.
Column 351