How to Cut Ceramic Tile Quick Start Guide
DEGREE OF DIFFICULTY:
There are many methods to cut ceramic tile. Some of them are dependent on how hard the tile is.
For example, porcelain tile - which is VERY HARD - is best cut with a wet tile saw. Snap tile cutters sometimes shatter this hard tile.
Common 1/4-inch tile found in most tile stores that haven't been fired as long or are as hard as porcelain can be nipped by hand or cut easily with a traditional snap tile cutter.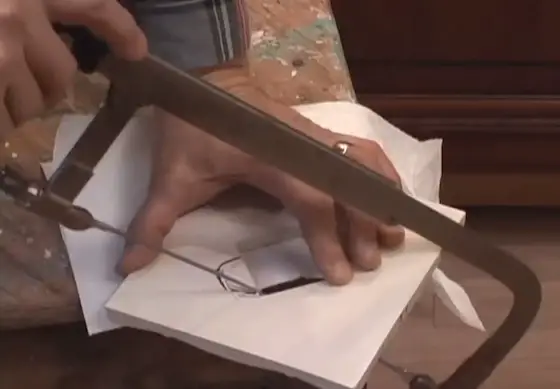 I've rated this project two hammers out of five because I want you to practice first before doing the project. If you get about ten or twenty scrap tiles and practice cutting, you'll get the idea pretty quickly.
It does require a little bit of finesse and hand-eye coordination using the tools, but a beginner picks it up very fast.
Watch the video below unless you've come here from YouTube having already watched it.
Be sure to look at the RELATED CONTENT links at the bottom of this page. Lots of goodies there for you.
REQUIRED TOOLS & MATERIALS:
TIPS
Tile snap cutters work by scoring the thin glazed surface on the tile. This scratched line creates a zone of weakness the tile will fracture along when you apply pressure to either side of the tile along the scored line.
Keep the rolling cutting wheel on tile snap cutters lubricated so it rolls freely.
One pull of a tile snap cutter is all it takes to score the glazed surface. Moderate downward pressure on the cutting arm snaps the tile.
Tile nippers are tools that take small bites out of a tile. They work well to cut curved pieces of tile. The trick is to take small bites and work slowly.
Depending on the thickness of the tile, a snap tile cutter can only cut certain minimum width pieces of tile. Traditional 4 x 4 ceramic tile that's 1/4-inch thick can successfully be cut to  1/2 or 5/8-inch-wide pieces with a snap cutter.
Carbide rod saws, grinders equipped with dry-diamond blades and abrasive hole saws are ideal for cutting holes in the center of tile.
When using a grinder to cut a hole in the center of a tile, cut from the backside checking frequently you don't over cut the hole.
L-shaped pieces of tile require one leg of the cut be made with a grinder, straight carbide saw, or a wet saw. The remaining leg can then be cut with a snap cutter to save time.
To prevent cracks in L-shaped cuts, don't do a sharp 90-degree angle. Create a small curved cut or radius where the two cut lines intersect.
Diamond wet saws are the premiere ceramic tile cutting tool and pay for themselves in productivity gains and less wasted material.
Celebrate your Victory!
Please subscribe to my Newsletter and get insider information on the latest home-improvement tips, and products. I guarantee you that my newsletter WILL save you time and money. Frequently, I include your questions with my answers and proposed solutions. Perhaps the best part of the opens in a new windownewsletters are my reviews of new products based on my own testing. opens in a new windowClick here to read my past newsletters.
It is FREE & EASY.
RELATED HELPFUL CONTENT:
Column QSG011