January 17, 2021 AsktheBuilder Newsletter
Nice try. You were trying to slither past me, weren't you? We need to have a little talk about that. I get it. You're a new subscriber, this is your first issue, and you might be a little shy. Don't fret! This is a welcoming place and every week right here at the top, I greet each new subscriber like you!
But this newsletter may have been showing up for so long in your inbox that you recall when I was a judge on that amazing reality TV show. Remember?
What, you've already forgotten? You mean my acting was that poor? Oh my. Click the link above and read the fascinating story about that experience.
This newsletter is filled to the brim with lots of information. Let's jump in feet first. But before we do, you need to make sure you're not surrounded by tohubohu.
What? You don't know what tohubohu is? For Pete's sake, you better find out FAST before something very bad happens to you!
Too Much Stuff
Do you have too much stuff? Your garage, basement, or attic looks like a stuffed sausage, doesn't it? Or, maybe you're paying nearly $100 a month, or more, to rent an offsite storage facility. UGH!
Why not build a shed of your own and add value to your property? All your stuff will then be just feet away when you need it and you can keep that storage-fee money in your pocket. That's a win-win.
Look at this photo of the shed I built at my last home in Cincinnati, OH.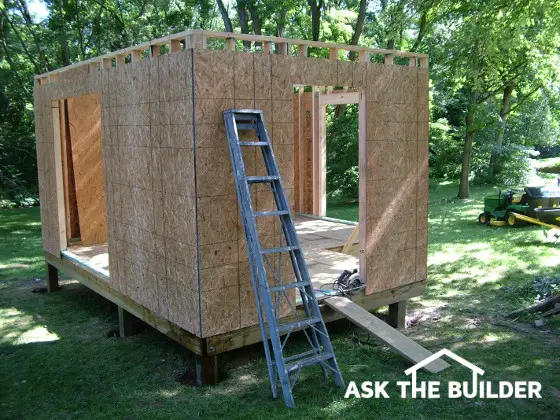 CLICK or TAP HERE to see the finished photo. It's going to BLOW YOUR MIND when you see what it ended up looking like.
Guess what? You can get the same results with a little help from me! Yes, I can help you build your shed!
Hardwood Flooring Cost
Please peer at this photo of the hardwood floor in the family room of my last house in Cincinnati: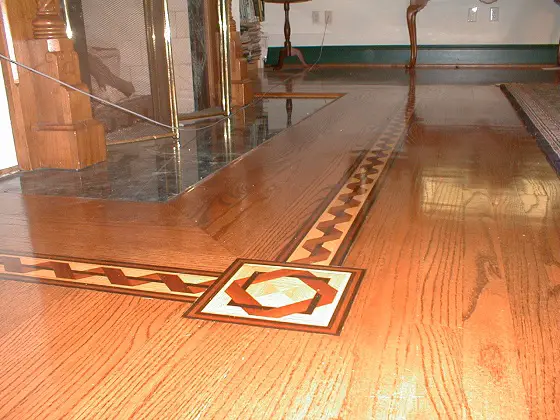 When the phrase hardwood flooring cost pops into your mind, does your heart skip a beat? What are the different species of hardwood and how will each one hit you in your pocketbook?
That's a funny word, isn't it - pocketbook? Do you still use one? My grade school friend Charlie Deters had something similar to one. He didn't like loose change rattling around in his pants pocket. He used an oval rubber change holder that had a slit in one face. You'd squeeze it open to put in or take out the coins.
How much longer do you think the word pocketbook will survive in our language? The popularity of words waxes and wanes over time. Please CLICK or TAP HERE to get a feel for current hardwood flooring costs and how they'll affect your pocketbook.
When Will Wallpaper Come Back?
Decorating trends change for a host of reasons. I place all the blame on the decorating products industrial complex. The companies that make products you use in your home are tasked with coming up with new products.
They introduce these trends using influencers who employ Jedi mind tricks. This powerful psychology can cleverly pry money from you as you change the look of your home to be part of the in-crowd.
Here's how my basement bathroom in my Cincinnati house was decorated. What do you think of the three different wallpapers? I don't know about you, but each time I used this bathroom, I felt like there was sand between my toes. I could smell the kerosene from the burning tiki torches! I'd swear there was a salt-air breeze, but it turned out it was the exhaust fan.
Decorative wallpaper can produce these strong feelings and emotions. You should really take some time to look at a few wallpaper books.
I installed everything you see in this photo. Check out that bamboo wall trim - REAL bamboo I cut in half using my table saw - and the bamboo Moen faucet! And what do you think of that sink? It was just a copper pan and I punched a hole in the center to accommodate the faucet drain. WOWZA!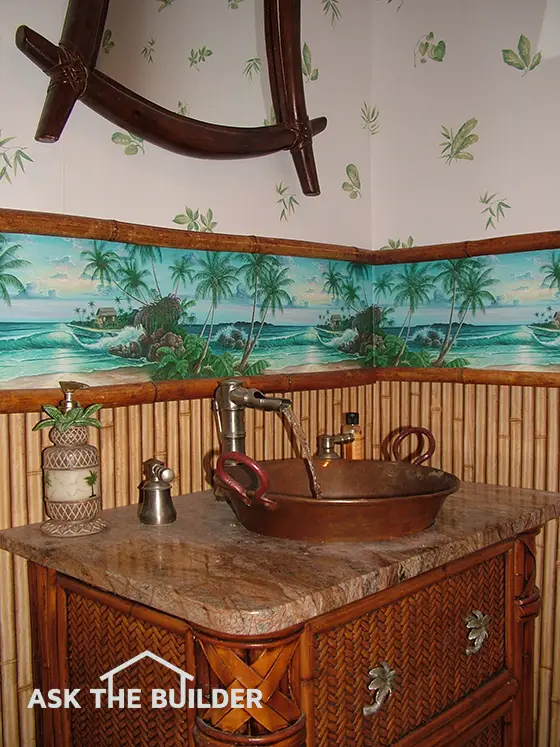 Wallpaper was sizzling back in the early 1900s then cooled off. The decorating merry-go-round brought it back into favor in the 1970s and 1980s. Is it time for wallpaper to be the belle of the ball again? If so, you'd better CLICK or TAP HERE so you're up to speed.
Drain Lines and Septic Tanks
Have you ever seen the inside of a full septic tank before it's pumped? Probably not if you're a city dweller. Check this out: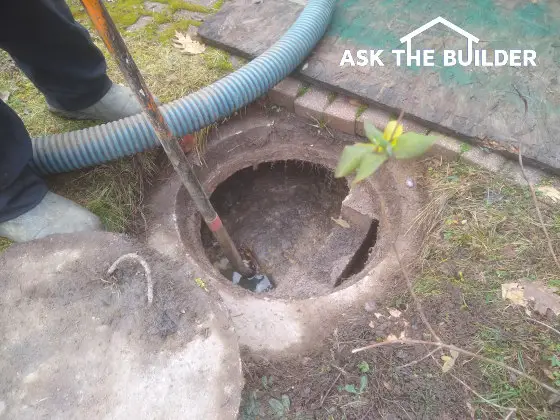 Riddle me this: Do you know the BEST WAY to care for the plumbing drain lines in your home whether your waste goes to a city sewer or a septic tank?
Come on man, be honest! I'll bet you don't do what I do at my house. CLICK or TAP HERE to get a full grasp of how to care for drain lines and septic tanks.
Larry's Concern
Last week I shared a video of a revolutionary plastic vent pipe I used at my daughter's new home. You should really watch that video - especially if you want to have context for what Larry shared with me after he watched it. Here's what he sent:
"Tim, your video on the polypropylene pipe is very interesting. My concern is most equipment manufacturers have not accepted this as a design pipe for their product which could lead to warranty problems. I think I would look very closely at the installation instructions of my selected device. Also, if a problem occurred your insurance might be an issue."
Larry was SPOT ON with his analysis! Congratulations, Larry! He pointed out that you need to read the installation instructions.
You must follow the instructions and only use approved products that connect to the appliance so you don't void the warranty.
If the instructions are not clear, then you need to STOP and reach out to the manufacturer, or their field representative to resolve the issue.
You know what this means, don't you? It means you should READ THE INSTRUCTIONS WEEKS BEFORE you intend to install the product, not after you've uncrated the appliance.
That's plenty for a Sunday, right?
IMPORTANT MESSAGE:
Thanks for supporting me by remaining a subscriber. Soon I'll have a huge favor to ask of you. Johnson Hardware is the biggest sponsor of this newsletter. Without their annual support, there would be NO newsletter.
I simply wouldn't have the time to devote to producing it for your reading enjoyment.
Johnson Hardware compensates me for investing the hundreds of hours each year I devote to sharing money and time-saving tips in this newsletter.
This is why, in a few weeks, I'll ask you to do one simple thing that will only take a few minutes.
"Tim, what's in it for me? Why should I do the one simple thing?"
Simple. You're guaranteed to get a taste of delicious eye candy and decorating inspiration by just looking at the photos I share with you. Thank you in advance for taking the time to do this.
You might think of the few minutes you spend looking at the photos as supporting a favorite magazine you look forward to reading each week.
Tim Carter
Founder - www.AsktheBuilder.com
FAST Delivery - www.StainSolver.com
Cool Waves - www.W3ATB.com
Do It Right, Not Over!
P.S. How in the holy heck can you install a flat-screen TV on glass? (hand waving frantically in the air.) "Me Me Me - pick ME! Sister Mary Holywater, I know the answer." CLICK or TAP HERE to discover a magic way to make it happen. Class dismissed.