January 3, 2021 AsktheBuilder Newsletter
HNY as we say in Morse! You're a new subscriber. I can feel it in my bones. This top paragraph of each issue is reserved seating for you - it's where I welcome you to your first issue.
But you, yes you, possibly have subscribed for so long that you can remember when I shared what causes your car and truck glass - especially your windshield - to get FOGGY. I have friends who are foggy some mornings and they solve it with coffee. I don't use coffee to keep my truck glass crystal clear, but I'll share secret tips with you about how to clean foggy car glass.
CLICK or TAP HERE to clear the fog.
Gawking at GewGaws
Between Christmas and New Years Day, I was in my man cave admiring some of my gewgaws.
Wait, you don't know what a gewgaw is? Well, we need to have a little talk about that. CLICK or TAP HERE and you'll discover the meaning of this great word. I guarantee you'll be delighted!
Your New Year's Resolution
Do you have lots of traditional one-of-a-kind print photographs in dust-covered boxes, drawers, or scattered in a file cabinet? I'm talking about photos that can't be replaced. Here's an example of one of my dad, PFC Melvin Carter.
What happens if there's a fire in your home? There was a fire last week at the headquarters of Motorcycle Week here in Laconia, NH. CLICK or TAP HERE and read the quotes from the president of the association.
If this doesn't motivate you to start scanning your photos, nothing will. Oh, wait, you were about to say, "Tim, it's such a BIG PROJECT to do all that scanning." We need to have a little talk about that. There's an old saying, "Elephants are best eaten one bite at a time."
You're going to RESOLVE to spend two hours a week (a small BITE of time) and slowly but surely scan all those photos. Once scanned, upload them to a cloud storage solution. There are so many.
Be sure to create different albums so it's easy to find the photo you need. Use your tiny gray cells to come up with album names and categories that make sense.
Gas Line Types - One is
DANGEROUS
My house here in New Hampshire has flexible gas lines or CSST. Fortunately, we seldom have violent thunderstorms that produce lots of ground-to-cloud lightning.

Would it be a good idea to install CSST in Florida, Ohio, or other places where lightning is prevalent? After all, the CSST is a code-approved material.
If not CSST, what's the better option when it comes to gas lines in your home whether you'll be piping propane (LPG) or natural gas?
CLICK or TAP HERE so you don't become an NFPA statistic. Two of my friends died when their house exploded 18 months ago. You absolutely MUST WATCH THE VIDEOS on that page.
An Older FUNNY Video
I've been doing lots of maintenance work on old pages on AsktheBuilder.com and I came across a very funny video I had forgotten all about.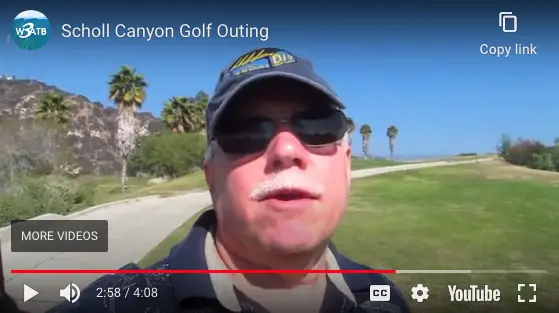 You should really watch this video because I'm really out of my element and I'm not wearing a tool belt. I guarantee you'll LAUGH about halfway through when you see me standing on the tee box in the above screenshot.
I was at the Scholl Canyon Golf and Tennis Club in Southern CA. My very good friend Steve shot the video and was a witness to the outcome.
Kitchen Island Myths and Mysteries
What do you feel is the smallest kitchen island that really does a good job?
What are the biggest mistakes you can make with kitchen islands?
CLICK or TAP HERE to see if you were right.
Sunrise or Sunset?
Please peer at this photo:

CLICK or TAP HERE to test the depth of your knowledge or ignorance (see P.S. below) about sunrises and sunsets.
That's enough for the first Sunday of 2021!
If one of your resolutions includes a home improvement project, don't forget to do some research FIRST at AsktheBuilder.com.
For goodness sake, don't try flying solo!
Happy New Year!
Tim Carter
Founder - www.AsktheBuilder.com
New Fulfillment Center! - www.StainSolver.com
Straight Key Man - www.W3ATB.com
P.S. You might be offended when told that the depths of your ignorance were about to be TESTED. Read about Dr. Ken Caster and tell me if you would have required a fruit roll-up and juice box on your desk while taking one of his tests. Reading about Dr. Caster is a GREAT WAY to start 2021. Maybe the 2021 motto should be:
Build Character