July 11, 2021 AsktheBuilder Newsletter
Weight of Rain | Bat Story Follow-up | Clean Wooden Spoons
You're a new subscriber, aren't you? That explains why you're sitting next to Daphne, Dolly, Doug, Jenny, Marney, Betty, Ken, Shatasha, and a boatload of others that entered the room since last Sunday. Welcome! I think you're going to like the newsletter.
But you, yes you. How long have you subscribed? A week, a year, or maybe 20+ years. Thanks for continuing to stay on my list and open each issue!
Do you perchance remember the column I did about a pavement method that's unfortunately transforming from legend to myth? It's something you should know about. It may still be available in your city or town.
opens in a new window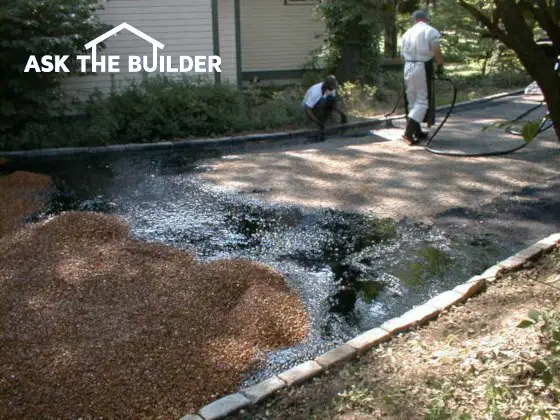 What would you say if I told you I had a stunning brown driveway at my last home? I'm talking about the same driveway Martha Stewart has at her home on Mt. Desert Island in Maine.
The decorating diva owns four or five homes I'm told, but her MDI driveway is the talk of the neighborhood. She and I chose to use a time-tested method. It's one of the ways tens of thousands of miles of public roads were paved between 1900-1930 or so.
opens in a new windowCLICK or TAP HERE to see stunning photos of this attractive driveway and how it's installed.
Be SURE to watch the short video on that page.
Cleaning Wooden Spoons, Bowls and Cutting Boards
Are your wooden cooking spoons, bowls, etc. stained by different foods? Here's mine after it got into a cage fight with some blueberries.
opens in a new window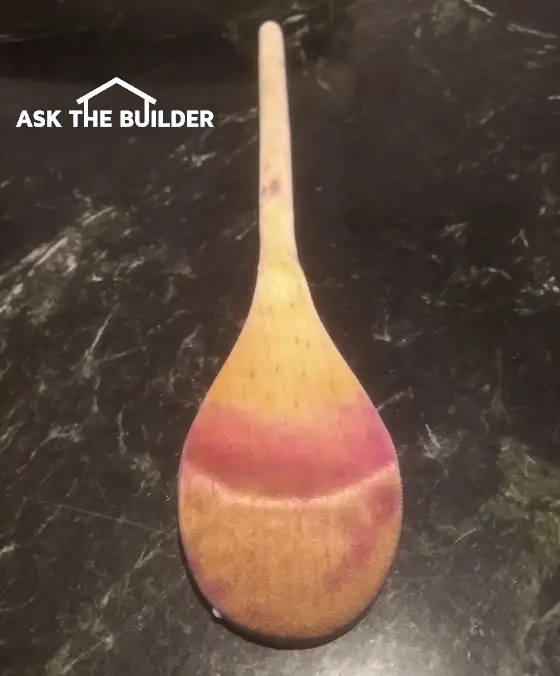 opens in a new windowCLICK or TAP HERE to see how easy it is to remove the stains with no work. You can also use the magic cleaner to restore ANYTHING in your home that's water washable.
Wait until you see the opens in a new windowAFTER photos! You'll think I went out and bought a new spoon.
Bats in Your House Update
opens in a new windowLast week, I shared how to keep bats out of your attic or other dark spaces.
Maggie, a virtual friend of mine, is a subscriber like you. A few years ago, I helped her and her daughter opens in a new windowwhitewash their living room fireplace. opens in a new windowCLICK or TAP HERE to see Maggie's before, during, and after photos. They used my recipe for REAL whitewash, not FAKE loser thinned milk paint that's an imposter!
Back to bats.
Moments after reading my column, Maggie emailed me with her true MUST-READ bat story!
With her permission, I copied the story and put it at the bottom of last week's bat column.
opens in a new windowCLICK or TAP HERE and scroll to the bottom to read it. I'm SERIOUS - you MUST READ her story.
But don't bother reading it if you're good with wasting thousands of dollars and have no fear of dying.
Fun Summer Project - Build a Cardboard Boat!
Do you have kids or grandkids? Would you love to howl with laughter while creating lifetime memories?
I thought so! Good for you!
opens in a new windowCLICK or TAP HERE to read about you can do this fun summer activity. You'll also discover how I helped set a new record in the state of Florida.
Soon you'll be the captain of your own cardboard boat!
Surfside City
Condo COLLAPSE

and Your House

Surely you know about the tragic condo collapse down in southern Florida, right? One-hundred+ people were suddenly sent back up to Heaven.

You're thinking, "Well, I don't live in a condo by the ocean so I've got little to worry about."

Well, you may have LOTS to worry about!

opens in a new windowCLICK or TAP HERE to read what I think was the cause of the condo collapse and HOW A COLLAPSE MIGHT HAPPEN AT YOUR HOME!
STAIN SOLVER PRE-SALE Soon
Kathy and I own opens in a new windowSTAIN SOLVER. It's an amazing certified organic oxygen bleach made in the USA with USA ingredients. It can clean hundreds of things inside and outside your home.
If you've never tried it, I'm here to tell you you're missing out. Just yesterday, Shirley, a petite retired RN, called me to tell me how fantastic it is to get stains out of her colored blouses and knit tops.
STAIN SOLVER is both color and fabric-safe. opens in a new windowCLICK or TAP HERE to get a small sample size to test for yourself.
opens in a new windowCLICK or TAP HERE to watch a few SHORT videos of me using STAIN SOLVER. It's very easy to use and we've been told it's the best cleaner known to woman or man.
I wanted to give you a heads up about an upcoming sale. But there's a tiny problem.
First, all of our prices for every aspect of making STAIN SOLVER have gone up. Shipping costs go up quarterly and we offer FREE SHIPPING
Trust me, inflation is real. The causes are intertwined and complex.
It's impossible for us to absorb any more of these costs so we had to do a slight price increase. It's been a few years since we've raised prices, thus to able to continue to make STAIN SOLVER for you we had to adjust prices.
We manufacture 20,000 pounds at a time. This time we're making 279 of our opens in a new windowSS50 size. This is a opens in a new windowfive-gallon pail of STAIN SOLVER.
Our SS50 is the BEST PRICE per pound - by far.
You should consider this size if you want to DEFEAT the price increase!!!! Buy one and share it with a friend, neighbor, relative, co-worker, etc.
Did you know if you freeze or keep STAIN SOLVER cold it can last indefinitely. Heat degrades STAIN SOLVER.
As soon as the product is made, hopefully by next Friday, we'll announce a PRE-SALE.
But, I fully expect we might SELL OUT of the 279 pails in days. The demand for that size is soaring.
You MUST REACT IMMEDIATELY to the PRE-SALE if you want one of the SS50 pails.
That's enough for a Sunday.
opens in a new windowNext week is an apparel issue. I'll be sharing a tale about a very cool one-of-a-kind baseball cap my son helped design. Wait until you see the photo of it. I'm also going to share the website where we ordered the cap. You can do what we did and order your own custom full-color embroidered hat! I'll be sure to tell you about the FlexFit feature of my new cap.
I'm also going to feature some of my socks. My youngest daughter enrolled me in a socks club for Father's Day. Each month, some really FUN sock prizes arrive in the mail. Wait until you see the first two pairs. I was so excited and it will make sense when you see them!
Tim Carter
Founder - www.AsktheBuilder.com
BEST CLEANER - www.StainSolver.com
Airwaves Boss - www.W3ATB.com
Do It Right, Not Over!
P.S. I like to do old-fashioned division and multiplication problems using a pencil and paper to ward off brain deterioration. Tropical Storm Elsa just blew over my house and dumped 2 inches of rain. How many pounds of water do you think fell from the sky onto the square mile that surrounds my house? Don't ask Alexa or Siri!
opens in a new windowCLICK or TAP HERE and be amazed. I swear you'll think I made a mistake. Trust me, I double-checked my figures.