July 16, 2014 AsktheBuilder Newsletter & Tips
How is your summer going? Mine feels like it's a rally car zooming past me.
My youngest daughter is now helping Kathy and me do a huge public relations effort for our Stain Solver product.
She's reaching out to countless specialty magazines trying to get them to feature Stain Solver in the New Products sections of the magazines. Yes, I know Stain Solver is not new, but it's new to the editor and readers!
Anyway, for some reason we were talking about timelines and I blurted out, "Do you realize that in just fourteen weeks it will be Thanksgiving?"
Holy Moly! That's almost winter! I've got so much to do in the next six weeks before it starts to turn cooler I can't believe it.
How about you? Are you procrastinating on some projects? What can I do to help you?
Hartford, CT MeetUp - The Hartford, CT meetup is in two days! Are you coming? REPLY now to this email for all the details. It's Friday night, 6 pm downtown near the convention center.
Tip of the Week - Stinky Sinks
Do you have the same problem that J. A. Coffey has? He runs water in his sinks and it smells like, well you know what I mean. UGH!
He hired an expensive plumber to try to solve the problem - the plumber FAILED TO FIX THE PROBLEM - when it would have cost him less than $20 and ten minutes of time to fix the problem on his own.
Would you like to save big money and stop the offensive odors in your sinks? I thought so.
CLICK HERE to discover how easy it is to solve stinky sinks.
LED Bulb Product Recall
There's a product recall you should be aware of! Hot LED bulbs could fall from your ceiling and hit you on the head or damage something in your home!
CLICK HERE to see if you have these defective bulbs.
Tim the Train Conductor!
Last week, I promised you a video of my first day as an official train conductor.
CLICK HERE to watch it!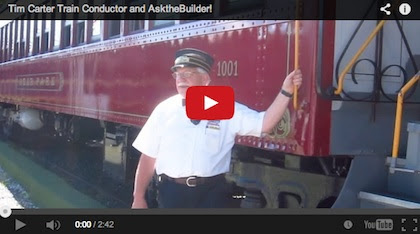 Two Portable Generator Video Reviews Update
On Monday, I started testing two portable generators. One is from Briggs and Stratton and the other one is from Generac.
When I mentioned this last week, you may have been one who emailed me asking about how clean the power is that's produced by the machines.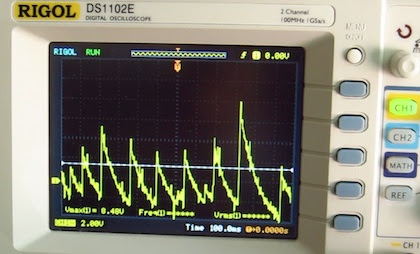 My ham radio buddy, Adam Foley - N1RKW - stepped forward and volunteered to answer that for you. We connected his very powerful oscilloscope to the generators to determine just that. On Monday we tested the AC output and today we're going to re-test the DC output.
Yesterday I had the good fortune to talk with two of the top engineers from Briggs and Stratton about their machine. They answered some of my questions and they were intrigued with some of the things I discovered early in my testing. I also made them aware of a huge market for these small, but very very useful, generators.
The bottom line about how clean the power output is, and I should have the videos ready for you next week, - well, why not just wait for the videos!
New Columns
Defective Shingles and Class-Action Suit
Preventing Frozen Water Pipes in Exterior Walls - NOT the Answer You Think!!!!