June 26, 2019 AsktheBuilder Newsletter
Are you a new subscriber? Gosh am I glad you've joined the party! Have you been receiving this newsletter for months or years? What tip of mine in a past issue saved you the most time and money? BTW, if you want to see ALL past Ask the Builder newsletters CLICK or TAP HERE.
My Unvarnished Journey With Pocket Doors
Do you have a pocket door in your home? Here's what one looks like before it's covered with plaster, paneling or drywall.

I can hear you now if you've seen an undressed pocket door frame, "Whoa Tim! Hold ON just a minute! What's that plywood doing between the thin studs?"
And that's where my story begins. In just a moment, you'll discover exactly what that plywood is doing between the thin steel-wrapped studs.
I can clearly remember the first custom home I built. The owner was Mark Ossege. He and I became great friends - and that happened with quite a few of my customers I might add! (RIP Matt and Ginny Motz!)
Mark's architect specified several pocket doors in his new contemporary home. I had never installed one, but had seen quite a few in the older homes I had worked on in the stately neighborhoods of Clifton and Hyde Park in Cincinnati, Ohio.
The lumber company delivered the pocket door frames one day and I immediately saw a potential problem. The door frames were made from pine 1x4s and some were bowed INWARD into the pocket.
This meant the door would end up rubbing on the pocket door frame. I requested new frames be sent out that were not warped. They arrived and I installed them HOPING the wood would stay straight over time.
Fast Forward
A few years later, I became aware of LE Johnson pocket doors. I immediately was attracted to them like a bear to a honey pot filled with the golden nectar.
The LE Johnson pocket door frames had steel-wrapped thin wall studs that created the pocket. These were straight as an arrow and WOULD STAY THAT WAY FOREVER.
The LE Johnson pocket door trolleys were ingenious. The had three wheels and it was IMPOSSIBLE for them to jump off the track. Pocket doors jumping off the track is a common problem for POC pocket doors. You do know what the acronym POC stands for, right?
I started using nothing but LE Johnson pocket doors and never ever had one problem or call back. That's nirvana for a contractor by the way!
CLICK or TAP HERE to see how eye-popping BEAUTIFUL pocket doors can be in your home. I'm serious - you'll be blown away with the possibilities.
Pocket Doors and Pictures - Big Ones
While LE Johnson pocket doors solve lots of problems, including recapturing lots of usable floor space taken up by swinging doors, there was one that escaped the attention of many who worked and made these wonderful door products.
If you wanted to hang a heavy picture or mirror right where the pocket was, it was tough.
Drywall on its own doesn't support lots of weight. It can't be trusted over time.
Yes, you can install all sorts of fancy anchors through the drywall, but the anchor or bolt might extend into the pocket. You can't allow this to happen as it will almost always SCRATCH the door as it travels in and out of the pocket.
Problem SOLVED
The crafty engineers at LE Johnson recently solved the problem of hanging HEAVY objects at the pocket.
The engineers came up with these thin u-shaped metal clips that allow one to insert 3/4-inch plywood between the metal-wrapped pocket studs.
You can now install a screw(s) ANYWHERE on either side of the pocket that will support hundreds of pounds. WOOT!
These clips - you have to see them! - are one of those inventions that you BANG YOUR HEAD against the closest wall saying, "Idiot! Why didn't I think of that? I could be soaking it up on the deck of my yacht with my soulmate had I invented these things. Oh well, I'll just go rent one of the little paddle boats and hope that works some magic."
CLICK or TAP HERE to see what could have made your wildest dreams come true. Oh well, don't give up! CLICKING or TAPPING HERE may provide you with some inspiration or your next invention. Try it!
How would you like to watch a video of me installing the plywood in between the LE Johnson pocket door studs?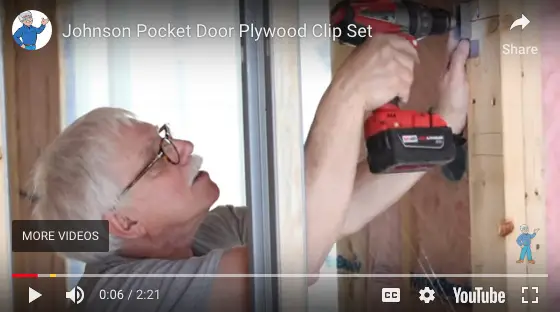 Yeah, I knew you'd like that. Wait until you see HOW FAST I work. You're not going to believe an old goat can move that fast. Hah! Many a day I feel like I'm 18!
CLICK or TAP HERE to watch the video of the LE Johnson Plywood Clip set.
That's quite enough for a Wednesday wouldn't you say?
P.S. I'm getting setup to record the Flushable Wipes TEST video. It's going to be very interesting to say the least. CLICK or TAP HERE to see WHY I'm going to spend at least two days doing this for ZERO MONEY. Yep, I'm doing it to help save you money and agony dealing with unnecessary plumbing clogs.
Tim Carter
Founder - www.AsktheBuilder.com
GET Your Stuff Super Clean - www.StainSolver.com
Magic in the Air - www.W3ATB.com
Do It Right, Not Over!