Landscape Lighting
Landscape lighting is very cool. It can make your deck, patio, backyard, etc. look like a fairyland. It can allow you to enjoy outdoor parts of your home that you might otherwise abandon when the sun goes down. I am sold on the concept and am getting ready to install some at my own home next spring. They can really make your house, plants and landscape features glow with a mystical illumination!
Need To Know
Installing low voltage landscape lighting is simple. Installing it right is the challenge. You need to carefully select the lights, the wire that feeds them and the power center that supplies electricity. If you don't do it right, you can have all sorts of problems. For example, some people think they will just go ahead and buy the largest power center to plan ahead for future lights. This can actually cause problems! You need to typically load the power center to a minimum of 50 percent of its capacity. If you don't do this, it can send too much voltage downstream that will burn out bulbs prematurely.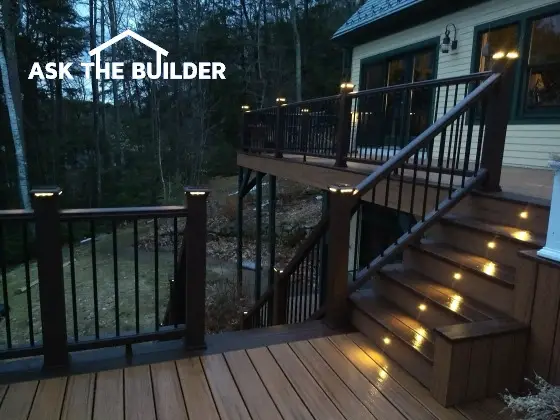 CLICK or TAP HERE to get FREE QUOTES from local companies that can add dramatic outdoor lighting to your deck or patio.
Light Layout
There are different ways to plan and install a series of lights. You can do a simple straight run installation where fixtures run in a sequence away from the transformer power console.
A loop installation looks like a circle. This helps reduce voltage drop. If you do this method, you need to pay attention so that wires are not crossed.
A split load installation has several feed wires that lead from the transformer that power individual strands of lights.
A T installation consists of a heavy cable that helps to evenly distribute the power. This cable branches and feeds separate sections of your outdoor lighting system.
Column B285