May 15, 2022 AsktheBuilder Newsletter
As a new subscriber you should be aware that you're entitled to lots of Ask the Builder perks. For one, you get top billing right here each week! You also get to hit the buffet line first. I highly recommend the buckeyes over on the dessert table. Just behind them are the dark chocolate pecandes. If you want to get your soulmate to smile, put one of those pecandes under their pillow.
But you, how long have you been a subscriber? Do you got back twenty, or more, years? If so, do you remember the column I wrote about DIY termite and wood-rot treatments? You can save THOUSANDS of dollars. With inflation raging at over 20%, you surely need help saving sweet moola.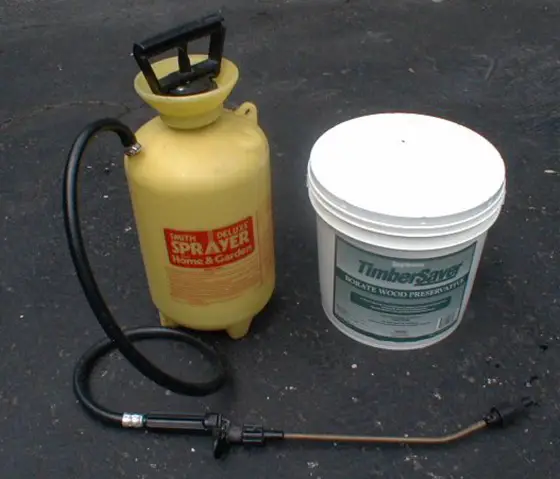 My Past Week
I'm an extrovert. It drives my lovely wife Kathy crazy sometimes. No, most of the times. One of my favorite things to do is to chat up strangers on elevators. Such fun!
I also like colorful clothes that make a statement. My youngest daughter knows this and bought me a fancy fun socks subscription for my birthday last year. Every three weeks or so for about four months a new colorful pair of socks would arrive.
She continued the trend this past Christmas purchasing socks honoring several National Parks. Here are the Grand Canyon National Park socks: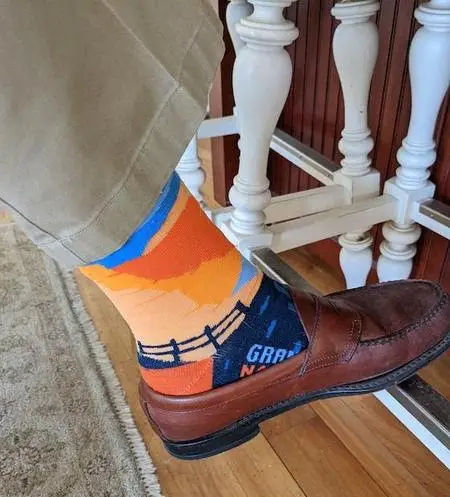 She bought these and two other pairs when she visited the Grand Canyon last November. On that sunny cool day beginning at the Bright Angel Trailhead, she hiked 9.6 miles round trip to and from Indian Gardens.
I warned her it was going to be a grueling adventure because of the steep upward climb. She said to me the next day, "I burst into tears of joy when I got to the top of the rim just before sunset. I was so tired. I had to stop so many times in the last mile I didn't think I'd make it up by the time it got dark."
Just after my 20th birthday, I hiked down to the bottom of the canyon on the Kaibab Trail and back out the next day up the Bright Angel Trail. I was sporting a full backpack. It was August and quite hot.
I was in prime physical condition. After her adventure in cooler weather, my daughter said, "Dad, I can't comprehend how you did the hike up from the bottom in that hot weather. How did you do it?"
I replied, "Easy, sweetheart. You engage your critical-thinking skills and put your mind to the task. Step one is to deal with fear. Fear is so very powerful and causes mind paralysis. It prevents you from engaging critical-thinking skills.

I clearly remember kicking the fear of not making it up to the rim that simmering day over the edge of the trail as there was no curb. This happened early in the hike. I was still in the shade in the inner gorge and I was approaching the Tapeats Sandstone.

I distinctly heard that fear splash into the Colorado River as I put one foot in front of the other on the dusty trail."
Back to the socks - I wore the festive socks to church last Sunday. Because I'm the head usher and greeter, I get compliments each week on my socks. My Glacier National Park ones are a nice blend of blues, greens, and gray.
Do you want your own Grand Canyon and National Park socks? I thought so.
Don't you feel the socks go well with my brown loafers? I've always had a soft spot for brown shoes. Back in high school, I had these very distinctive brown shoes that were good looking and comfortable.
I tried finding these shoes to show you a photo but had no luck. They had the same basic stitched upper design as the penny loafer in the above photo but they weren't loafers. They had shoe strings and a slightly pebbled finish to the leather.
At least one of my high school girlfriends liked them so much she'd comment about them when I picked her up for a date. To the best of my knowledge of all the boys she dated and there were many, I had the best shoes. But that wasn't enough to snag her. Such is life!
The shoes were so comfortable I wore them working at Skyline Chili where I was on my feet all the time.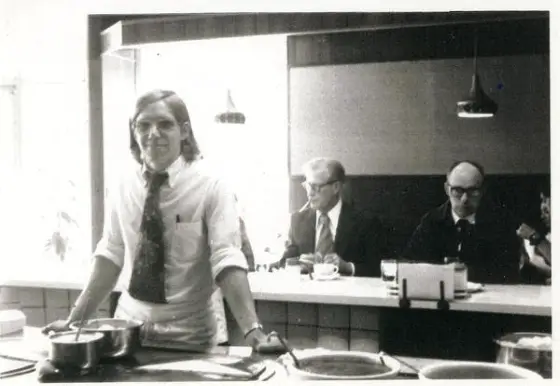 That's me circa 1971-72 working at the Clifton Skyline Chili. If I had a nickel for every coney island I made at that steam table, I'd be buying Twitter for $25 a share instead of Elon.
Did you see his brilliant 3D chess move this past Friday? No wonder Elon's the world's richest man.
What do you think of my wide tie? Today, I'd be sporting one of my chic-magnet bow ties. Mix a bow tie with C.O. Bigelow bay rum cologne and you can cast a spell on just about any one of the fairer sex who sports two X chromosomes. Add in a train conductor's hat and you've got some very powerful jujumagumbo. A red dragon tattoo might not be a bad idea now that I think of it!
Super Thanks Now On!
Halfway through last week, I received news that YouTube had activated a feature on all my videos. I've known about this feature that was in beta testing for six months. It's called Super Thanks.
The feature allows you to THANK a video creator for the help you received in the video. It's a great idea when you think about it.
You tip waitresses for great service. You possibly tip your barber or hair stylist. You tip valet drivers.
You can now tip me, if you feel I've saved you money or time after watching one of my 700+ videos on YouTube.
Look at this partial screenshot of the beginning of one of my videos. You'll see that THANKS text link under all of my videos: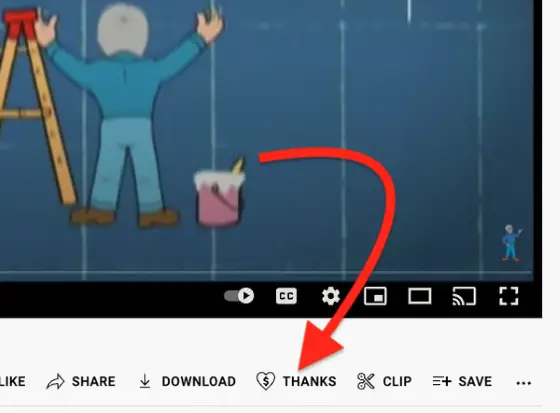 The red arrow is pointing to a new text link called THANKS with a $heart. When you click it at the bottom of any video, you'll then see this box: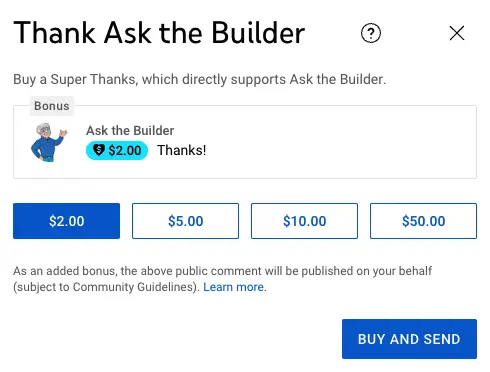 Your support of my work allows me to re-invest in my channel. My intention is to use any and all revenue to upgrade my video equipment and editing platform so I can make MORE videos for you.
Consider supporting one of my videos now as an experiment. Do it on this video and see what happens. I'm under the impression your comment STANDS OUT because you're helping support my channel.
Please let me know if you do this so I can see what it looks like from my end. Thanks!
PRO TIP: To find one of my videos on YouTube, all you do is enter the search phrase followed by my name. For example:
3 way switch tim carter
deck post railing tim carter
blacktop crack repair tim carter
I think you get the idea.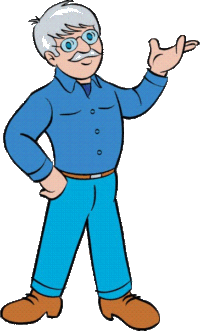 Corded vs Cordless Power Tools
Last week, I teased you about a column I was writing for the 60+ papers that still run my weekly Ask the Builder column.
If you've been a subscriber for quite a while, you know I'm cut from a different cloth. I have this tendency to tell the truth. I'm not a hobby blogger spouting off drivel that gives manufacturers warm and fuzzy feelings. Well, I do spout off sometimes for companies like Wall Control that make amazing products.
This new column is going to create some angst with power tool manufacturers. Let me know if you feel like Bill does.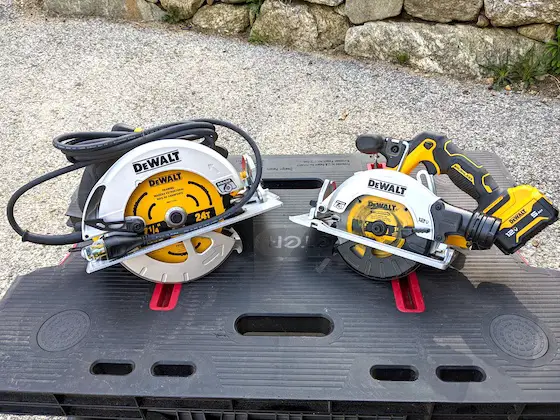 The two saws in the photo pretty much deliver the same results. The one on the right is a cordless saw.

Kevin's A/C Bid
This past week, Kevin saved himself possibly $1,000 and GUARANTEED his new air conditioning system was going to keep him comfortable on the hottest day this summer.
How did he do this?
Simple. Kevin asked me to look over the quote he got from a company he liked. He wanted me to point out any things I thought should be in the contract or included in the quote.
I created a list of no less than five bullet points I felt were mission-critical. I suggested he have the company re-write the bid and include them.
What happens if you don't do this?
Well, you might be one of the fifty people each week screeching at me to throw them a digital life preserver as they flail about in the storm-tossed waves in the I-Trusted-the-Contractor Sea.
Just like so many things today that you shouldn't be trusting, the homeowners who reach out to me placed far too much trust in the contractor.
Financial LOSS is guaranteed.
Don't drown or lose money. Go here and let me help you review your bids NO MATTER what size the job is.
From Tim's Digital Sack
You might have been outdoors enjoying the spring weather and didn't have time to write me. Even so, I did get several interesting emails. Here are a few.
Rob asked this:
Can I mix a scissors truss and a regular truss in the same roof? By that I mean that only 1/2 the roof is vaulted, while the other part of the roof in a different room has a normal flat ceiling?
Yes! All that has to happen is the heel heights and pitch be the same of the two different trusses.
- - -
Stan wanted an update on my HOA atomic bomb debacle:
Tim, I have followed you for years and enjoy your straightforward information. I guess I may have missed an article. You were getting ready to drop an atom bomb on your HOA in May and I have not heard the results of that bombing. Did it happen? Keep up the good work.
Well, it almost worked. I opened the bomb bay doors, did a low-pass flyover, and got 18 other residents here in my HOA to vote against the wretched short-term-rental bylaw amendment.
The issue is, I needed 20 neighbors to do what I did in order to block the 2/3rds vote accepting the change. The bylaw passed with a vote of 41 for and 19 against.
Those that voted to infringe on my private property rights are now my enemies. How dare they tell me that I can't rent to senior citizens who just want to play bridge all day out on my deck.
I have no issues with tough bylaws that concern activity on common land. What's next? Will the idiots who voted for this bylaw start to say I can't clean my guns in my home? Will they say I can't own a German Shepherd dog? Will they stop me from putting up a flagpole to fly the American Flag?
Given the chance, I'd chase the 41 neighbors who voted for the bylaw amendment to the Gates of Hell.
The mills of the gods grind slowly but thoroughly.
That's enough for a Sunday.
Tim Carter
Founder - www.AsktheBuilder.com
HILTON HOTELS Uses - www.StainSolver.com
POTA Activator - www.W3ATB.com
Do It Right, Not Over!
P.S. What do you know about deck railing post safety? Do your deck railing posts have this SERIOUS DEFECT?
P.P.S. Need help? Call me at 867-5309...
Chucky sent us. He knows all about lifetime guarantees...