Red Dragon Tattoo Tim Carter
"Oh, I see you've got some fresh ink," uttered my youngest daughter's very good friend Andrea as she admired, I think, my tattoo.
Her outburst of scoffing laughter telegraphed immediately that she was mocking my gorgeous temporary red dragon tattoo. My sarcasm meter obviously was on the fritz. But it was all in good fun. She wasn't being mean.
Red Dragon Tattoo Fools Many But Not All
I had applied it two days earlier to try to blend in with the crowds that would be riding the train back and forth between Meredith, NH and the Weirs. It's Bike Week in Laconia and tens of thousands of people with real ink injected into their skin would be in the area sporting their body art.
Andrea and my daughter Kelly had just boarded my train and were on their way to see what was going on down at Weirs Beach on Saturday night, June 20, 2015. Read more on this story in my June 23, 2015 and  August 16, 2015 Newsletter.

I've applied this temporary tattoo lots of times over the past few years. I feel it's pretty handsome, but anyone who knows anything about tattoos realizes, upon close inspection, that it's just not real.
Temporary tattoos look horrible just after they're applied. They have a very shiny high-gloss appearance. But that dulls down after 24-48 hours. The trick is to not rub the tattoo with a towel. If you abrade your skin, you'll ruin the thin acrylic coating. Just pat it dry after a shower.
From five or ten feet away, you'll fool most people. Those who have real tattoos will think you're a baby and a poser since you don't have what it takes to commit to a real tattoo.
Oh well, it's still fun and quite a few people look at it.
CLICK HERE to buy an assortment of red dragon tattoos and many other designs.
What I like about having the tattoo is the prejudicial looks you'll get from some people who have known you, but never seen you without long sleeves on. I often do it in social situations to just sort of get a rise out of acquaintances.
You can see their eyes taking rapid-fire glances down at the shocking site as they think I'd NEVER have a tattoo. You can absolutely have some fun with them.
The social stigma of tattoos still is powerful, but rapidly fading, and many people pigeonhole people with visible ink into a different subset.
For me, I feel they're colorful and some tattoo artists produce stunning works of body art.
Lots of people on the train had real ones, but not me.
I can tell you the combination of the conductor's hat, real bow tie, bay rum cologne (CLICK for my personal time-tested FAVORITE brand), and tattoo produces powerful magic with some of the train patrons who happen to have double-X chromosomes.
I'll leave that imagery to your imagination, but the legendary tale of the Hobo Railroad Kissing Conductor comes to mind. But if you must know, just ask Theresa Drury and she'll give you every exacting detail!
Theresa was the head car host who had been working on the scenic train for, my guess, fifteen years before I was hired as a conductor. Theresa really trained me as to how to be an excellent conductor when it came to the passenger side of the operation. Here's what she sent to me:
"Well, I was a car host and had the honor of sharing my day with Conductor Tim. He was always asking if we, the car hosts, needed help or to help others, boarding and unboarding. As you might imagine, working on the train for many years, I've met so many interesting people (including the kissing conductor Tim).

He had a way with people, even the saddest when they got on. But by the end of the two-hour trip, he could make them laugh. He was sure to get that big smile and a big hug followed by the big kiss from many of the appreciative women passengers. So it was a given, his name became conductor Tim, The Kissing Conductor. Thanks, Tim for all the great laughs and fun. A memory for sure."Elf Theresa
Summary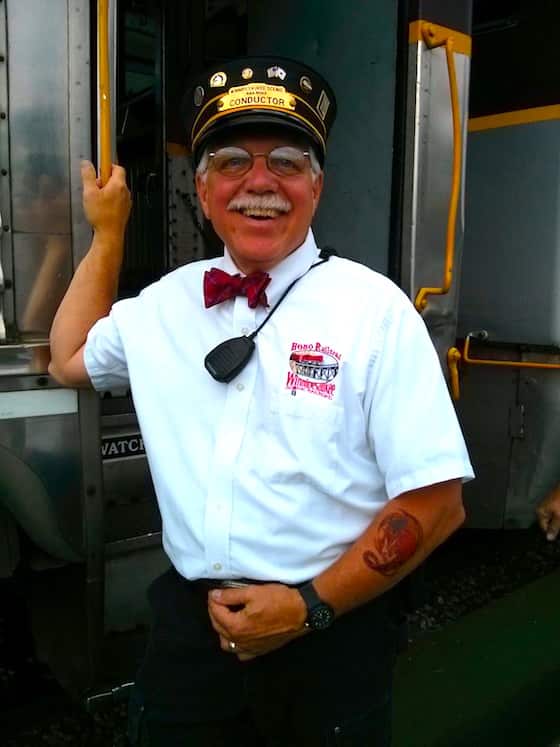 Article Name
Red Dragon Tattoo on Train Conductor | AsktheBuilder.com
Description
Train conductor Tim Carter has a fresh ink red dragon tattoo. Too bad it's not a real one, but it's realistic!
Author
Publisher Name
Publisher Logo