May 19, 2019 AsktheBuilder Newsletter
Are you a new subscriber? Greetings and salutations! Are you a seasoned subscriber? You know I love you too!
The New House Update
Months ago I announced that this newsletter would be focused on the construction of my daughter and son-in-law's new home in Bar Harbor, Maine.
I'm not the builder, but I am consulting and I did all of the plumbing, radiant heat, and electrical installation with the help of my son-in-law.
Last week, Ms. Angie Chamberlain, the Bar Harbor building inspector, passed my plumbing and electric rough-in. That was very satisfying I must say as we put in a ton of effort.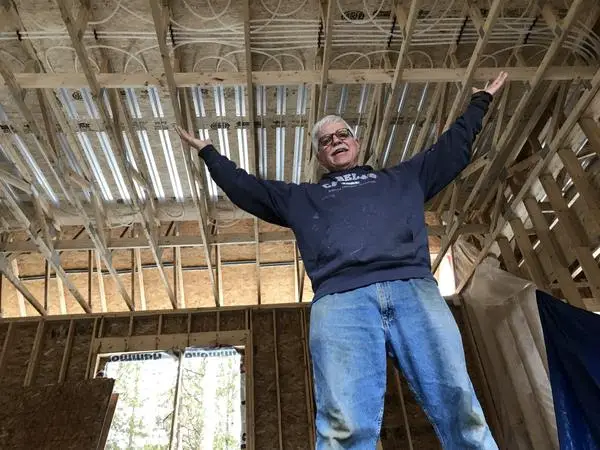 The above photo was taken by my son-in-law back in late March as we celebrated the completion of installing 900 Uponor heat transfer plates (those shiny strips of metal above me) throughout the entire home.
I was standing under the ceiling of the garage and you're looking at hundreds of feet of Uponor PEX tubing that will keep a future efficiency apartment above the garage toasty warm. CLICK or TAP HERE to understand how to get the best heat possible.
Other Great Products
You may be one who reaches out to me each week wondering exactly what products we're using in the house.
You're making the assumption that great products are being used in this new home for my daughter, son-in-law, and new granddaughter.
That assumption would be CORRECT. Just last week, I recorded two videos with the help of my son-in-law showcasing two of them. I'm waiting for the companies to approve them and hope to be able to share them NEXT issue.
But for now, here are two simple things that are being installed in the Bar Harbor project that you should have in your home:
The Best Plumbing Vent Flashing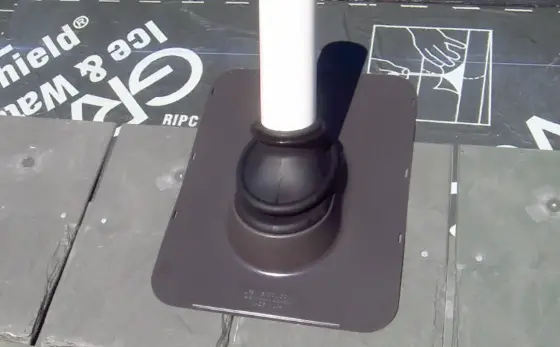 You're looking at the absolute BEST plumbing vent pipe flashing made. It's from Lifetime Tool.
The industry standard flashing that's probably on your home is made from aluminum and has a ho-hum rubber boot. The sun's powerful UV rays eventually cause the rubber boot in the flashing to crack and leak.
The flashing above is made from a SPECIAL silicone rubber that can withstand decades of abuse from the sun. I installed two of these flashings on my own roof four years ago.
CLICK or TAP HERE to watch a video showing me up on my roof installing this fantastic flashing. I also show in the video the crappy standard flashing with the FAILED rubber boot!
If you're building a new home or RE-ROOFING your existing home, install this Lifetime Tool flashing so you NEVER have leaks around the boot.
CLICK or TAP HERE to order one right now and hand it to your roofer. USE THE LINK at the bottom of the page to order. Be SURE to order the correct size to match the diameter of the pipe exiting your roof.
The No-Pest Dryer and Bathroom Exhaust Vent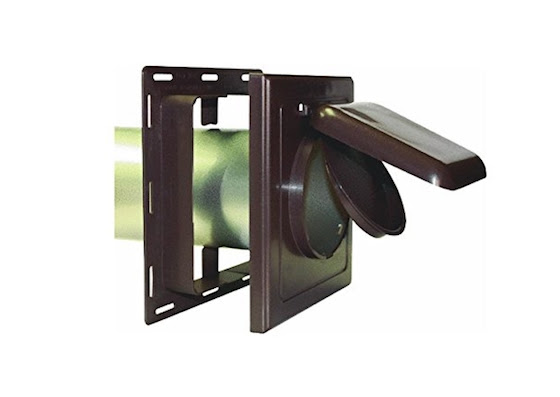 That image above is a fantastic no-pest dryer vent. Note it's unique dual flapper design.
CLICK or TAP HERE to discover WHY I use these on my own home for both my dryer and my bathroom exhaust vents. You'll then understand WHY I want them on my daughter's home.
Yes, when you CLICK or TAP HERE there's a handy link allowing you to order these very affordable vents.
Flushable Wipes Dust Up
In a recent issue of this newsletter, I told a story sent to me by a subscriber about how flushable wipes clogged his house building drain. CLICK or TAP HERE to read the story.
You may have been one who RESPONDED to me after reading the story. You wanted to share the facts about your wretched encounter with these products.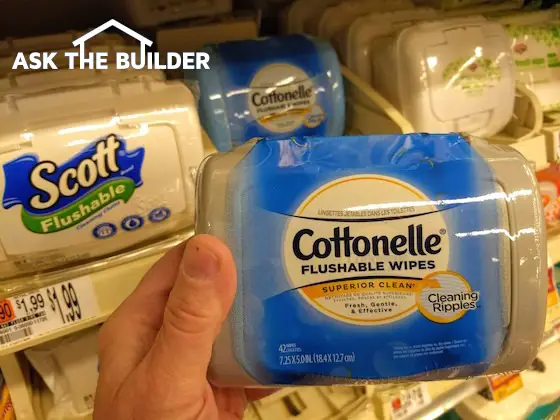 I got SO MANY responses I decided to devote one of my national columns to the topic. CLICK or TAP HERE to read my national column about Flushable Wipes.
It's VERY IMPORTANT to note that I didn't say to stop buying them. I pointed out in my column HOW I would dispose of them after use.
The Dust Up
I've been writing my syndicated column since October of 1993. Within a month or two, public relations (PR) people/professionals started to call and write to me.
Several have become very good friends and the first one I met face-to-face, Kathy Ziprik, is still doing a fantastic job of representing her clients. She invited me to a Georgia Pacific editors event in Atlanta, Georgia back in 1994.
It's important to note that PR people are PAID to talk about their clients and some do damage control if a situation turns up that puts their clients in a bad light.
That happened with my national column. Smart PR people, and companies, have Google Alerts set up to notify them in SECONDS when something appears online about their products or a topic of great interest to them.
Obviously, Alfred Breuer had an alert set up for the phrase flushable wipes as he reached out to me on May 10th. Alfred is a PR person who's salary is partially paid for by the Responsible Flushing Alliance. Alfred works for Hill+Knowlton Strategies in Austin, Texas.
Alfred felt my column was in error and wanted me to publish a national correction. Here's his hard-hitting paragraph from the top of the email:
"We appreciate the issues faced by wastewater systems and your effort to educate consumers and agree there are products that should not be flushed – but we are concerned that blaming the problem on "flushable wipes" is missing the mark. There are many types of wet wipes out there, such as baby wipes, disinfecting wipes, household cleaning wipes, facial wipes and more. But there is a small but separate category of wipes designed, marketed and tested to be a "flushable wipe" for personal hygiene in a bathroom. We know through extensive sewer collection studies that these "flushable wipes" are not the problem."
I responded to Alfred the next day. I told him that I wasn't going to issue a correction and furthermore I was going to record a video showing what really happens when the flushable wipes are FLUSHED.
Yes, within a month I'm recording a video at my home that's going to set the record straight about these products.
I told Alfred that I'd be VERY OPEN to any input from his clients as to the format and scientific method of testing to ENSURE that it was a fair and honest representation.
I also put on my journalist's hat and asked Alfred who the members of the Alliance were (you can see them listed at their website - I knew this before asking) AND I wanted to know exactly HOW MUCH MONEY each one contributed each year to fund the output of their message.
The flushable wipes industry is huge. My guess is sales are in the hundreds of millions of dollars and GROWING. The industry is doing everything possible to squelch anything that puts their product in a bad light. When that much money is at stake, half truths can flow like water from a fountain.
Alfred NEVER RESPONDED. What's that tell you?
I know what it screams to me:
Alfred, and the alliance he represents, does NOT want me to create a video.
What's my video going to be? I'm going to use my pipe scaffolding and I'm going to set up a platform about five feet in the air. On the platform will be a nice new Kohler toilet.
I'm going to pipe the toilet EXACTLY how your toilet is probably piped in your home. You'll be able to see all the piping. In case you don't know it, I've been a master plumber since age 29 and you can bet the plumbing for this video will be perfect.
The pipe will then extend across my driveway about 70 feet simulating the journey your toilet waste takes as it travels to your city sewer or septic tank. I'll put in a few 45-degree bends to simulate wyes that might be under your basement floor or in your crawlspace.
When flowing waste and water changes direction in a pipe, it gets jostled around just like you might on an amusement ride that goes around corners or bends. It's very important to include this change of direction in a simulation.
At the end of the pipe, I'm going to have a clear glass container to capture what comes out of the toilet. You'll see all of this on the video.
I'm going to flush the standard amount of toilet paper one might use along with simulated solid waste that Kathy is going to help make.
She recommended clumps of cookie dough formed to represent you-know-what. I'm going to color the dough green to help take away the yuck factor. I'm OPEN to your suggestions!
I'll also do the two top brands of flushable wipes, paper towels, cheap toilet paper, high-quality toilet paper and maybe even an army man or dinosaur. 🙂
I can't wait to make the video and show you what happens when you flush these wipes.
Remember, the products are named correctly!!!
You CAN FLUSH them. You can also FLUSH plastic army men, dinosaurs, gravel, cellphones, jewelry, underwear, etc. down toilets.
That's enough for a Sunday morning. If you have input on what you'd like to see in that video, NOW IS THE TIME to speak up.
Tim Carter
Founder - www.AsktheBuilder.com
GET CLEAN - www.StainSolver.com
Invisible Happiness - www.W3ATB.com
Do It Right, Not Over!