May 5, 2019 AsktheBuilder Newsletter
New subscriber? I'm glad you're here and I hope I can save you lots of sweet moola and time moving forward.
Illustrious subscriber in good standing? I've got some goodies for you this issue.
Stain Solver Sale
ENDS

Tonight

Here's a reminder that the spring Stain Solver sale ends tonight. Kathy and I own the certified organic Stain Solver cleaner.

It's GREAT for any and all spring cleaning. If you can wash it in water, you can use Stain Solver.

Promo code: 19SPRING

CLICK OR TAP HERE to place your order.
An Electric Week
I'm writing this newsletter from Bar Harbor, Maine. It's been a crazy week filled with finishing the electrical wiring in my daughter and son-in-law's new home.
Here are some stats:
We used just under 7,000 feet of 12/2 wg NMB cable
We used 1,350 feet of 12/3 wg NMB cable for the countless 3 and 4-way switches and switched outlets
We used thousands of insulated cable staples
I had some fun labeling the circuits
Do you like fun little games? Then go guess what some of the circuits are in the house. Here's a clue: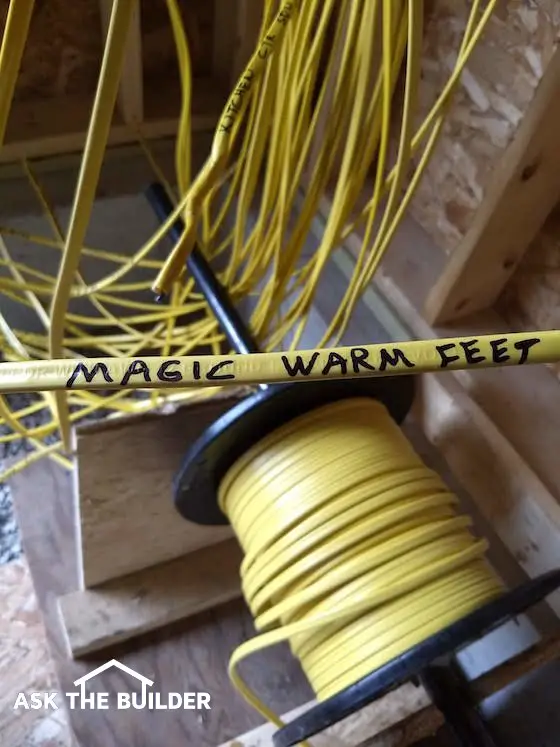 CLICK or TAP HERE to see the rest of what's written on the 12/2 wg cable. See if you can guess all the other clever labels.
Ninety minutes ago as I was creating that new page at the website, my incoming email sound went off on my cell phone that's here on the table. It's important to realize it's a Sunday morning and it was about 6:40 am.
The email was from Ms. Angela Chamberlain. That name probably means nothing to you. Angie is the building inspector here in Bar Harbor, Maine. She's also the electrical and plumbing inspector.
I had emailed her three days ago asking if she requires fire foam sealant in the hundreds of holes my son-in-law and I drilled in the top and bottom plates of all the walls. What is fire foam sealant?
The arrival of spring in Bar Harbor unleashes all the contractors. Angie is super busy and came into the office on a SUNDAY morning to catch up on email. I was STUNNED to hear from her less than two hours ago!
CLICK or TAP HERE and scroll to the bottom of the column to understand WHY I wanted to know the answer.
After all the final inspections are done where I have to deal with Angie on a professional level, I'm going to ask her if she'd agree to an in-depth interview. I feel she's an inspiration to young women all across the USA and the world for that matter. I'd publish the interview on my website and might even create a national story about it.
I've got quite a few interesting questions to ask her. I sure hope she agrees and her boss allows it. It would be fantastic publicity for the town of Bar Harbor and Angie too!
More About Flushable Wipes
Two weeks ago I shared a story in a past newsletter about a subscriber who had a clog in his plumbing building drain caused by flushable wipes.
You might have been one of many who responded back to me sharing your story about these WRETCHED products. The response was so great I decided to dedicate one of my national columns to the topic.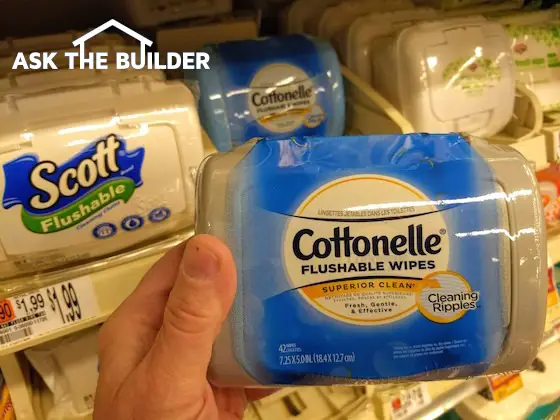 CLICK or TAP HERE to discover WHY you should NOT flush these things down your toilet. Wait until you see the VIDEOS!!!!!!!
It's okay to use flushable wipes, but note in my column a suggestion on what to do with them. It's not hard and it's common sense.
Do You Still Read a Newspaper?
You may still read a newspaper each day. In fact, my syndicated newspaper column may appear in your paper. If it doesn't you might want to reach out to your paper's editor and suggest they consider it. CLICK or TAP HERE and share this link with your paper's editor. Tell her/him how I've helped you in this newsletter and you just might make magic happen in your paper!
Are there other features you like in your local paper? It could be any column, feature, or even a cartoon. Did you know that it's VERY IMPORTANT for you to periodically write a short letter to the editor telling her/him WHY you like the column, cartoon, or feature?
If editors don't get periodic feedback from readers like you, they feel the column might not be useful.
Take a few moments and let the paper know HOW a column or feature helped you if you want to keep seeing it in your paper. Once a column, cartoon, or feature is cancelled, it's rarely re-introduced back into the paper.
That's enough for a Sunday morning. I need to write my 1,300th syndicated column after sending this newsletter to you. It's about unusual outdoor sheds and how to create the perfect one for yourself!
Tim Carter
Founder - www.AsktheBuilder.com
Certified Clean Man - www.StainSolver.com
Morse Maker - www.W3ATB.com
Do It Right, Not Over!