November 17, 2019 AsktheBuilder Newsletter
Are you a brand new subscriber? Is this your first issue? I've got a few prizes for you below!
You may be a subscriber in good standing for any number of weeks or years. If so, then you know that each issue of the AsktheBuilder newsletter has one, or more, surprises!
Is Your House Cold?
Winter is upon us. Here in the Great Northeast Kingdom, as well as the Midwest, a brief blast of frigid Arctic air swept over millions the past four days.
You may be a person that gets cold easily and need your house warm. The issue with that is the greater the difference in temperature between outside and inside your home, there's a significant cost to maintain that indoor temperature. If you know any algebra, it's a non-linear function.
I've got an idea for you that you just may want to try. Don't pooh pooh it until you at least try it. CLICK or TAP HERE to see how I stay warm in my house and keep my fuel bills LOW.
BTW, if you want a free quote on a new furnace or boiler before it gives up the ghost on the COLDEST DAY of the winter, CLICK or TAP HERE.
Brick Mortar - Secret Recipe
The mortar is stronger than the brick! This photo was taken in Puerto Rico and they don't have freezing weather there so for the brick to erode like this is somewhat remarkable.
But why is it the mortar - which typically is the first thing to deteriorate - stronger than the brick?
How can you make mortar that can give Mother Nature all she can handle in her never-ending cage fight of transporting things to the oceans?
Oh, it's so very easy! CLICK or TAP HERE to see how I'd mix the mortar if you hired me to build your brick home or serpentine brick garden wall.
Amazon Reminder
You may do lots of Christmas shopping this time of year. If so, you can help make sure this newsletter keeps showing up in your Inbox by going to Amazon using my link. CLICK or TAP HERE to start shopping.
Each time you buy something at Amazon using my link, I get a tiny part of the profit Jeff Bezos would otherwise keep to help fund his growing empire.
I use that revenue to help pay for my valuable team members, the cost of my server, and the watercolor pencils I just bought to color drawing I'm creating for you. Blah blah blah.
I really appreciate you using my above Amazon link as it helps this small AsktheBuilder.com business continue to be there when you need advice and help.
Cool Christmas Gift Light Idea
Here's a dandy prize you can buy for that special someone in your life that will help them illuminate the path they're on!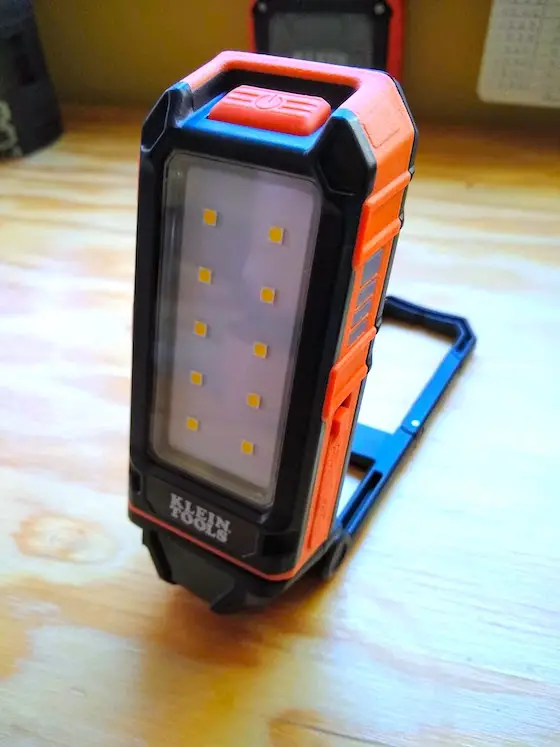 CLICK or TAP HERE to discover exactly why I really liked this handy LED light that can help you while you're doing some detailed sewing, maybe making a delicious chocolate pound cake in a dim kitchen early on a winter's day and need help reading the faded recipe, or maybe you're trying to install a boiler in a dark closet.
There are countless situations where this light will come in handy. You can even hang it from a hook!
Jerry's Peeling Paint
Jerry landed on my Ask Tim page earlier in the week. Here's what he wrote:
"We bought a wonderful house two years ago. It has a large deck that keeps peeling paint in various places. I have repainted in these area and it still keeps peeling. Is there some way to prime or some other way to stop this from happening? The former owner had the same problem. I think the wood is pressure treated. Thanks."
How would you answer Jerry? What do you think is the problem?
CLICK or TAP HERE for some insight into why coatings - paint is a coating - peel from HORIZONTAL exterior surfaces more easily than vertical surfaces.
CLICK or TAP HERE to really understand what's going on with decking lumber and WHY it's nearly impossible for you to get paint to hold onto it.
You're going to be SHOCKED at what you discover. In fact, I'm willing to bet you three dark chocolate Aglamesis pecandes that you didn't know all the facts I present to you about lumber shrinkage.
If you don't like pecandes, then you can substitute walnut, cashew, chopped dates and raisins mix! Oh, I'm hungry after typing that!
Ice on Gutter Guards or Gutters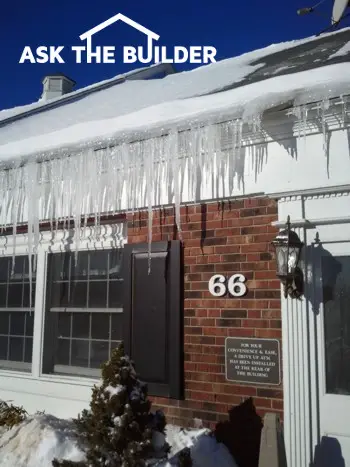 Do you know why ice really forms in gutters and on those expensive gutter guards you bought?
I'm serious.
CLICK or TAP HERE to get insight about the mystery of super-chilled water.
That's quite enough for a Sunday morning. I need to get a few other things done before leaving for church. I'll be out walking this afternoon as the temperature here in New Hampshire will be moderating a bit after noon.
Tim Carter
Founder- www.AsktheBuilder.com
Clean Your Grout With Ease! - www.StainSolver.com
Morse Mitten Man - www.W3ATB.com
Do It Right, Not Over!
P.S. Riddle me this: What is one way to figure out how to put the wires back on a 3-way switch you thought you knew how to replace? Want to save $150 an electrician will charge? I thought so. CLICK or TAP HERE.