Sewer Gas Smell When Sink Used
Sewer Gas Smell When Sink Used
Quick Column Summary:
Sewer smell from vents after master sink used

Probably biofilm

Clean with a bottle brush

Use Stain Solver, oxygen bleach
J. A. Coffey, Jr. has a stinky problem when he runs water in his master bath sinks. His problem was featured in the July 16, 2014 AsktheBuilder Newsletter.
Heck, let him tell you:
"Sewer gas smell when master bath sinks used.  Smell comes through air vents.  Had plumber in and he did smoke test.  Could not find leak.  What's next?  Another plumber or demolition??"
Here's my answer do J. A. and it doesn't involve a sledge hammer.
J. A. guess what? You should have come here to my website before calling in that plumber. You could have saved yourself some sweet moola.
I suspect your issue is just a biofilm coating on the sides of the sink tailpiece pipes that extend from the base of the sink to the p-traps under the sink.
These often get coated with a yucky black goo that can liberate horrible odor molecules into the air when you run water.
If you could see the odor molecules, they'd be spewing from the tiny overflow hole at the top of the sink.
I'd get a bottle brush that has an 1.5-inch diameter and some of my Stain Solver.
Mix up 12 ounces of HOT water with one tablespoon of my Stain Solver and stir until dissolved.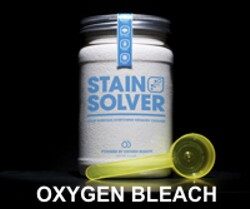 Remove the drain stopper in the sink and clean it with the solution and the brush. Re-install the nut and lever back into the tailpiece WITHOUT the stopper in place.
Dip the brush in the solution of Stain Solver and shove the brush up and down in the drain. Be sure the brush is long enough to reach down to the p-trap.
Turn on the water in the sink and move the brush up and down until the sides of the tailpiece are like new.
You'll then have no odor.
Watch this video to see how Tim SOLVED a problem in minutes!