Snowblower Quick Start Guide
DEGREE OF DIFFICULTY:
Snowblower Quick Start Guide
For most of my life, I had never used a snowblower. I lived in Cincinnati, OH, and it just didn't snow much there.
Then I moved to New Hampshire. I shared a driveway with a born-and-raised New Englander. Within a month of moving in Dave said, "Go buy a snowblower. Snowplows just create ice because they don't get the snow completely off the blacktop. When you drive on that packed snow it creates ice. We don't want ice on the drive!"
Guess what? Dave was right.
Snow blowers scrape snow off blacktop or concrete like a spatula gets every bit of chocolate cake batter from a mixing bowl. They're amazing machines.
If you want your snowblower to START FIRST or SECOND pull, then be sure to check out this opens in a new windowquick start guide. It will make sense once you see it!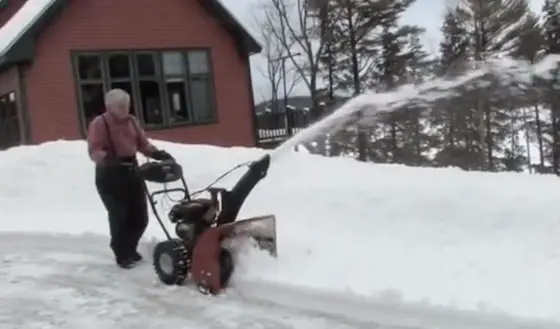 I've rated this guide two hammers out of five because snowblowers are no harder to operate than a standard lawn mower.
That being said, you just need to realize the spinning feed blades and high-speed impeller are dangerous. Don't even think of putting your hand or foot inside the front snow catcher with the engine running.
Don't allow your pets to be near an operating snowblower. They throw rocks, the engine sound can contribute to deafness, and active dogs can get injured by biting at or slipping into the spinning blades!
Watch the video below unless you've come here from YouTube having already watched it.
Be sure to look at the RELATED CONTENT links at the bottom of this page. Lots of goodies there for you.
REQUIRED TOOLS & MATERIALS:
TIPS
STOP AND READ all the safety instructions on the snowblower and in the owner's manual. Seriously, read them. Follow the instructions.
Wear hearing protection and safety glasses - no excuses!
Wear microspikes or other footwear so you don't slip. You don't want to slip with a snowblower running.
Wet snow is very tough to move, even for a snowblower. If it's snowing heavily, try to move the snow during and after the storm instead of waiting until the end HOPING the snowblower can handle lots of deep or wet snow.
Dry powder snow is easy to blow, but it can coat you in white dust making you very cold. You'll figure out what to do in no time.
Clear your driveway of rocks, sticks, etc. before each snowfall. These things can damage the snowblower or be thrown at bystanders, your house or car causing damage.
In deep snow, regulate the forward speed of the blower and take smaller bites of the snow so you don't have excess snow come out one side of the blower.
Be sure entire drive is clear of snow. Any chunks or strips left behind can turn to ice and cause havoc NEXT time you go to blow snow. Don't be lazy.
When you finish blowing snow, CLEAN out the area around the blades of ALL snow. Clean all the snow from around the impeller. If this freezes up and turns to ice, you'll have huge issues next time you need the blower.
NEVER use regular bolts or nails in place of shear pins. Strong metal instead of weak shear pins will RUIN your transmission. That's an expensive repair! Shear pins are cheap.
Celebrate your Victory!
Please subscribe to my Newsletter and get insider information on the latest home-improvement tips, and products. I guarantee you that my newsletter WILL save you time and money. Frequently, I include your questions with my answers and proposed solutions. Perhaps the best part of the opens in a new windownewsletters are my reviews of new products based on my own testing. opens in a new windowClick here to read my past newsletters.
It is FREE & EASY.
RELATED HELPFUL CONTENT:
Column QSG016