Wallpaper Hanging Pointers
I would wager that I get at least three emails per month from homeowners who have stripped wallpaper from drywall only to find that more paper came off then what they expected.
Yes, the paper facing of the drywall was ripped off as well. Frequently the distraught homeowner gets out some drywall joint or topping compound and applies it to the damaged area trying to make the wall smooth again.
But two hours later the repaired area looks like a nightmare. There are blisters everywhere! The moisture from the joint compound has caused the inner paper core to swell.
opens in a new windowCLICK HERE to get FREE & FAST BIDS from local wallpaper hangers in case you're getting cold feet.
Wallpapering Tips
When I was first married, my wife Kathy and I wallpapered many of the wall surfaces in our first two homes. I had absolutely no training and picked it up rather quickly. As I look back, I was extremely lucky!
I should have had lots of bubbles, puckered seams and overall failure. I did have a few of the above and I sort of thought they were normal. But now I know that perfection is not that hard to achieve. Here are some of the most important things you need to know.
Just A Few Tools
Let's get started with the tools. Fortunately, you don't need many tools to wallpaper.
Here's a list that will get you going on this job:
retractable razor knife with snap-off blades

4.5 or 6-inch drywall taping knife

smoothing brush or plastic smoother

4-foot level

grout sponge

measuring tape

paint roller & pan

paint brush
Click the Image Below to get all, or some, of the tools now:
opens in a new window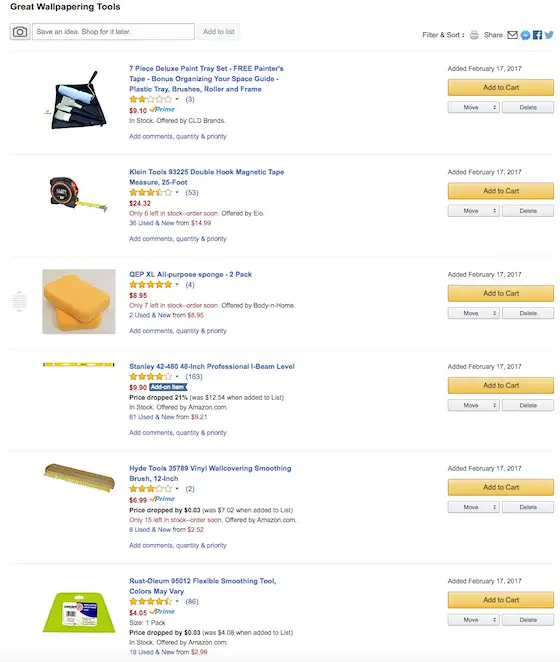 opens in a new windowCLICK HERE to get all the tools I recommend in one place. It's easy and fast.
Seal Before Repair
If you have damaged drywall like this, you need to seal this brown inner paper before you start to apply joint compound. Years ago, I accomplished this with either shellac or oil paint.
These oil based products would not cause the paper to blister and they blocked water from getting to the paper. You can still use these products, but you can also use a new water based product that does the same thing.
Don't ask me how it works and prevents blisters, but it indeed does work. This product is called Gardz and is made by the Zinsser Company. It is a unique product that is blue in color but dries clear.
You can usually find this product at a large paint store or at a home center. If you can't find it, feel free to buy some shellac or oil paint.
Two Different Sealers
Keep in mind that if you are repairing damaged drywall you will need to use two sealers. The first sealer we just talked about.
The second sealer is a different product that is applied to the repaired area and/or all new or existing drywall surfaces. This second sealer is the one that stops the wallpaper adhesive from damaging the wall surface a second time.
This wallpaper primer/sealer is different than shellac, oil paint or the Gardz product. It has a different composition and actually is the best thing to use under wallpaper.
It is a very unique product in that it allows the adhesive to grab very well but doesn't allow it to transfer through the primer into the paper below. Do not listen to salespeople or store clerks who tell you differently! You must get the special primers.
Wallpaper Videos
Watch these videos to get an idea of what you're up against. You can do this job since it's a small room and there's not much to cut around.




Wallpaper Pointers
Wallpapering is a very interesting craft. There are all sorts of papers out there and they have unique characteristics with respect to hanging. Regular vinyl coated papers that are perhaps the most common can be successfully hung by a homeowner.
Booking is a technical term used by professional hangers. Once adhesive has been applied or activated it causes the paper to swell. The paper must swell before it is applied to the wall.
If you apply the paper too quickly it will swell on the wall. The results are bubbles and puckered seams. You book the paper so that the adhesive doesn't dry out as it is swelling.
All you have to do is gently fold the paper so that the wet back side of the paper comes into contact with itself. Do not crease the paper at the halfway point. Be sure to line up the edges as you book it so that they do not dry out.
Generally speaking the swelling of the paper happens within 3 to 5 minutes. Some papers take longer. Simply read the instructions that come with the paper.
Specialized Wallpaper Primers for Drywall
Be careful when you visit a paint store or home center. You can't always trust the info you get there. This is especially true when you talk about specialized primers for wallpaper. If you are going to do a wallpaper job, I would highly recommend that you visit a store that specializes in wallpaper sales.
We have several in Cincinnati, Ohio, but one really stands out above the rest. It is called Walls and More. This shop is owned by a professional wallpaper hanger - one who is a member of the National Guild of Professional Paperhangers, Inc.
The advice you get here is golden. I would like to think that you would get similar great advice, products and accessories from a specialty wallpaper store in your city or town.
Special Resins
You need a special product to act as a sealer for fresh plaster or drywall. A regular paint primer or sealer is NOT the same as a wallpaper primer or sealer.
The wallpaper primer/sealer contains special resins that block wallpaper adhesive from penetrating past the primer/sealer. In fact, the product I used simply looks and acts differently than regular paint. It reminds me of oil based paint in a way but it is indeed water based.
The Products
The wallpaper primer/sealer I prefer is called Shieldz Plus. It is white but can be tinted just about any color you like. You typically tint it to the color of the background of the paper. This product is made by the Zinsser Company. You can find Shieldz at most paint stores, home centers or wallpaper stores. Go to the Zinsser web site for more details or retail outlets.
Sherwin Williams stores carry their own knock off product of Shieldz. They used to sell Shieldz but I think they thought they could make more money by coming up with a different formulation. Their product is called PrepRite PreWallcovering Primer. You should be able to find it at any Sherwin Williams store.
Relaxation
I am not talking about you but the paper. When you activate the paste on a prepasted paper, you don't go over and hang it right away. The paper actually expands a little and it can take two or three minutes for this to happen. Some papers take longer to relax or expand. That is the actual term, relax.
The way you achieve this is to paste a strip of paper and then book it. Booking means you fold the back of the paper on itself. In other words, you paste a piece of paper and then fold it back so the bottom half of the strip that has the paste contacts the top half that has been pasted. Line it up carefully so that the edges meet. This prevents the edges from drying out.
Pasting or Activating the Paste
Most papers today are pre-pasted. It can be a nightmare activating this paste using a trough or a bathtub. I recently discovered another awesome product made by the Zinsser Company.
It is called SURE-GRIP. It is a paste activator. This product is a fine powder that is mixed with water. You stir it and let the water sit for 30 minutes. At the end of the wait period you end up with a slippery liquid that is the consistency of thin pancake batter.
You apply this to the back of pre-pasted paper instead of dipping it in water. It is quick, easy and it does a superb job of maximizing the holding power of the adhesive. If you soak a pre-pasted paper the traditional way you can actually remove the paste! This activator is the only way to go. I will always use it in the future.
Plumb
You must start your first piece of paper plumb. You should also start hanging paper in the corner of the room that you don't often look at. You do this so that when you hang your last strip and it doesn't match it is hardly visible.
Every time you go around a corner you must re-plumb the paper. I do this before I hang the piece. I take a piece of scrap paper that is dry and butt it up against the last full sheet of paper that was hung, fold it into and around the corner and make a light pencil mark where it stops. I then create a crisp plumb line using a level up and down across this mark.
Corners
The professional way to do a corner is to install a full piece of paper into the corner. You temporarily let it wrap around the corner. You make sure the paper is matched up with the last full sheet and you smooth it into the corner.
Then use a sharp razor knife and cut the paper precisely in the corner. Pull the two pieces of paper apart and pull back the smoothed paper from the corner about one inch. Install the cut half of paper around the corner and hold it about 1/4 inch off the plumb line so that you have about 1/8 inch or so of the paper folding back around the corner.
Be sure you try to match the pattern for top and bottom elevation. Smooth the second piece of paper once it is positioned exactly. If the paper is vinyl coated, you must use a vinyl to vinyl adhesive where the two pieces of paper overlap one another.
opens in a new windowCLICK HERE to get FREE & FAST BIDS from local wallpaper hangers in case you're getting cold feet.
Carolyn missed a few steps on installing wallpaper from a home improvement show. She asked Tim for assistance. opens in a new windowCLICK HERE to read that Hanging Wallpaper column.
Column B377