Wet / Dry Vacuums Have Grown Up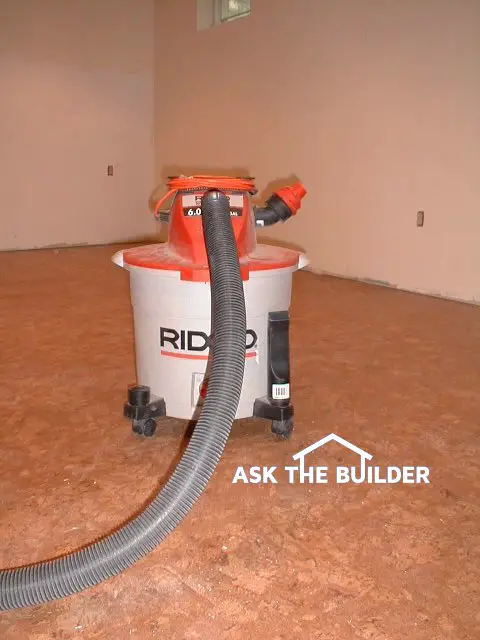 DEAR TIM: It is time for me to purchase a new wet/dry vacuum cleaner. My older model created a dust cloud when I would try to vacuum fine dust particles. Can you safely use wet/dry vacuums to pick up large quantities of water? What else is new? Mark S., Union City, TN
DEAR MARK: Don't tell me about older wet/dry vacuum models! Mine also blew dust, even with a new filter. I was most upset at how the painted metal drums would rust within a year's time. It is my pleasure to announce that you can now buy any number of wet/dry vacuums that put older models to shame. Gone forever are the days of rust and dust!
I feel the biggest advancement you will find is the increased horsepower (hp) of the motors. 4, 5 and 6 hp motors are common. It is even possible to purchase a 6 hp vacuum with a detachable blower head. This vacuum does double duty. It functions as a standard vacuum but transforms itself with a flip of a lever to a hand held 200 mile per hour (mph) blower you can use to quickly blow leaves, dust and debris from your garage or any other surface. Industrial or professional wet/dry vacuums are available with even more powerful vacuum motors.
Virtually every high quality wet/dry vacuum made today comes with a high strength plastic drum. You will find that the capacities of these are enormous when compared to older models. 12 and 16 gallon capacities are commonplace. If you need more than that, you can purchase ones that have 20 or 25 gallon drums. Years ago it was a struggle to empty liquids from the drums. Just about every model I have seen is equipped with a drain valve. There is no need to remove the top and tip the tank. You just open the valve and the collected water drains in a flash. One vacuum is even equipped with a built-in pump. You attach a garden hose to the vacuum and as you suction water, it pumps the collected water to a remote location.
Modern wet/dry vacuums are equipped with excellent filters. Most models are outfitted with pleated paper single stage rinseable / reusable filters. If you intend to vacuum fireplace ashes, drywall dust, or other fine material you may want to upgrade to a two stage filter. These filters prevent the interior dust storms you and I used to create with older wet/dry vacuums.
New wet/dry vacuums are made to ingest large volumes of water. High quality vacuums are equipped with automatic shutoff devices that tell you when the drum is filled with water. If you intend to vacuum water only, you should remove the filter. Never use a wet/dry vacuum to pick up any flammable liquid or water that is contaminated with solvents. Vapors can ignite and create an explosion or fire.
Always keep the filter clean and in place when vacuuming dry debris or damp debris. You can easily ruin the powerful electric motors if you use a wet/dry vacuum without a filter in place. It is always a good practice to have a new filter in stock in the event you can't adequately clean your existing one or it wears out. Filters are inexpensive and a clean one will prolong the life of a high quality vacuum practically indefinitely.
When you turn on your new vacuum, you will be shocked at how quiet the new models are. Some models come with mufflers that allow you to direct the motor exhaust in several directions. You will also be amazed at the expanded line of accessories. You can purchase inflater nozzles for beach balls, air mattresses, etc. Special narrow car nozzles fit into tight places, hose grips reduce hand fatigue, and hairpin turn gutter elbows allow you to blow leaves from gutters while standing on the ground!
Some wet/dry vacuums can be hooked up to a nifty dust collection network for home shops. Clear rigid plastic pipe allows you to see dust and wood chips scoot to the vacuum. This is an excellent way to keep dust to a minimum if you use a table saw, miter box saw, radial arm saw, sander or any other woodworking tool indoors. I can assure you that the person who dusts around your home will appreciate this feature!
Click here to watch a video on two types of wet dry shop vacuums.
Related Articles:   Wet Dry Vacuum Comparison,  Wet Dry Vacuum - Your Household Workhorse,  Keep Wet Dry Vacuum Filter Clean,  Filters - Dust Collection - Air Filtration
Column 259