Wood Sheds
"Perhaps the most important decision you must make when it comes to your wood shed is not the style, color or amenities - it is the size."
Wood Sheds Checklist
Stop and plan - most sheds are too small

Wood sheds can add value if they match house style

Be sure floor joists and flooring are treated lumber

Create a good overhang to prevent siding rot
Related Links
How to Build a Simple DIY Shed
What is the Easiest DIY Shed to Build?
Wood sheds are perhaps the easiest and most economical outdoor shed you can build. Wood storage sheds are also popular because you can use different styles of wood siding and textures to create a wide variety of looks.
It is not hard to make a shed from wood look Colonial, Rustic, Contemporary, Victorian, etc.
Where Can I Get Two-Story Wood Shed Plans?
You can get them from me. I built a dazzling two-story wood shed in 2013. An architect friend of mine created detailed plans of my shed just for you.
Free & Fast Bids
CLICK HERE to get FREE & FAST BIDS from local contractors who build sheds.
Are Pre-Built Sheds at Home Centers Any Good?
Most of the pre-built sheds I've seen at home centers are not too great.
You'll often see in the parking lot at a home center a line of ready-built wood storage sheds. Most of these are kits that are delivered to your home on a trailer.
It's important to realize you can assemble them or have a contractor do it for you. In my experience, these ready-built sheds are at the low end of the quality scale. If you are looking to build a shed in your yard that you want to last, you may want to avoid these products.
Shed Pictures Can be Glamorous
Wood prefab storage sheds are sometimes like the kits. They look good in pictures, but before you buy one, make sure it is practical.
A point often overlooked is you may see the sizes on a piece of paper or a plan and think it will work for your needs. You may even walk into a model and think it is spacious, but once you begin to store your things you realize you paid for a shed that is grossly undersized.
Easy Shed Space Planning Video
Why is Water the Enemy of my Shed?
Water will rapidly rot the framing lumber, floor joists, and floor of most wood sheds.
The first thing to remember is to pay attention to the different types of wood you might be using. Make the right choices and you can have a shed that can easily last hundreds of years if it is cared for.
Many wood sheds are designed to lay on the ground. Some are even advertised as ground contact where the shed is meant to be in direct contact with the soil. If the right lumber is not used, wood rot can happen in a short amount of time.
CLICK HERE to get FREE & FAST BIDS from local contractors who build sheds.
Can I Use Treated Lumber Floor Joists and Plywood?
A wood shed can have a wood-floor system made with treated lumber joists and plywood that will last for decades. My own shed is built this way.
Another key point is you would have thought I was building an elevated deck in a corner of my lot if you would have seen my shed under construction. I used treated-wood posts that were approved for burial in the soil as the legs that support my wood shed.
Treated-lumber joists were then attached to the posts just as you would to create a deck. These joists were covered with treated plywood so that if my shed floor got wet from equipment, there would be no rot.
Can 

Wood Rot Happen From Beneath My Shed?

Yes, wood rot can happen if you use untreated lumber to create your floor system. Water vapor from the soil will fuel the growth of fungi that will eat your shed floor.

This treated wood floor will not rot from the underside as water vapor from the soil saturates the shed floor. Regular plywood used for shed floors is a mistake. Make sure your wood shed has a treated-plywood floor.

All of the lumber used to build the rest of my wood shed was not treated wood. Well, I did use treated-lumber bottom plates for the walls just in case any water came into the shed from equipment I was storing.

 
What is Great Shed Wall Construction?
The wall sheathing in wood sheds can be foam, oriented-strand board (OSB), plywood or a combination of these materials. On top of this, you nail your finished wood.
This can be textured plywoods like the traditional T1-11, lap wood siding, or engineered-wood sheet products that simulate stucco or some other texture. You will be amazed at the variety of wood products you can choose from to finish the exterior of your wood shed.
REMINDER: STOP and Plan for the Right Size
Perhaps the most important decision you must make when it comes to your wood shed is not the style, color or amenities - it is the size. The most common complaint I hear from people after they spend all of the time, money and effort is they wish they had built a bigger shed.
Please go up and watch the planning video above. It only takes a few minutes to figure out the size your shed needs to be.
It is easy to get the size right the first time. All you have to do is drag all of the things you want to put in the shed out onto your lawn where the shed will be.
Arrange the things in such a way that you can get to each item without having to move anything else. Try to organize the things in a square or rectangle.
Measure this outer boundary around all of the possessions and you have the outer walls of your new shed! My guess is you will discover that you need one about 10 feet wide by 14 or 16 feet long.
CLICK HERE to get FREE & FAST BIDS from local contractors who build sheds.
Summary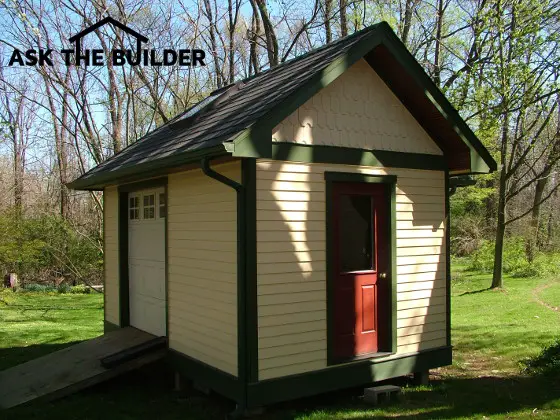 Article Name
Wood Sheds - STOP and Plan for the Right Size | AsktheBuilder.com
Description
Most wood sheds are too small. Stop and do 15 minutes of planning first. GREAT planning video here.
Author
Publisher Name
Publisher Logo