April 23, 2014 AsktheBuilder Newsletter & Tips
Is it just me or are the weeks screaming by? It's now the fourth week of April for goodness sakes. On Monday, April 21, 2014, I worked the Boston Marathon again as a ham radio operator.
It was a busy day at my location - Chestnut St. and Commonwealth Ave. in Newton, MA. That's mile 18.3. The medical team I assisted treated 181 people and we sent 10 to Boston Wellesley Hospital.
I dropped my dock in the lake on Tuesday as Monday was ice out at our end of the lake. If you're wondering about the Snow-Be-Gone contest, we still have a ways to go! The photo below was taken yesterday, April 22, 2014, at 4:43 pm. You can see the tip of the pile is chest high on me. I was wearing my Easter best just for you.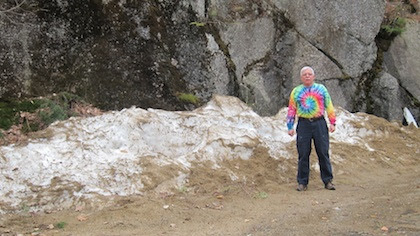 Tip of the Week - Plumbing Drain Line Maintenance
Let's talk briefly about maintaining your invisible plumbing drain lines. Here's a bullet list of Do's and DON'TS:
Do flush your drain system once a month. Fill all sinks, tubs, etc with water. Open drains at same time and flush all toilets at the same time. Enlist helpers.

DON'T put grease into your drain system. While grease is still warm and liquid in the pot or pan, sop it up with USED paper towels and discard the towels in the garbage.

Do keep floor drain and little-used fixture traps filled with water to eliminate sewer gas - use four ounces of mineral oil to slow evaporation.

DON'T beat on old cast iron or galvanized-iron drain lines. The cast iron pipe can crack and shatter even if it's marked XH for extra heavy. Threaded galvanized iron pipes are weak at the threads where steel's been removed.

Do discover how easy it is to remove hair clogs from bathroom sink drains.

DON'T expect miracle root destroying crystals to clear root-clogged drain lines.

Do add Stain Solver oxygen bleach to your septic tank once a month to enhance bacteria. (I flush one half cup - 4 ounces - down my toilet once a week. I flush the toilet twice to make sure all the powder makes it to the tank.)
CLICK HERE to see How to Clear a Clogged Bath Sink Drain.
Two Product Recalls!
CLICK HERE to read the Troy-Bilt Leaf Blower Recall.
CLICK HERE for the Remington Leaf Blower Recall.
Pocket Door Parts and Tips Video
I was able to tape a video on Easter weekend. It's not too often you find the right pocket door in the right setting. Lady Luck whispered in my ear and I listened.
I hope you enjoy the video. You can tell it was cold when I taped it!
Bosch Power Tool Game Next Week
You told me you wanted to know more about new power tools.
You told me you hated ads and press releases, but LOVED discovering new tools in a game format.
Well, next week I'm going to deliver what you want.
Three people are going to win some incredible prizes from Bosch. Be SURE you open next week's newsletter and play the simple game. It's not going to hurt your brain like days three and four of the Treasure Hunt!
By today, all the winners of the Treasure Hunt should have received their prizes, you may join them soon!
Pot Filler Video
Do you do lots of cooking? You can save half the work of carrying pots of water to the stove by installing a pot filler faucet above your cooking surface. They're really handy.
Watch this video for a surprise ending.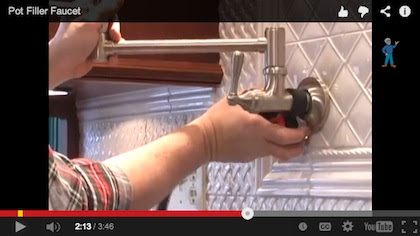 Clean Your House Siding
Yesterday I received this quick note and two photos from Winnifred Sousa, a very happy Stain Solver customer. Winnifred would make a great Morse code operator with her pithy abbreviated message:
"Tried other products previously. Didn't do the job. Stain Solver with a pump sprayer and hose amazing results. Thought I would have to paint or reside the house. Talk of the neighborhood. Great product!"
Want to see the AFTER photo?
WARNING: You'll get out your credit card when you see it. It's absolutely stunning. Stain Solver can be used to clean all house sidings.
CLICK HERE to see Winnifred's CLEAN wood siding.

How did Winnifred get these results?
She purchased 9.2 pounds of Stain Solver.
She mixed one cup of Stain Solver per gallon of HOT tap water.
Winnifred's husband or helper STIRRED the powder in the hot water until it dissolved then added it to the yellow garden pump sprayer you see in the Before photo.
The solution was sprayed liberally on the DRY wood siding working in the SHADE and on an overcast cool day if possible.
The solution was left to soak in for at least 15 minutes. Add more solution if it looks like it's drying.
At the end of the wait period, the helper or Winnifred hosed down the siding to get those results.
Amazing indeed and SIMPLE!
You can do the SAME METHOD on any house siding: vinyl, wood, aluminum, fiber cement, etc.
WARNING: Do NOT use Stain Solver on REDWOOD. 
Any oxygen bleach can darken redwood.
How much Stain Solver do you need to clean a house? Good question. Each 2.2 pounds of Stain Solver powder makes Five Gallons of solution.
So, how far can you get five gallons to go? It goes much farther on vinyl siding then dry porous wood. Unless you live in a tiny cabin, you'll need at least 9.2 pounds to clean a house - maybe more.
If you have leftover Stain Solver, it can be used on countless other cleaning projects.
Lee Needs Your Help
The Boston Marathon was the start of my 2014 ham radio public service season. Every month from now through October, I'll be outdoors helping others with invisible radio waves. There is at least one event per month.
One of my fellow radio operators, Lee Hillsgrove Sr., is working the next event in just three weeks. It's the two-day bicycle ride up along the breath-taking New Hampshire and Maine coastline for Breathe NH.
Lee's providing radio support while being a cyclist in the event. He's outfitted his bike with his radio and an antenna. While an accomplished bike rider and radio operator, he's lagging behind on his promised donations with just over 21 days until the event.
This s a very good cause and I'm hoping you please consider helping Lee meet his goal.
CLICK HERE to help Lee. I don't know why they show 60+ days left to donate. The event happens May 17-18, 2014.
Here's a photo (below) of what I saw two years ago when I worked the event. As you can see, it was a picture perfect day. I've been told this might be the most-photographed lighthouse in the world.
The ocean looked like a ship had leaked millions of gallons of deep blue printing ink into it. The photo below has NOT BEEN Photoshopped.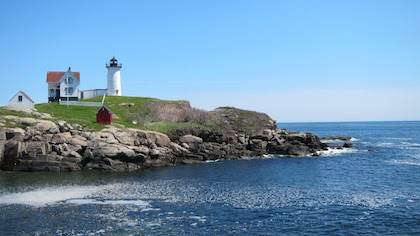 More tips and news next week.
P.S. Don't forget, the Bosch Power Tool Game is NEXT WEEK.