May 30, 2021 AsktheBuilder Newsletter
Welcome! If this is your first issue of my newsletter, you may not be aware that the opening paragraph is reserved seating for you and every other new subscriber who has joined my extended virtual family since last Sunday at 5:01 AM Eastern Time.
On the other hand, you could be one of my seasoned subscribers. If you've been on the list for over a year, then you know this is a very special annual edition where I sew my heart to my sleeve.
The photo below is the American WW II cemetery in Normandy, France. It's hallowed ground to be sure. It's the final resting place of over 9,000 U.S. heroes who died for you if you're a US citizen. The same is true if you're a citizen of one of our WW II allies.
Each Memorial Day weekend, I reflect on my God-given rights. Memorial Day is the day set aside to honor all who gave their lives while in active military service to protect the US Constitution.
I find it difficult not to think about the hundreds of thousands of teenagers who lie at rest in the cool ground of one of the many cemeteries where war heroes are buried. Young men who had their lives ahead of them but they sacrificed for you and me.
It's almost hard to get your head around that level of sacrifice.
Not a day goes by that I don't think about the First and Second Amendment rights they preserved for you and me.
Having been a professional writer for over twenty-seven years, I'm grateful for the oft-overlooked freedom to write and publish a newsletter like the one you're reading right now, with no fear of reprisal. Try to do this in many other countries on the Earth Ball and you'll be sent to prison or possibly shot.
The ability to express oneself has disappeared for some on many of the popular social media platforms. That should send a chill down your spine because as an individual, these platforms have been designed to be a place you can publish what you feel about a topic and all your followers will see it. At what point will your voice and opinions be stifled? In other words, platforms like Facebook, Twitter, Instagram, etc. are practicing facism. Look up the definition of the word to make sure you understand what it means.
This newsletter is dedicated to my dad and to every man and woman who has made the ultimate sacrifice wearing a military uniform. They offered up their lives to ensure that our God-given rights and the freedoms outlined in the U.S. Constitution are not infringed upon by any foreign or domestic enemy.
While my dad didn't die on the battlefield nor in a field hospital, his early death can be traced to his experience in the great World War II and the seven harrowing months he endured as a POW.
I thought I'd share a favorite photo of Dad taken just weeks after his release from the German POW camp in Poland. He's with his sweetheart, my mom, just weeks before they were married. He was 28-years-old in this photo and my mom was just two months shy of her 23rd birthday.
I helped send my dad back to Heaven when I was 24 years old. I was just a tad bit older than my mom was when they married. Oh how I wish I could have spent more time with Dad!
There's a video I want you to watch that touches on how I squandered the time I did have with him. One line in the song is especially poignant.
"When the hourglass runs out of sand, you can't flip it over and start again…"
You'll find the link to this special video at the end of this newsletter.
But first, keep reading.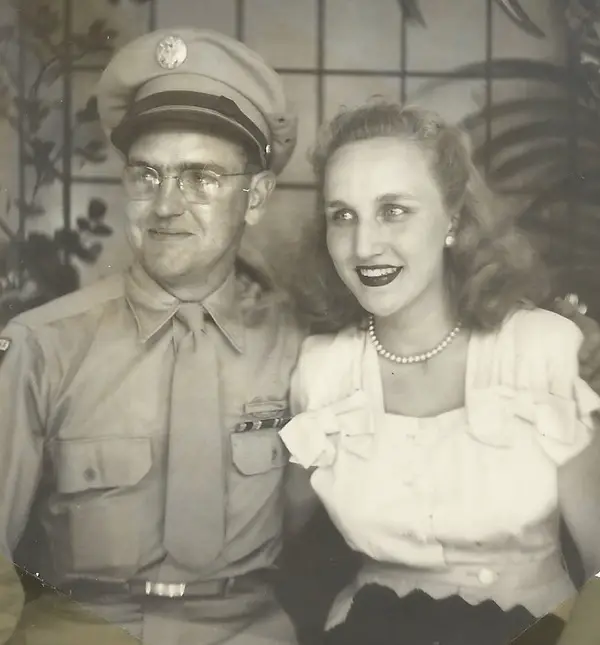 CLICK or TAP HERE to read all about my dad's WW ll experience. Dad was a hero.
Think about whether you have what it takes to earn the Bronze Star. Could you put aside your fear to brave the challenge in front of you?
Fear is a powerful foe and it forces many people to make poor decisions that they might later regret.

Fear could be dominating your life over the past sixteen months. Sometimes fear can lead you to make judgements that simply don't make sense.
I'm sure my dad was fearful in the basement of that farmhouse but he no doubt squelched it as the Germans tramped down the steps.
Some of his fellow soldiers ran for their lives that afternoon as they were overrun by the Germans. Not dad. He didn't abandon the wounded soldiers he was trained to care for.
He was prepared to meet his Maker.
Here's Dad's Bronze Star: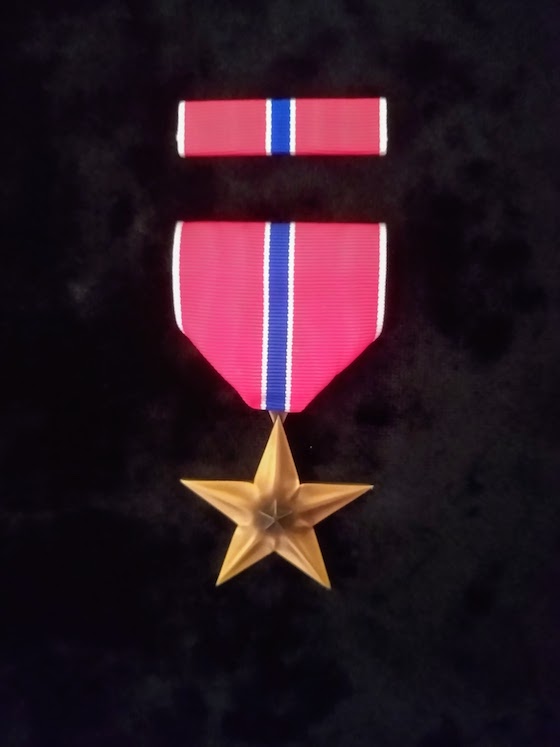 Before I move on to home improvement topics, stop and think about the words in the oath of office taken by many in our country. That simple phrase was above and it may have shagged past you.
I swore that oath several times as an appointed and elected official in a small Ohio village.
Many don't give it much thought, but think about this sentence in the oath:
"...I swear to protect and defend the US Constitution and the Constitution of the state of (insert your state name) against all foreign and domestic enemies."
You know what a foreign enemy is and what their INTENTIONS are when they invade. After they conquer, rape, and pillage, they impose their form of government on those that can still fog a mirror. It's all there in the Game of Thrones book and TV series.
But what's a domestic enemy?
It's a person who lives here in the USA, and actually might be a US citizen, who's actively trying to take away your rights and shred the U.S. Constitution.
All those who gave their lives to protect and defend the U.S. Constitution are SCREAMING at you from their graves to wake up.
It's time for all of us to stop taking our freedom and rights for granted and to crush any who seek to endanger them.
Seriously, if by any chance you're asleep, it's time for you to wake up.
On to home improvements now.
FREE BIDS

- Local Contractors

CLICK or TAP HERE to get FREE BIDS for any job inside or outside your home. You'll get calls within an hour.
Attic Access - You HATE Pull-Down Stairs, Right?
Do you dread using those flimsy, narrow, and steep pull-down attic stairs? You probably think you're on a ship each time you take your life in your hands going up and down!
I'm talking about stairs that go up into a future attic like this: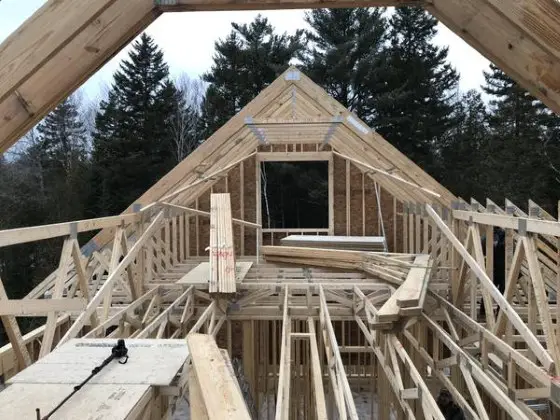 Did you know you can have great attic access using normal stairs? Surprise! CLICK or TAP HERE to discover more.
Old House Design Features
Look at this photo and go back in time to when you were eight years old.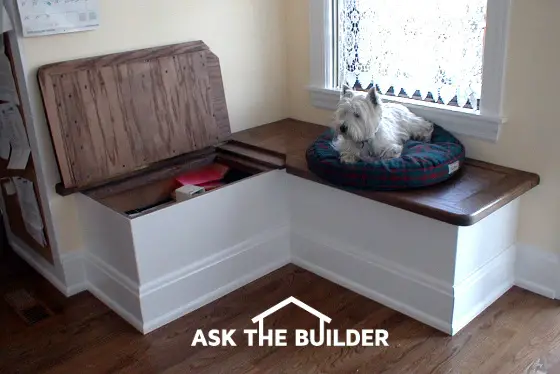 Now, think about that rainy day when you and your friends decided to play hide and seek. A window seat! What a great place to hide, right?
What do you think are my favorite old house design features that are rapidly becoming mythical? Well, a window seat is one of them.
CLICK or TAP HERE to see if you guessed at least three others.
That's quite enough for Memorial Day weekend. I wish I was back in Cincinnati so I could visit Dad and Mom at the cemetery. It won't be the same but I'll use Google Maps satellite view to get just a little closer.
Thank you, Dad, for all you did for me and everyone else. I also thank all others who died for the liberty I enjoy.
Perhaps Revolutionary War General John Stark was right after all when he wrote. "They were men that had not learned the art of submission, nor had they been trained to the art of war. But our astonishing success taught the enemies of liberty that undisciplined freemen are superior to veteran slaves."
As an afterword to the letter, Stark included a brief passage to be read as a toast to the veterans:
"Live free or die. Death is not the greatest of evils."
This makes total sense if you can imagine living under a tyrant's thumb. Not me. I'm not dying on my knees next to a freshly dug trench. Nor should you.
I'll continue to reflect on my freedoms and God-given rights. You might do the same.
Oh, yes, you'll want the link to the video that is so fitting on this Memorial Day weekend. CLICK or TAP HERE to watch it.
Be prepared to shed a few tears..
Tim Carter
Founder - www.AsktheBuilder.com
Certified Organic Cleaner - www.StainSolver.com
Airwaves Boss - www.W3ATB.com
Do It Right, Not Over!
P.S. Treated lumber is supposed to crack, right? Or maybe not. Perhaps you'd do well to watch this video and relive some of your fond high school physics class memories. Note, I didn't say anything about Algebra or Latin classes.