Table Saw Quick Start Guide
DEGREE OF DIFFICULTY:
Have you ever used a table saw? I have for over four decades. They're amazing tools that allow you to make straight and angled cuts.
I remember my dad using one as a small child. It had no blade guard, it constantly tripped the circuit breaker in our house and its fierce-looking blade scared me to death.
You need to respect these amazing tools, and apply the line from the movie Spiderman:
With great power comes great responsibility.
Amen to that.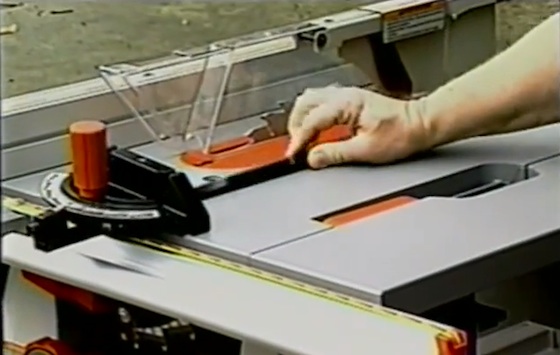 I've rated this project four hammers out of five because I want you to have a clear understanding of the power of what a table saw can do. It's absolutely imperative you read, understand and comprehend all the safety warnings that come with these tools.
What's more, I urge you to take a saw safety class if one is offered at a local tech school or some other place where you can use a table saw around a trained professional.
Are you scared yet? If so, good. Now it's time to discover how to use this tool and not get hurt.
Watch the video below unless you've come here from YouTube having already watched it.
Be sure to look at the RELATED CONTENT links at the bottom of this page. Lots of goodies there for you.
REQUIRED TOOLS & MATERIALS:
TIPS
I said it above, but will say it again: STOP and read all the safety information about your table saw. Don't have a manual? Then get online and get a FREE one from the saw manufacturer.
The modern saw blade guides work well. Don't remove or alter them.
Don't EVER try to cut a piece of wood using both the rip fence in place and a miter gauge. The piece of wood between the blade and the rip fence will bind and very bad things will happen.
No loose clothing, hair, EVER when operating a table saw.
Do NOT operate a table saw when angry, upset, fatigued, dehydrated, taking drugs or drinking alcohol, etc. This is when accidents happen.
Advance wood through the saw at a slow, but constant state for great results.
When cutting large cumbersome pieces of plywood, get a helper or use other accessory stands or tables to support the sheet in front of and behind the saw blade.
Use the same accessory saw stands to support long lumber that's being cut.
Understand what causes kickback.
Always use a push stick for cutting narrow strips of wood.
Accidents happen when you try to grab a piece of wood that's violently and suddenly moved by the torque of the spinning blade.
Wear safety glasses at all times.
Celebrate your Victory!
Please subscribe to my Newsletter and get insider information on the latest home-improvement tips, and products. I guarantee you that my newsletter WILL save you time and money. Frequently, I include your questions with my answers and proposed solutions. Perhaps the best part of the newsletters are my reviews of new products based on my own testing. Click here to read my past newsletters.
It is FREE & EASY.
RELATED HELPFUL CONTENT:
Column QSG012